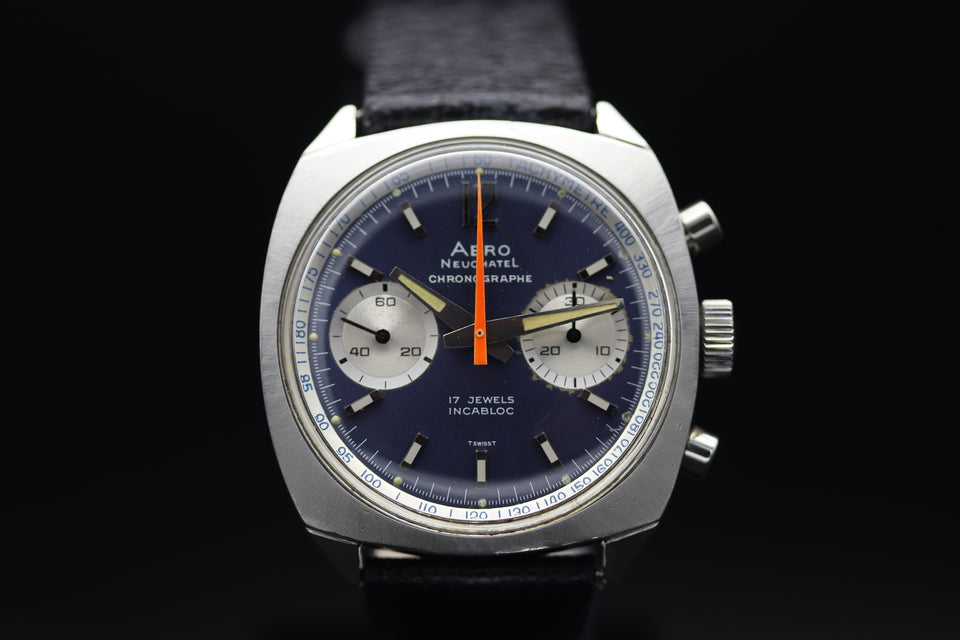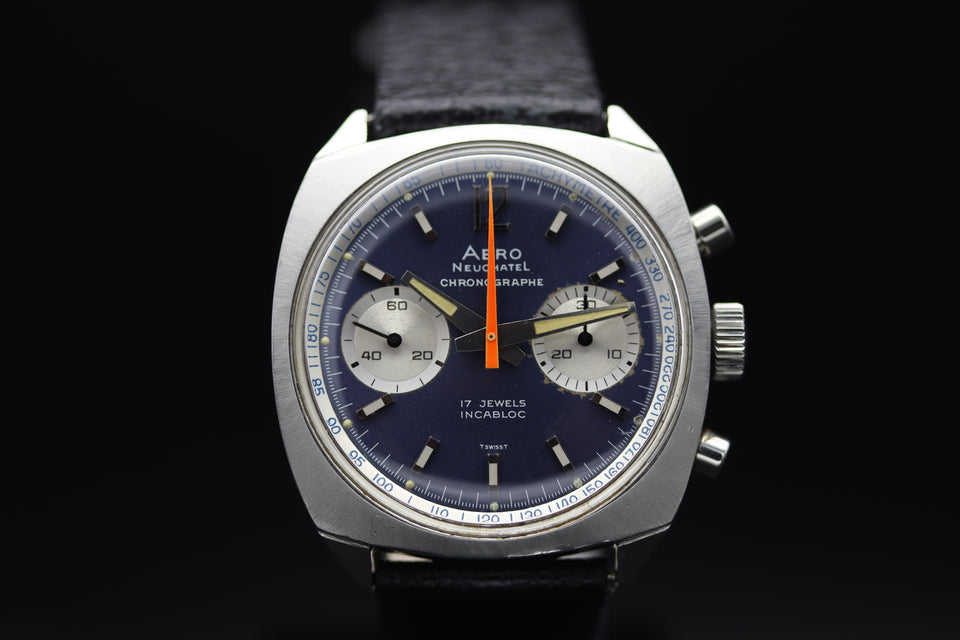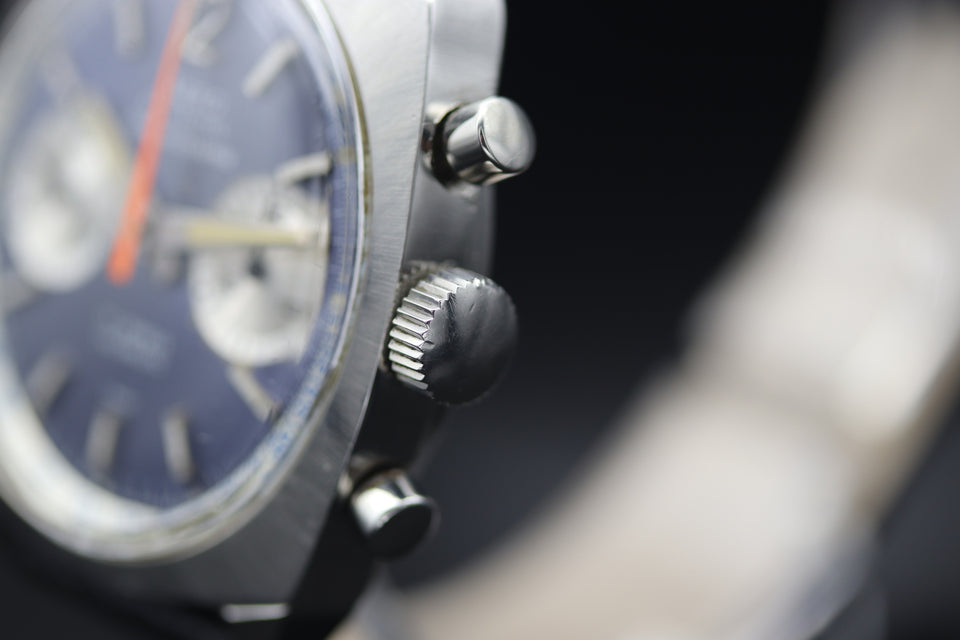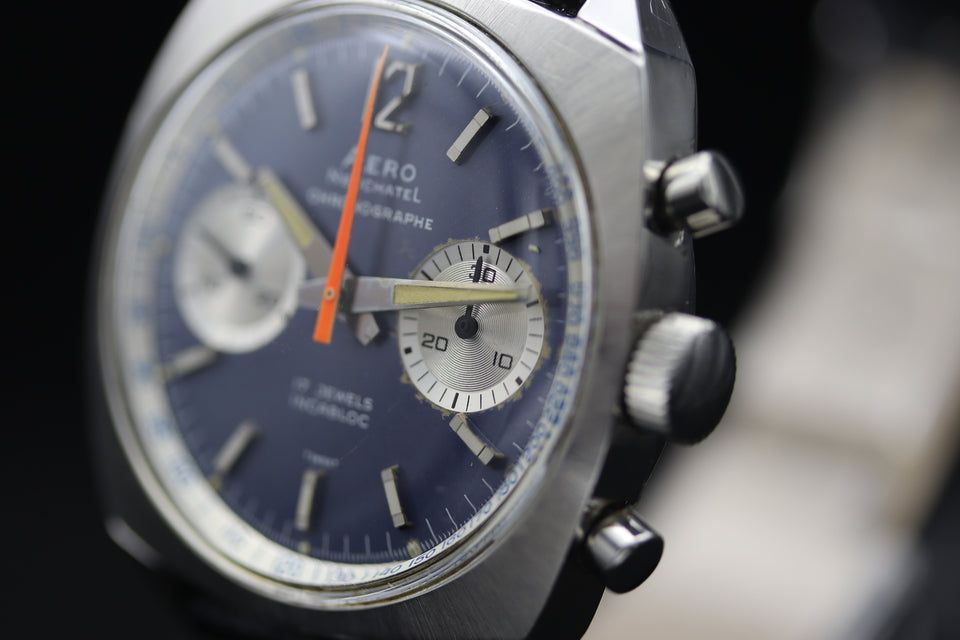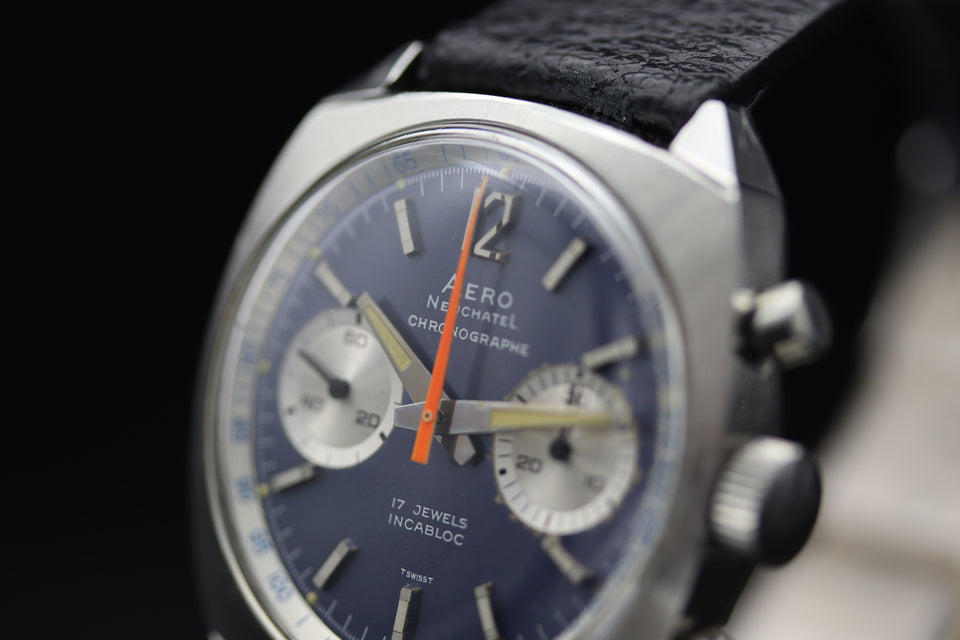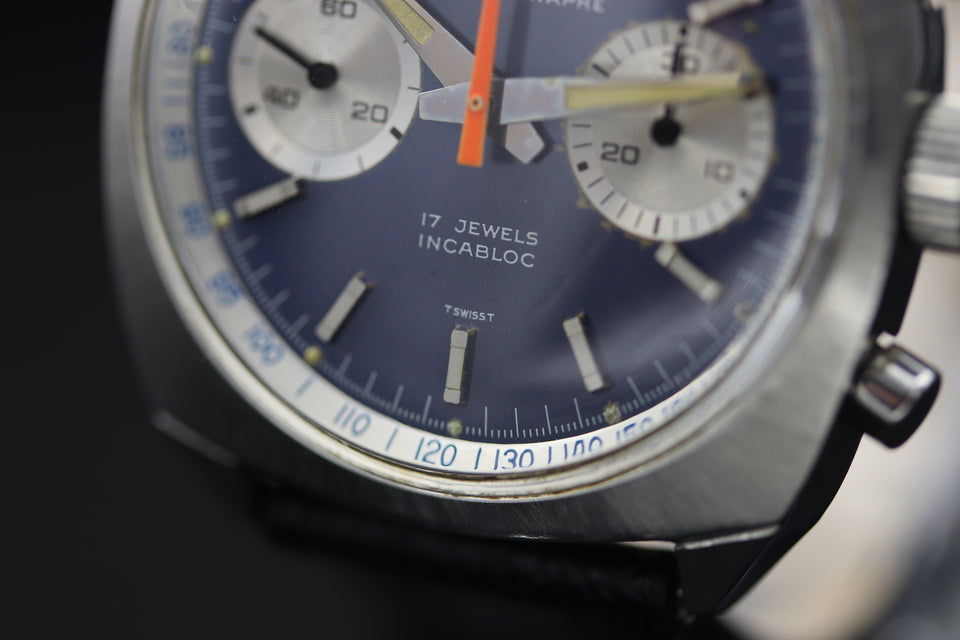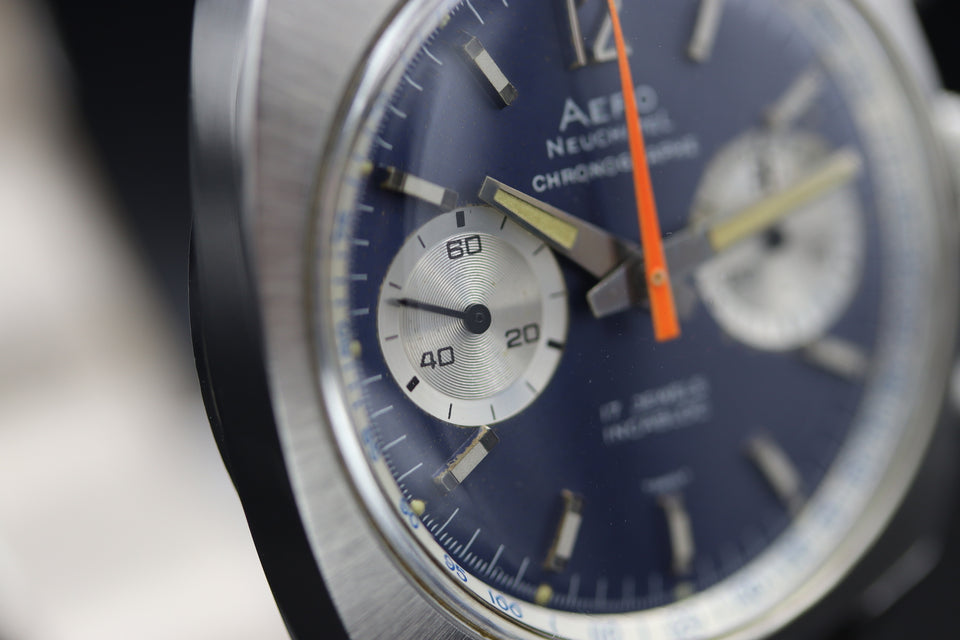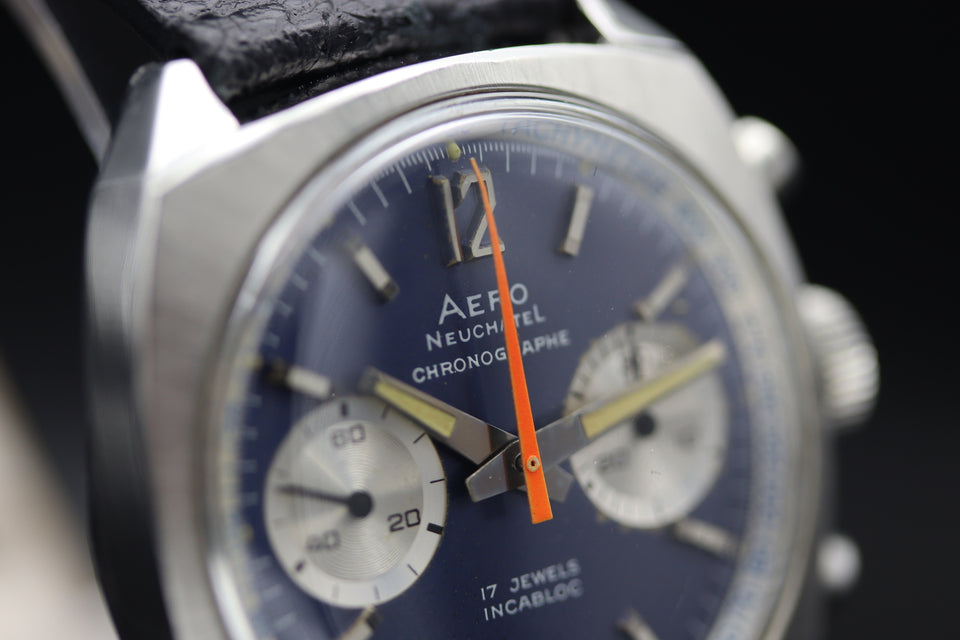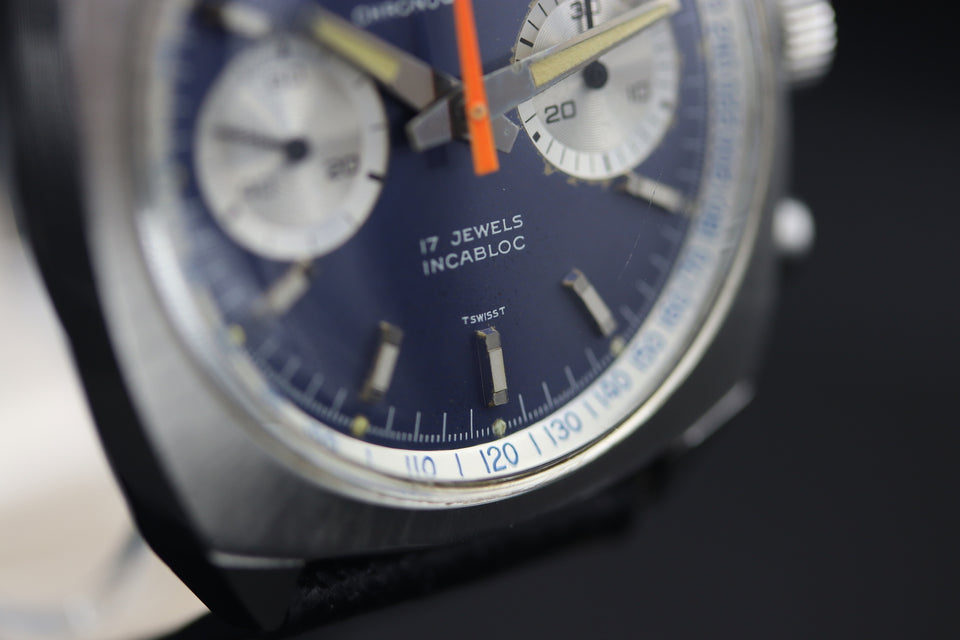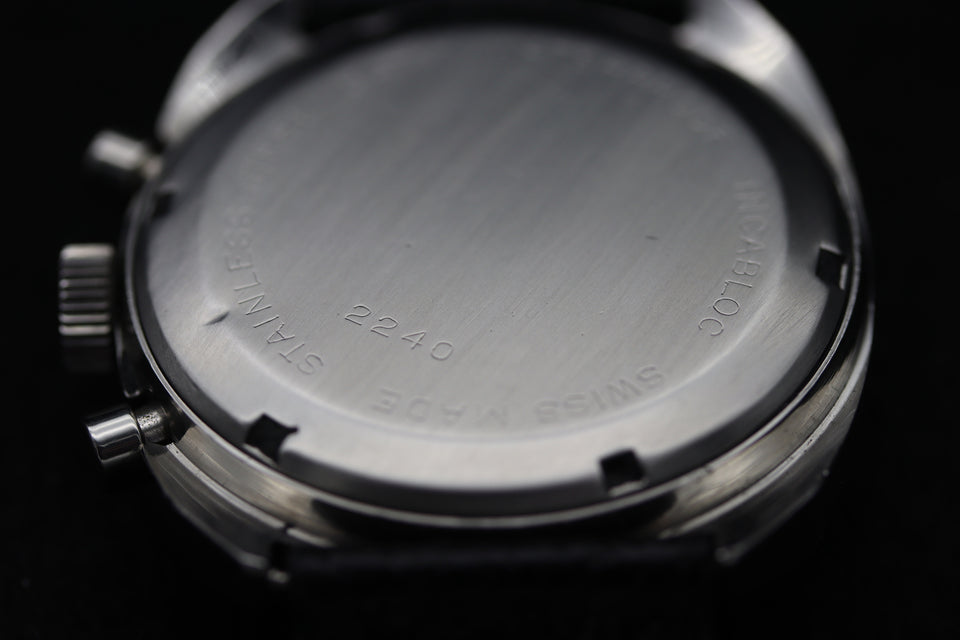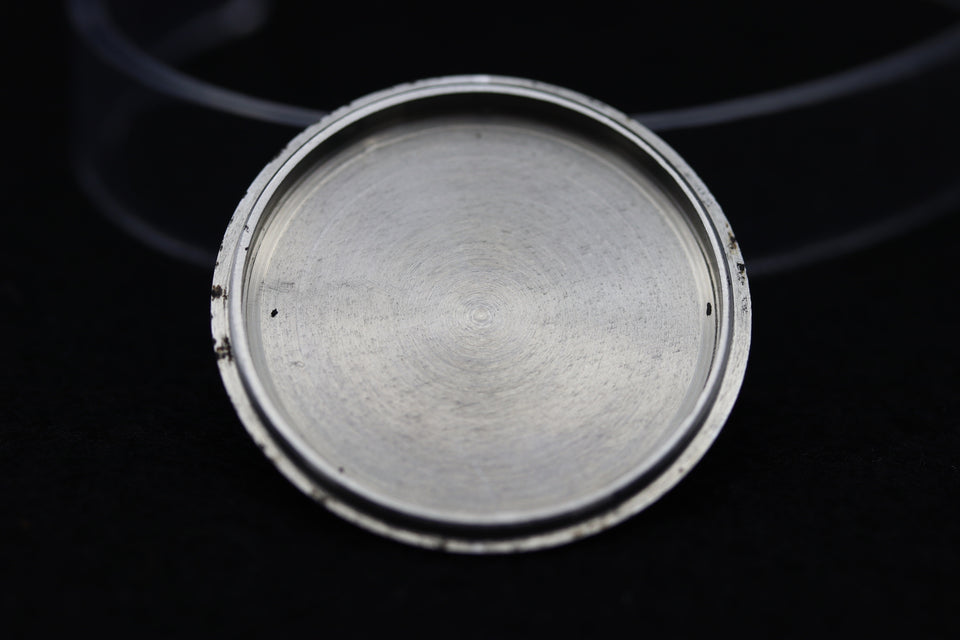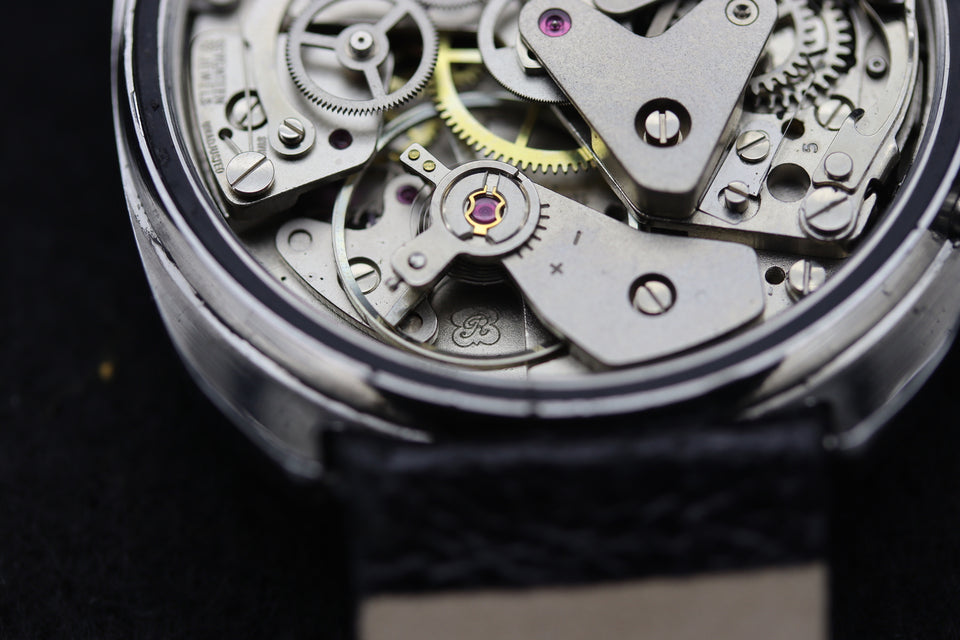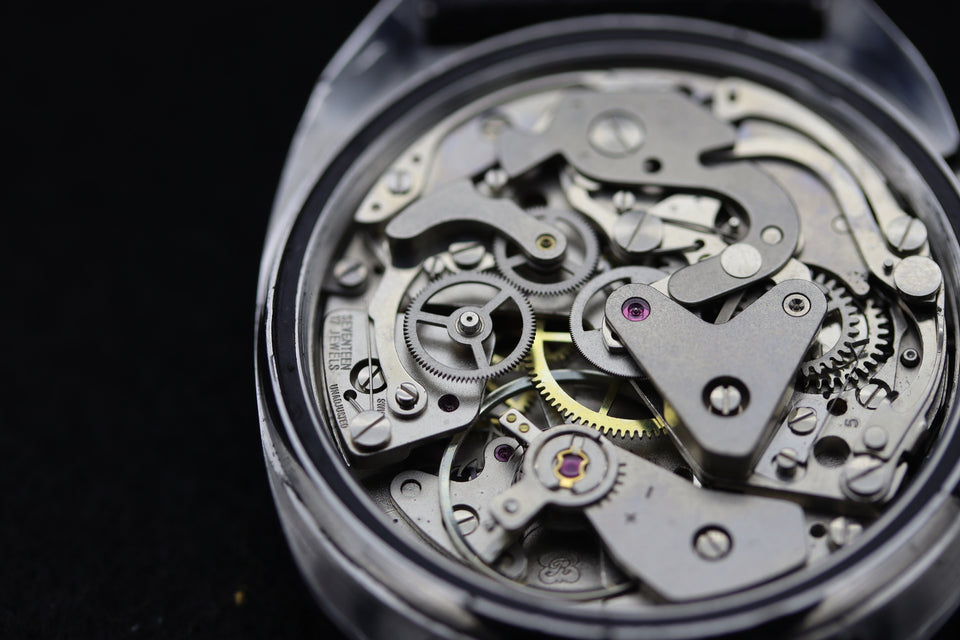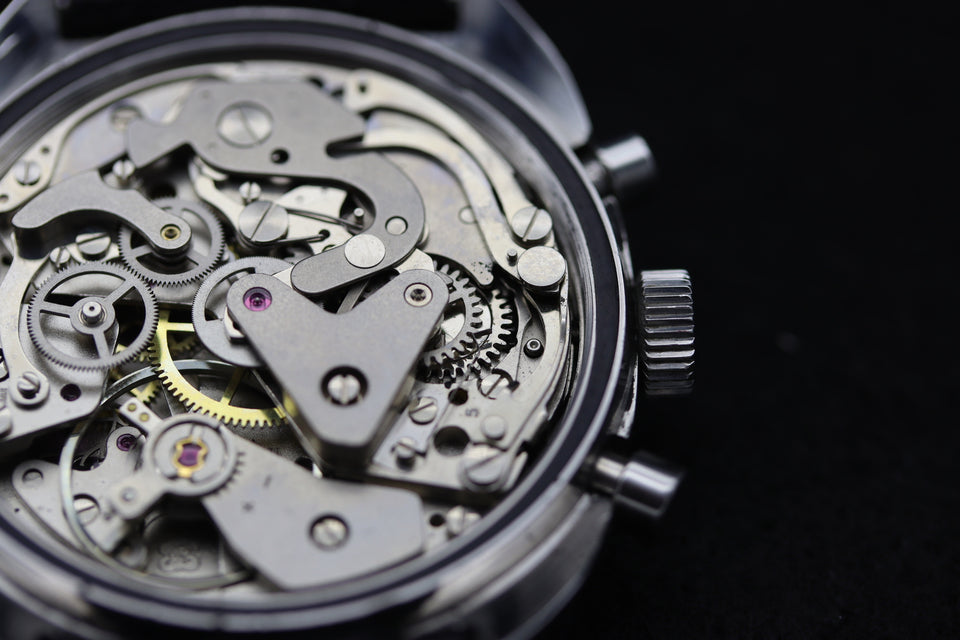 AERO NEUCHATEL | MONTE CARLO CHRONOGRAPH 70s
from AERO NEUCHATEL
A sporty and beautiful "Monte Carlo" chronograph in race-blue Switzerland, 1970s
# AERO NEUCHATEL 
# CHRONOGRAPH MONTE CARLO WITH SUNBURST EFFECT
# BLUE DIAL WITH SILVER EGGSHELL DIALS AND TACHYMETER
# GO. VALJOUX 7733
#37.5MM (40.5MM WITH CROWN)
# VALJOUX 7733
# HAND DRAWING
# 70s
# SWITZERLAND
Technically, the Aero Neuchatel, including the chronograph function, works perfectly and has recently been overhauled: (288°; +7s/d).  

The watch shows hardly any signs of wear. There are no deep scratches, dents or similar, the glass is scratch-free.
The independent family business Aéro Watch SA (proper spelling AEROWATCH) has been creating Swiss watchmaking since 1910, more than 100 years ago, and was founded in La Chaux-de-Fonds in western Switzerland.
With its headquarters in Neuchatel since 1935, Aéro Watch exported its products to more than 15 countries in the 1930s. After taking over a watch factory, the family specialized in the production of pocket and pendulum watches. The son Georges Crevoisier expanded distribution to over 30 countries in the 1960s and the company became known all over the world. The current company headquarters has been in Saignelegier (Canton of Jura) since 2008.
Your box & more for you
Our extra for everyone
Did not find what you are looking for?
The box for you contains: your new watch & presented in the original watch box & high-quality packaging in the Optionata gift box & with a 1-year guarantee on the function & certified with the buyer's seal of the Händlerbund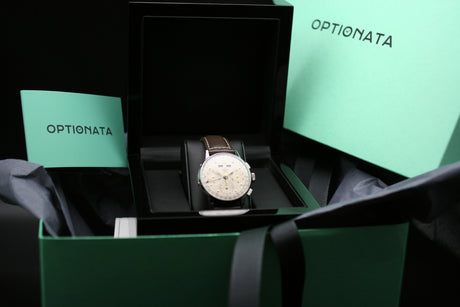 It's all in there for you.
1. STRICTLY CONTROLLED QUALITY GOODS
We only offer handpicked watches from our own stock as well as watches from private sellers. In both cases, the watches are physically with us and are checked according to strict quality criteria.
2. CERTIFIED WITH "BUYER SEAL - SECURE SHOPPING"
Trust is good, security even better. That's why we have had ourselves checked and certified by the Händlerbund to give you maximum purchasing security. The "Safe Buyer" seal is our investment - it is of course free of charge for you. All watches are sold through this certified service.
3. GUARANTEE OF AUTHENTICITY
We guarantee the authenticity of the watches we sell. If you have any doubts about the authenticity of the watch after purchasing it, please contact us via our contact form within 14 days of receipt of the goods. We will examine the case and together we will find the best solution for you.
4. 1 YEARGUARANTEE ON FUNCTIONALITY
Our watchmakers check every watch for functionality and guarantee this for 12 months from the date of purchase. If the movement should fail or cause problems during this time, we will take care of the repair at our expense.
5. PERSONAL SUPPORT
Throughout the browsing and purchasing process, you can contact us directly with any questions about the watch, the process, or the purchase. We are personally available to you at any time via several channels and will support you in the best possible way.
6. HIGH QUALITY PACKAGING
We ship collector's items, and our shipping box shows it. It protects your valuable purchase and is also an incomparable statement of what is true, beautiful and good inside. It shouldn't get to you otherwise.