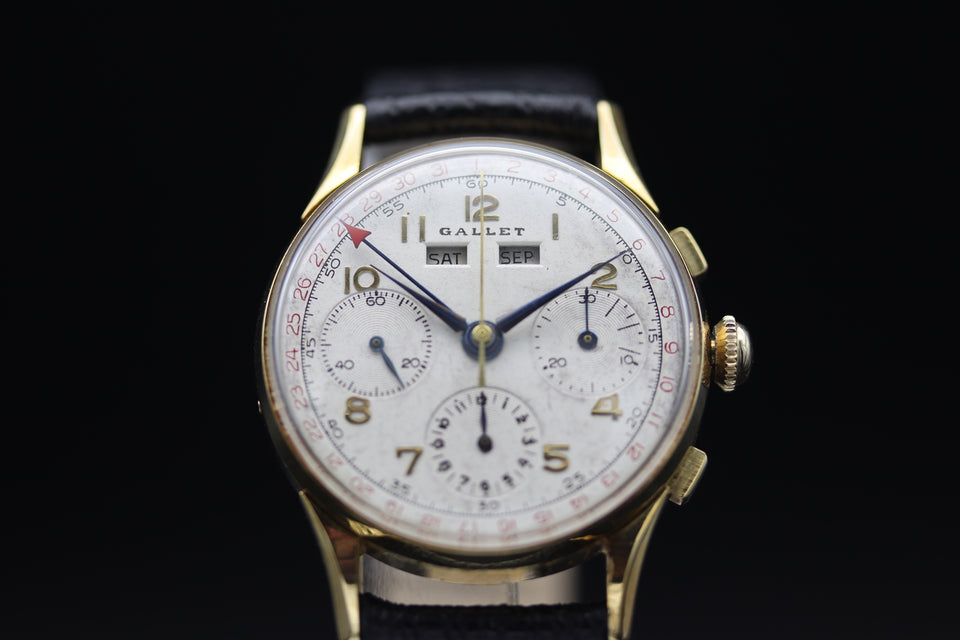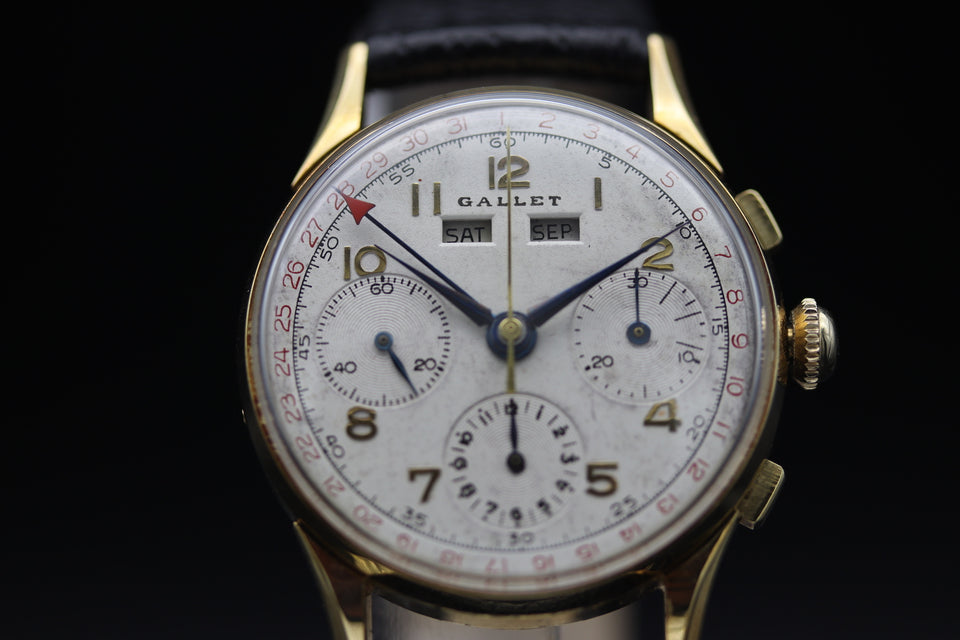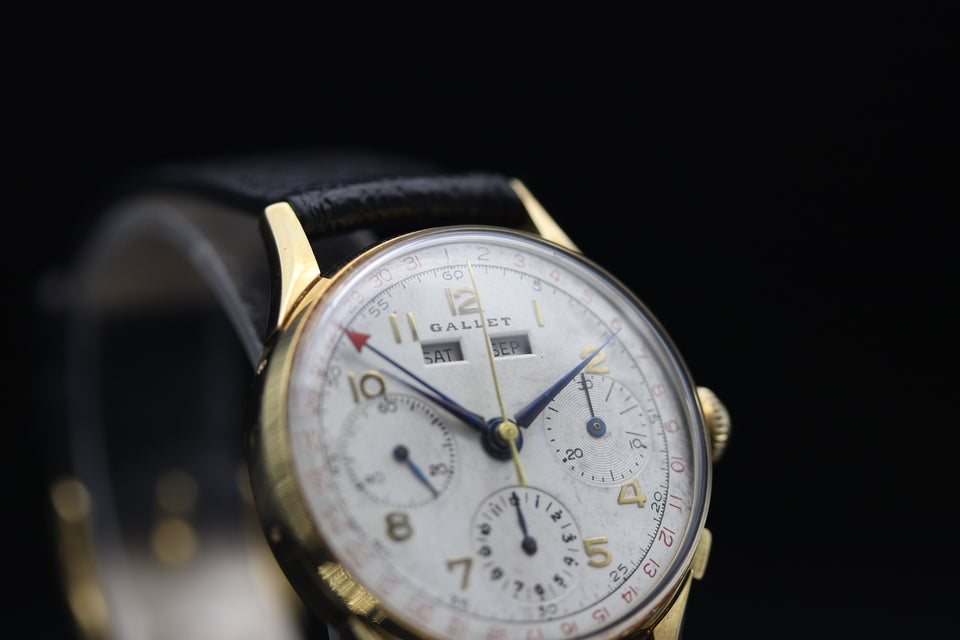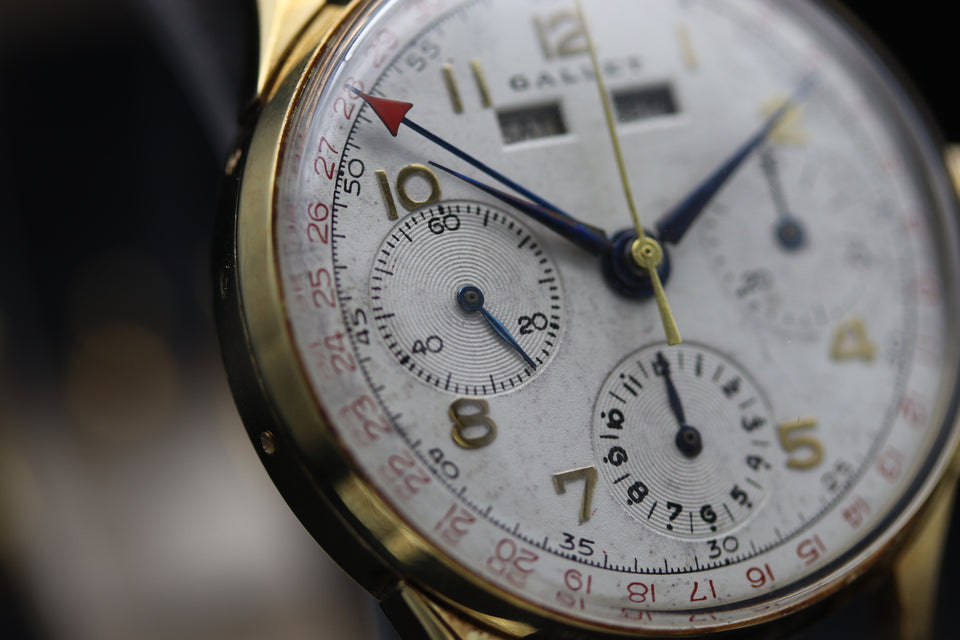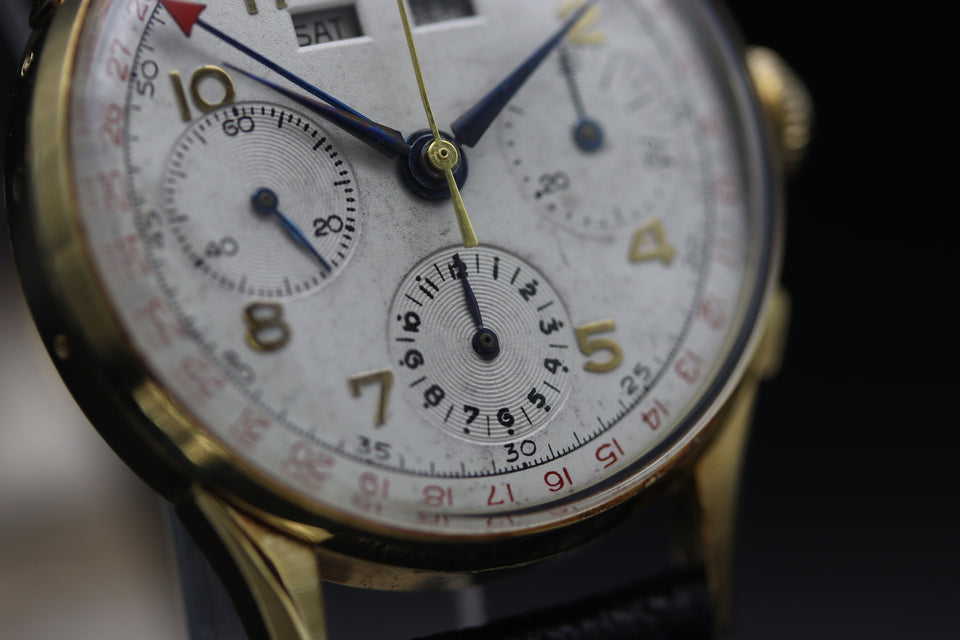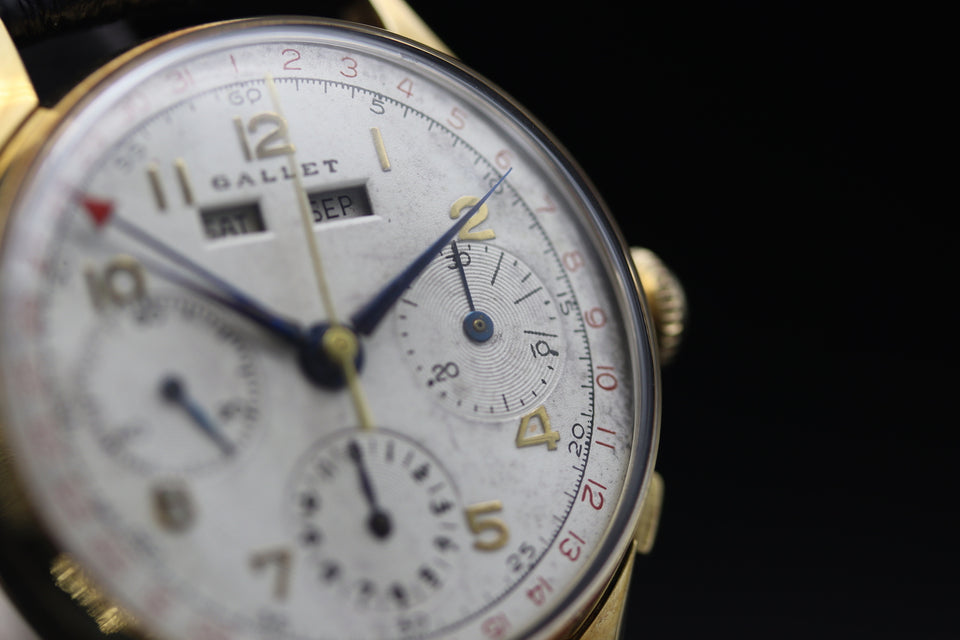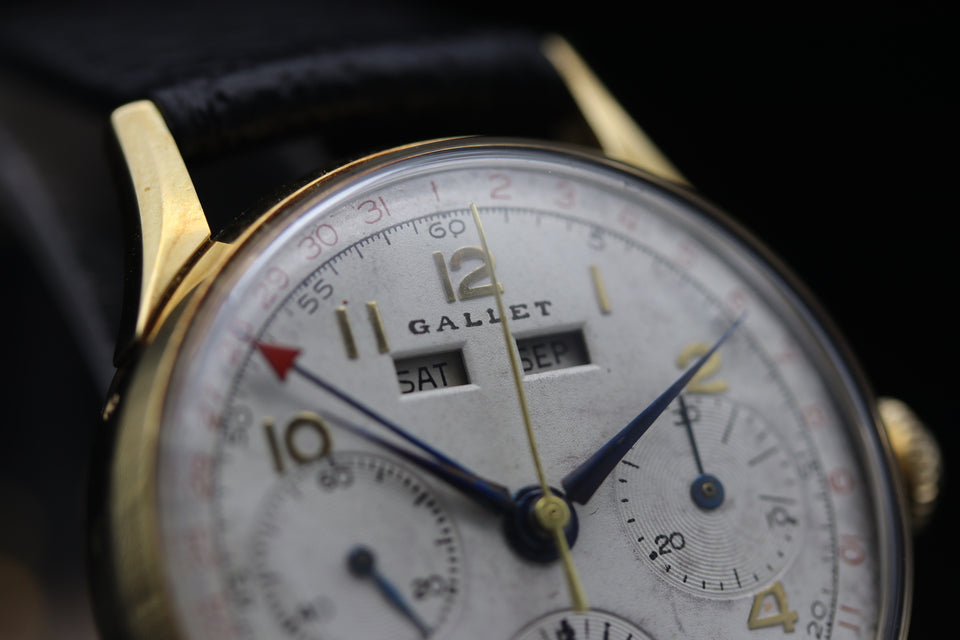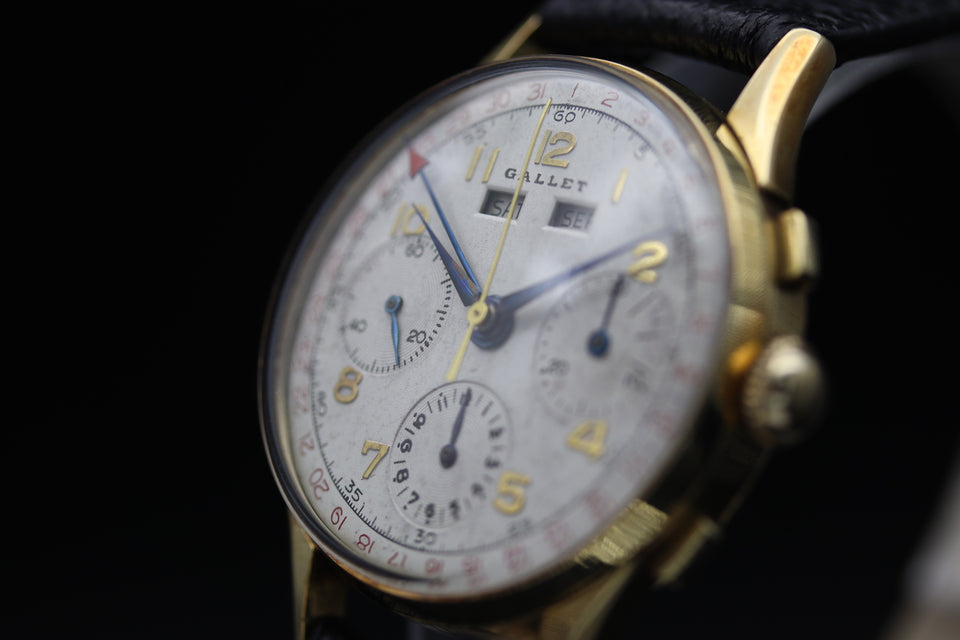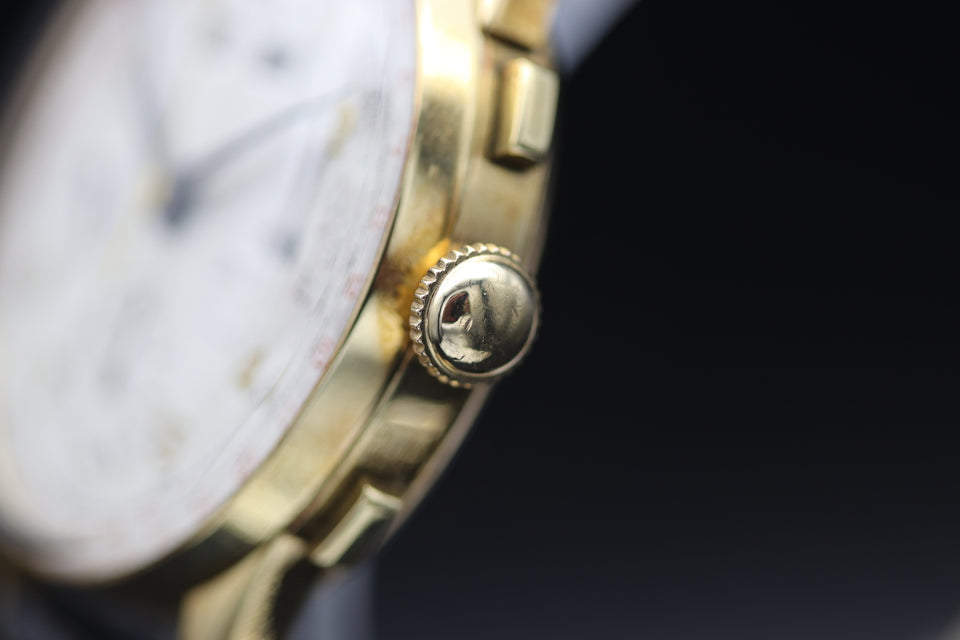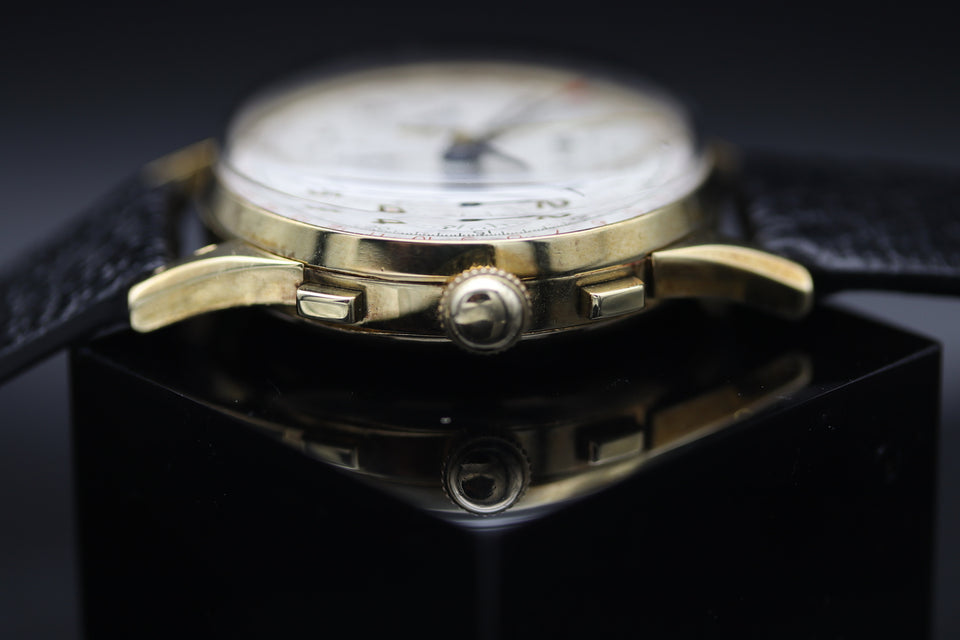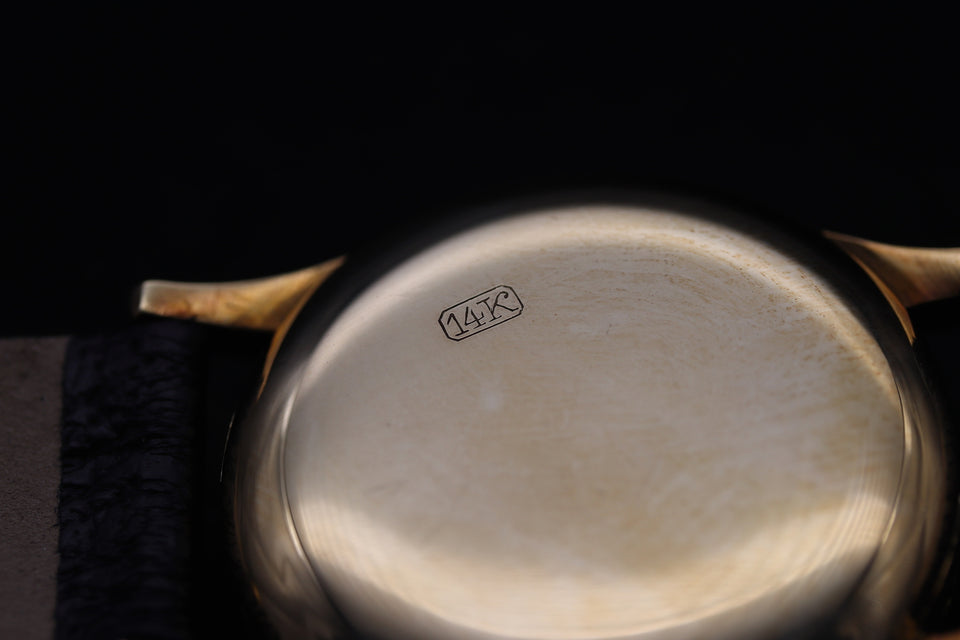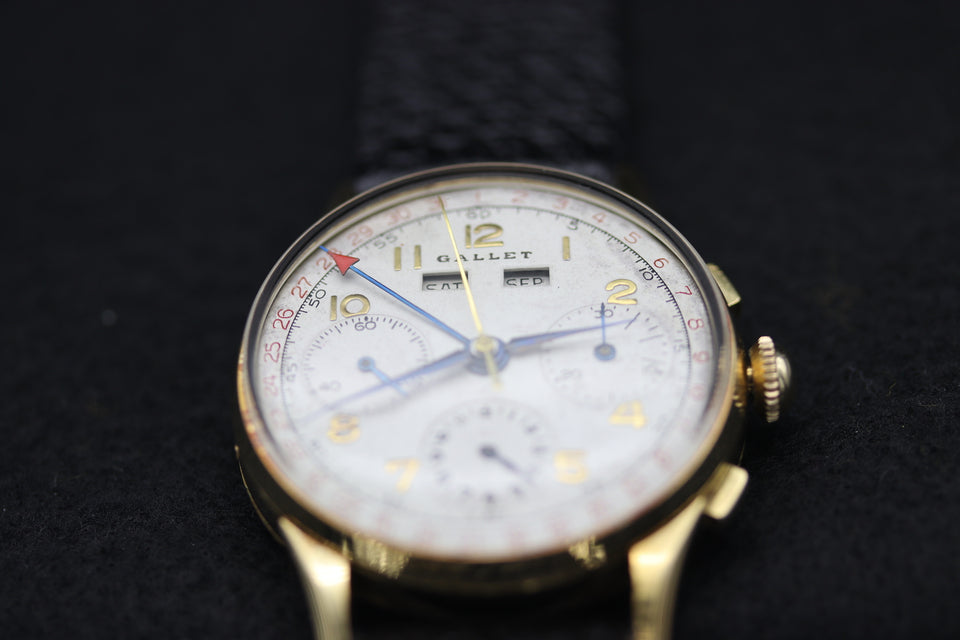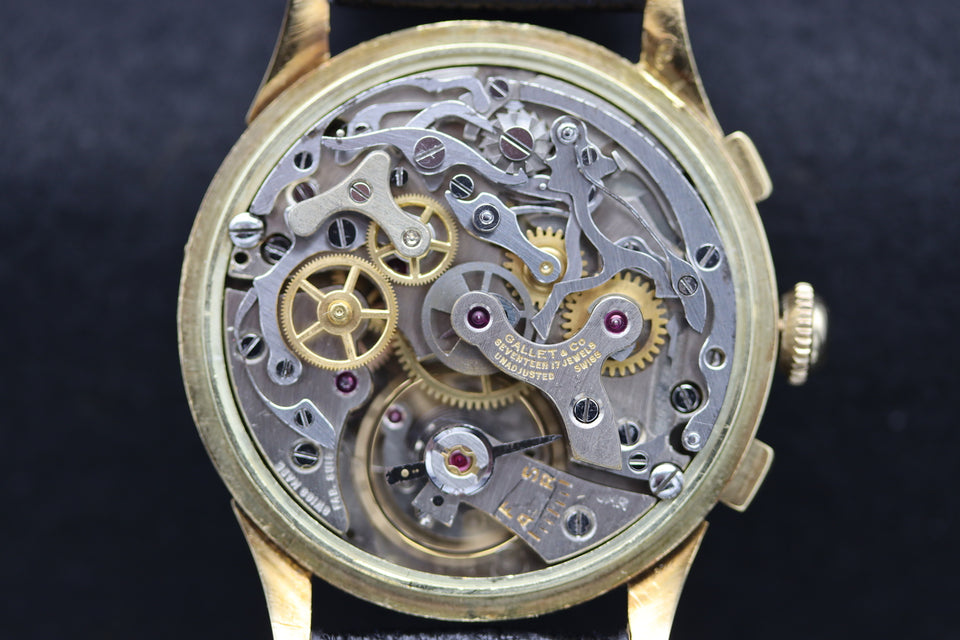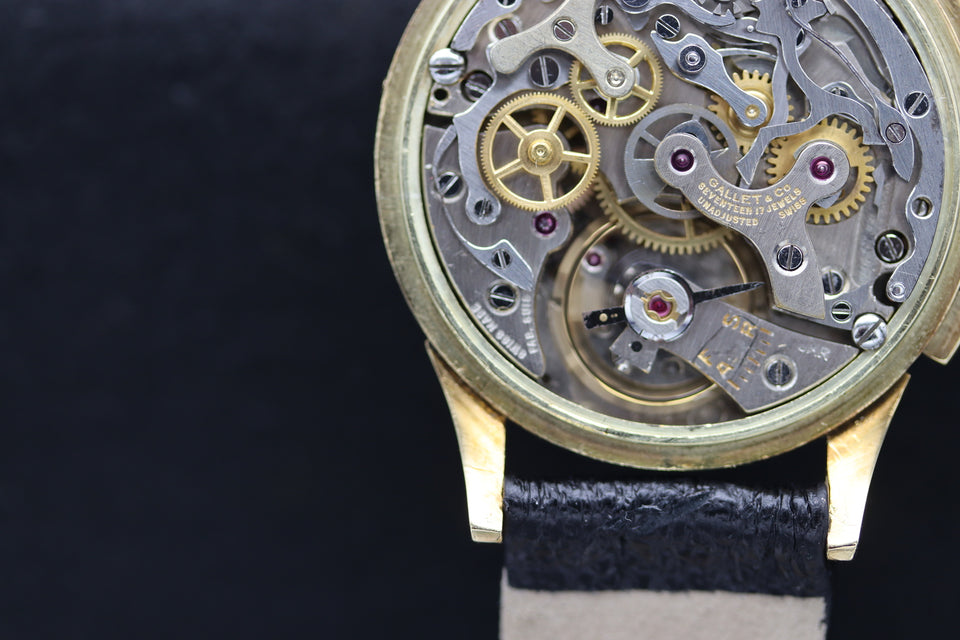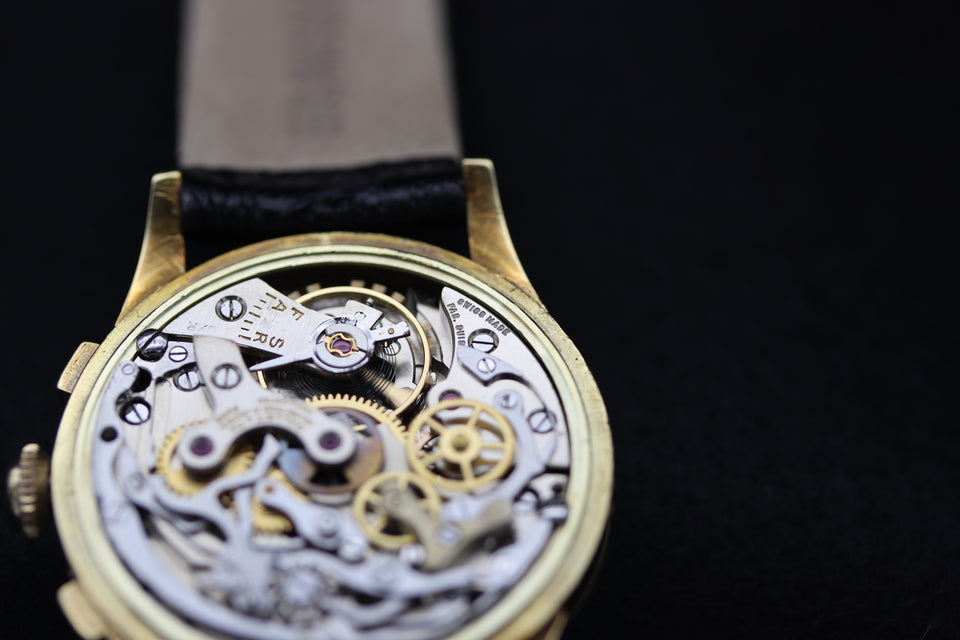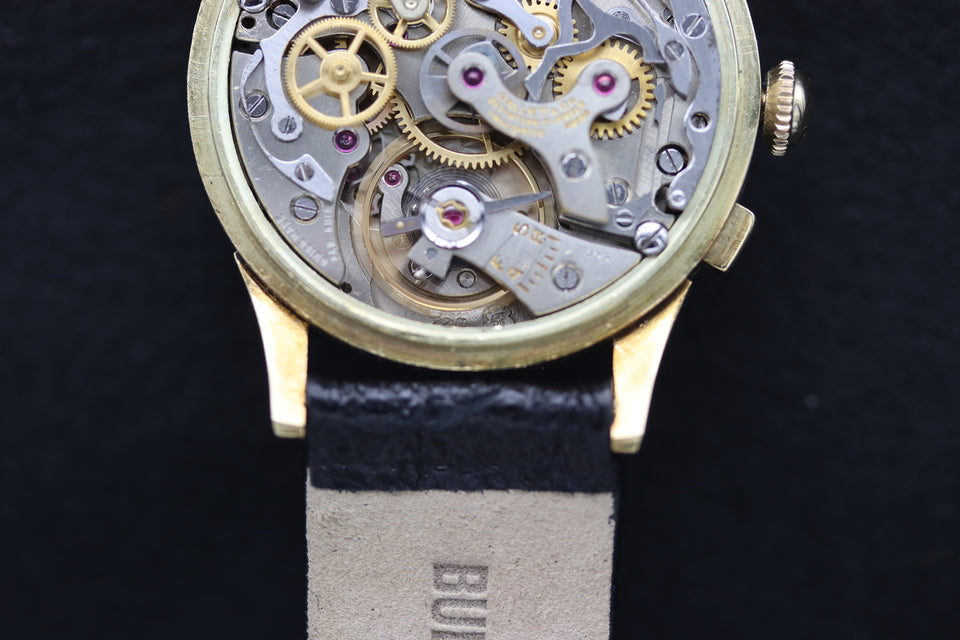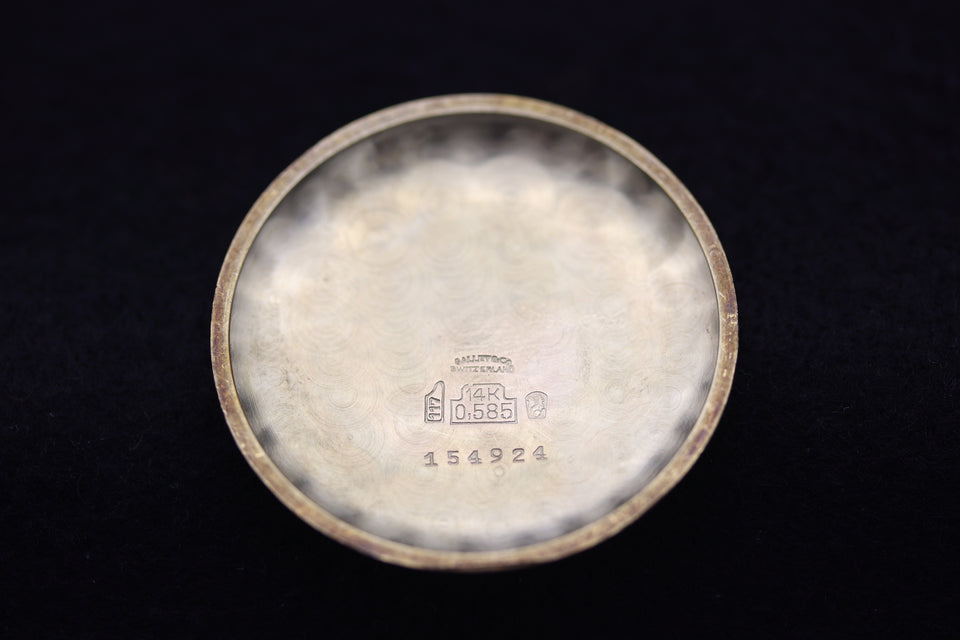 GALLET | FULL CALENDAR CHRONOGRAPH GOLD 1950s
from Gallet
Super cool and fine full calendar chronograph in amazing condition Switzerland, 1950s
# GALLET FULL CALENDAR
# NEW VINTAGE LEATHER STRAP
# SILVER DIAL WITH DATE, DAY OF THE WEEK, MONTH AND 12-HOUR COUNTER
# KAL. VALJOUX 72C
# 35MM (37MM WITH CROWN)
# GOLD 585 / 14 KARAT
# TRIPLE SIGNED ON DIAL, MOVEMENT AND COVER
# BLUED CHRONOGRAPH HANDS
# HAND PULL
# 1950er
# SWITZERLAND

# ACQUIRED BY GERMAN COLLECTOR
Technically, the gallet, including the chronograph function, works flawlessly and has been recently serviced: (279°; +15s/d).  

The watch shows hardly any signs of wear. There are no deep scratches, dents or similar, the glass is scratch-free.
Gallet Geneve is the oldest Swiss watch company founded in 1466 by Humbertus Gallet. In 2016, the company celebrated its 550th anniversary in Geneva. The brand we know today was registered in 1826 with the name Gallet & Cie.
The Gallet watch brand has a fascinating company history and some notable features:
#1 pioneer of chronographs
Gallet is considered one of the pioneers of chronographs and has a long history of designing and manufacturing these timepieces. The company began producing chronographs as early as the 19th century and was later known for its precision and reliability.
#2 Adventure timepiece
Gallet watches were often worn by adventurers, explorers and professional athletes. They have been used in numerous expeditions, polar voyages and sporting competitions. The brand specifically designed its watches for use in extreme conditions and has been a popular choice among explorers and explorers.
#3 military watches
Gallet was a major supplier of watches to various armies and military units around the world. The brand made watches for the armed forces during World War I, World War II and later conflicts. These military watches were characterized by their robustness, functionality and readability.
#4 Chronograph for everyday use
In addition to their special areas of application, Gallet also offered chronographs for everyday use. These watches were characterized by their elegant design, their reliability and their high-quality workmanship.
#5 Innovative design and technology
Gallet has incorporated innovative designs and technological advances into its watches over the years. These include, for example, the use of waterproof cases and the introduction of new chronograph functions.
#6 Vintage and collectible value
Gallet watches from past decades are very popular with collectors. The brand has a rich history and its vintage models are highly collectible. The early chronograph models, which were often associated with special features and limitations, are particularly in demand.
Gallet's history is shaped by its role as a pioneer of chronographs, its connection to adventurism and its long history of manufacturing military watches. Today, the brand has a loyal following of collectors and watch enthusiasts who appreciate the historical value and quality of Gallet watches.
Your box & more for you
Our extra for everyone
Did not find what you are looking for?
The box for you contains: your new watch & presented in the original watch box & high-quality packaging in the Optionata gift box & with a 1-year guarantee on the function & certified with the buyer's seal of the Händlerbund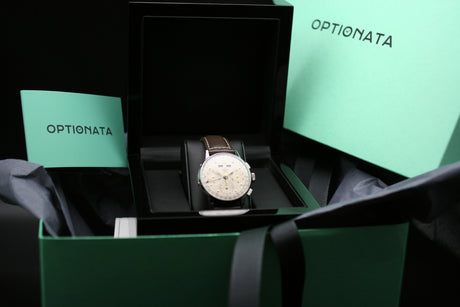 It's all in there for you.
1. STRICTLY CONTROLLED QUALITY GOODS
We only offer handpicked watches from our own stock as well as watches from private sellers. In both cases, the watches are physically with us and are checked according to strict quality criteria.
2. CERTIFIED WITH "BUYER SEAL - SECURE SHOPPING"
Trust is good, security even better. That's why we have had ourselves checked and certified by the Händlerbund to give you maximum purchasing security. The "Safe Buyer" seal is our investment - it is of course free of charge for you. All watches are sold through this certified service.
3. GUARANTEE OF AUTHENTICITY
We guarantee the authenticity of the watches we sell. If you have any doubts about the authenticity of the watch after purchasing it, please contact us via our contact form within 14 days of receipt of the goods. We will examine the case and together we will find the best solution for you.
4. 1 YEARGUARANTEE ON FUNCTIONALITY
Our watchmakers check every watch for functionality and guarantee this for 12 months from the date of purchase. If the movement should fail or cause problems during this time, we will take care of the repair at our expense.
5. PERSONAL SUPPORT
Throughout the browsing and purchasing process, you can contact us directly with any questions about the watch, the process, or the purchase. We are personally available to you at any time via several channels and will support you in the best possible way.
6. HIGH QUALITY PACKAGING
We ship collector's items, and our shipping box shows it. It protects your valuable purchase and is also an incomparable statement of what is true, beautiful and good inside. It shouldn't get to you otherwise.