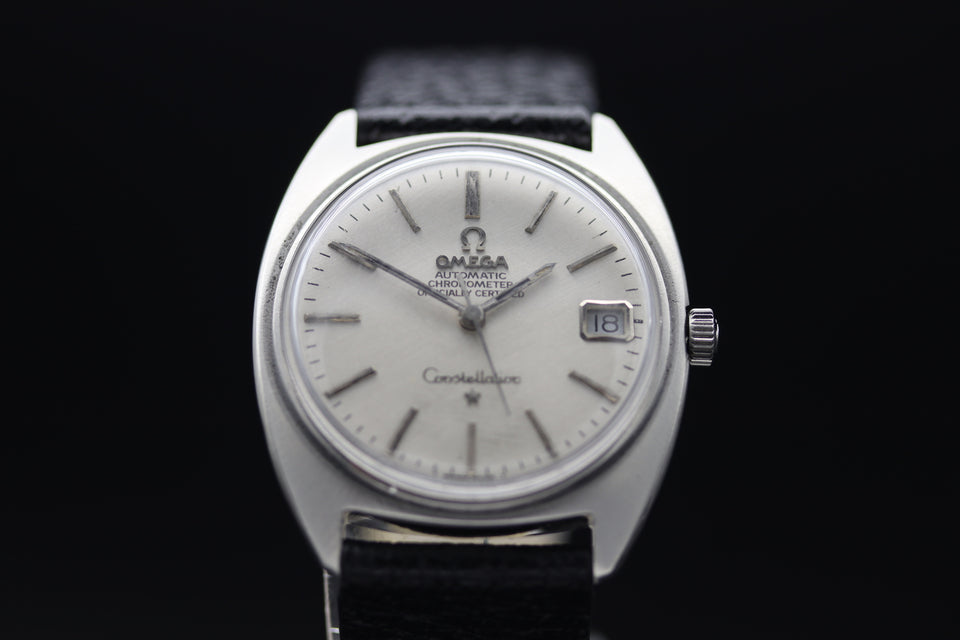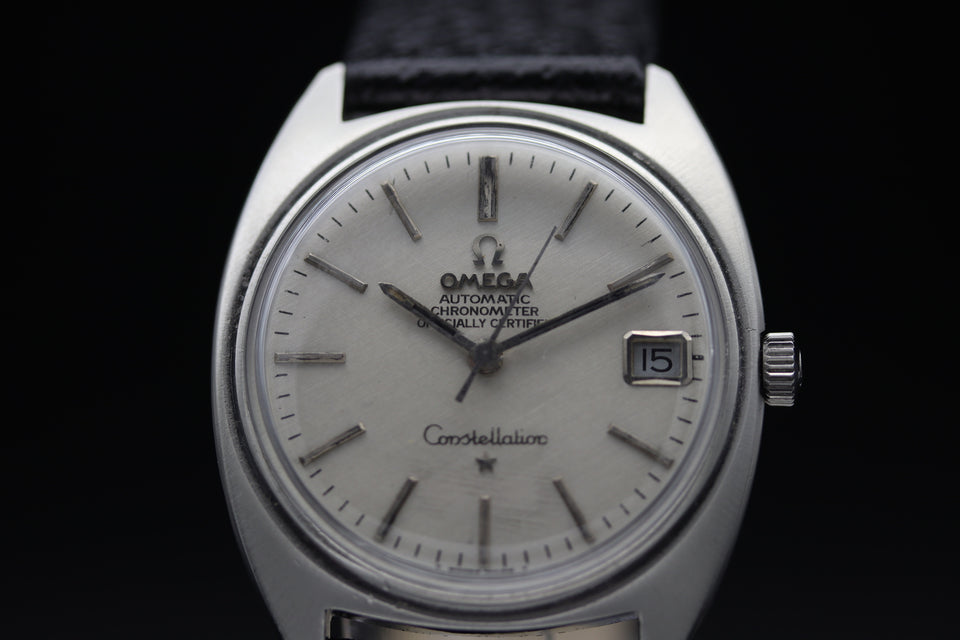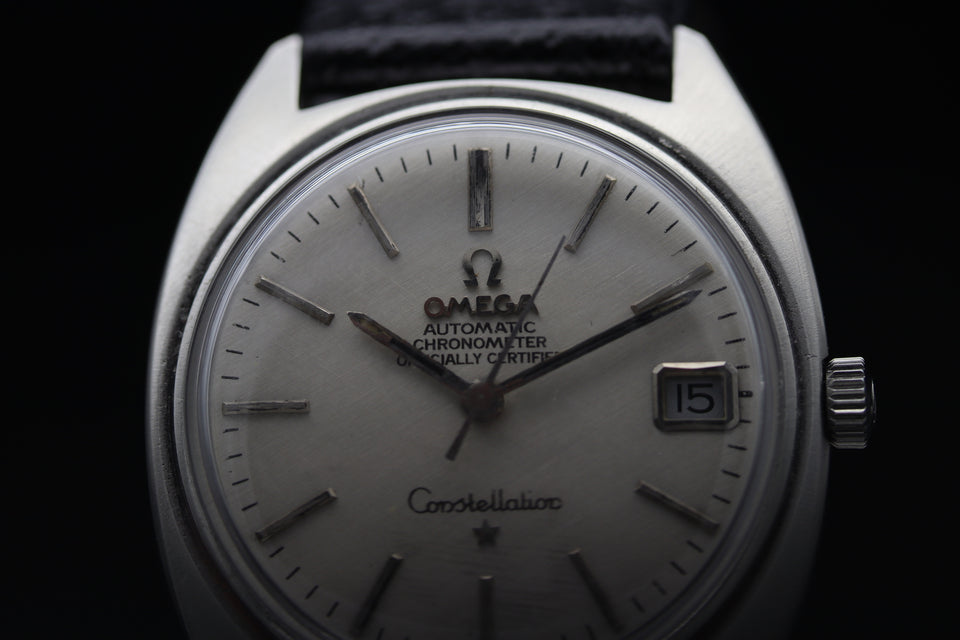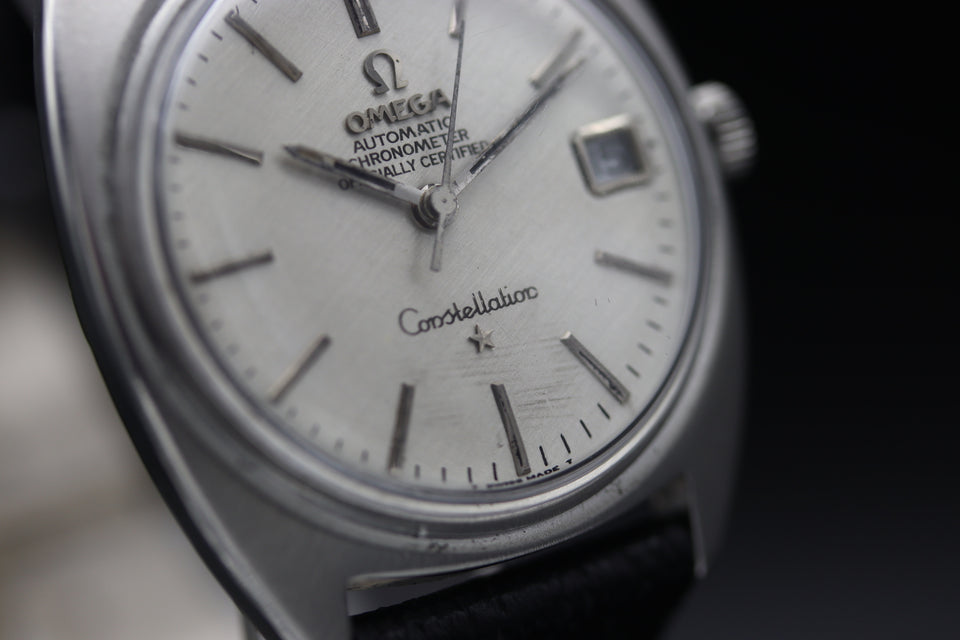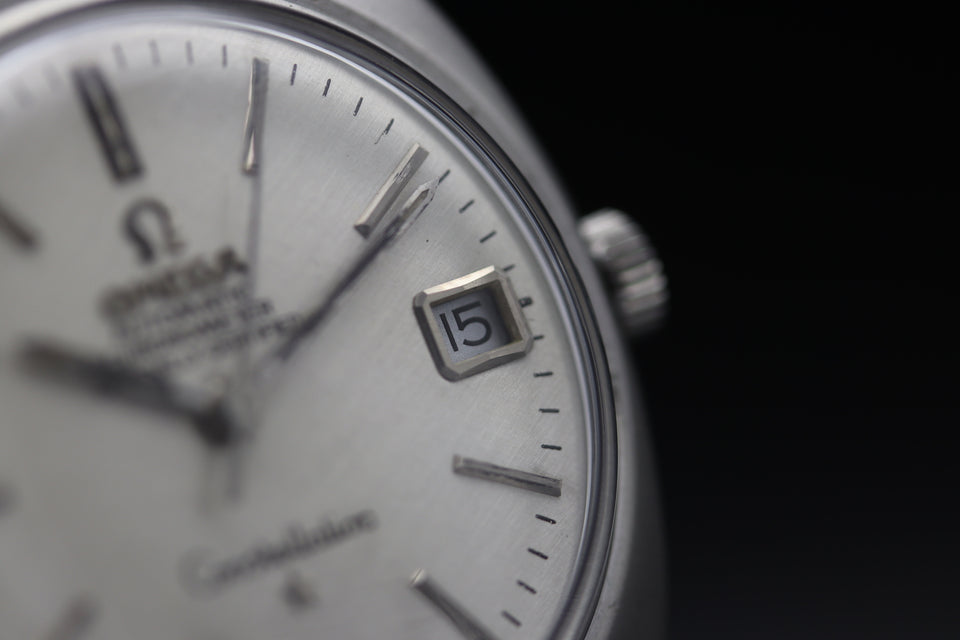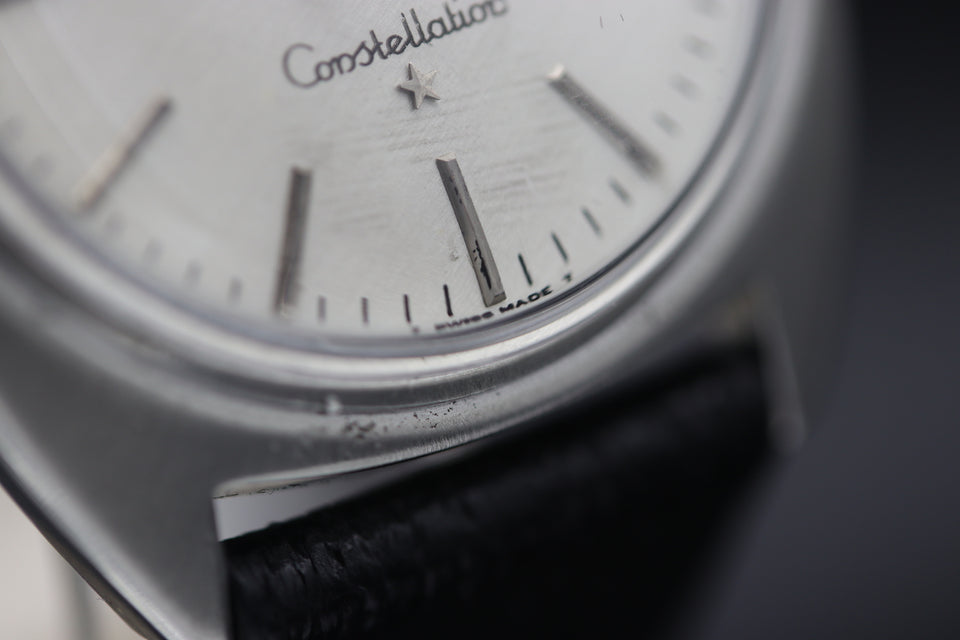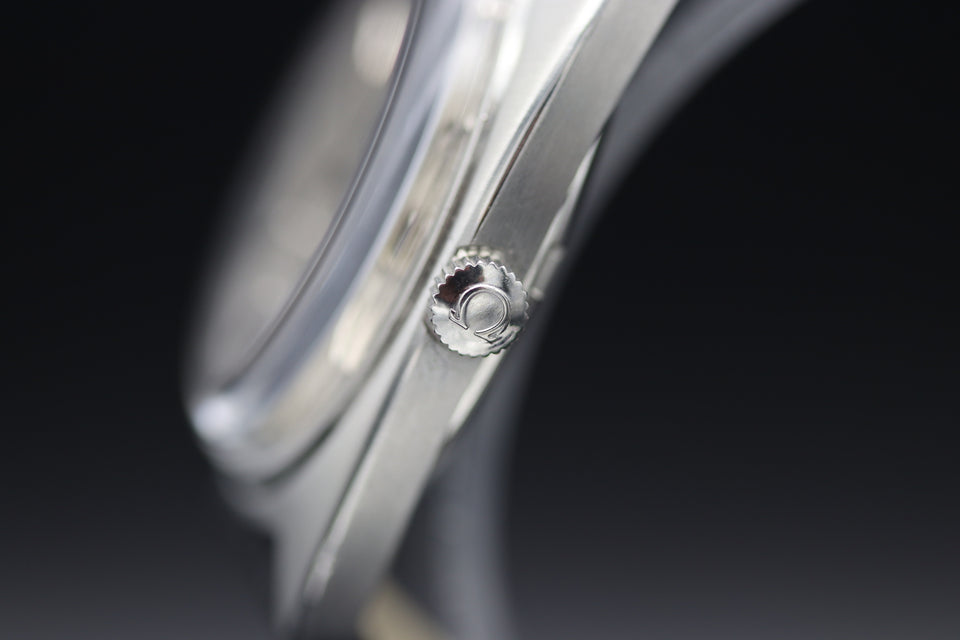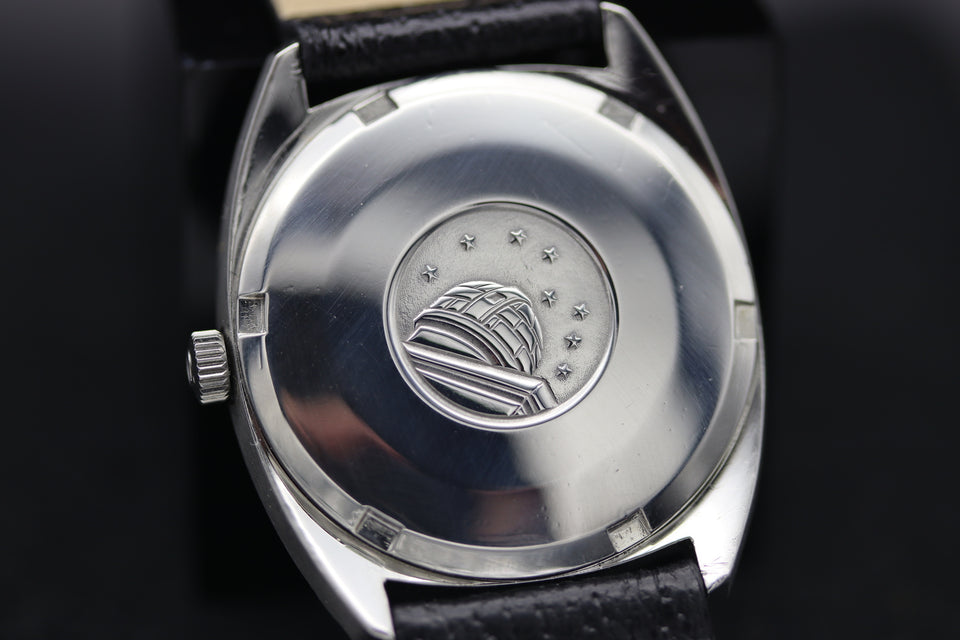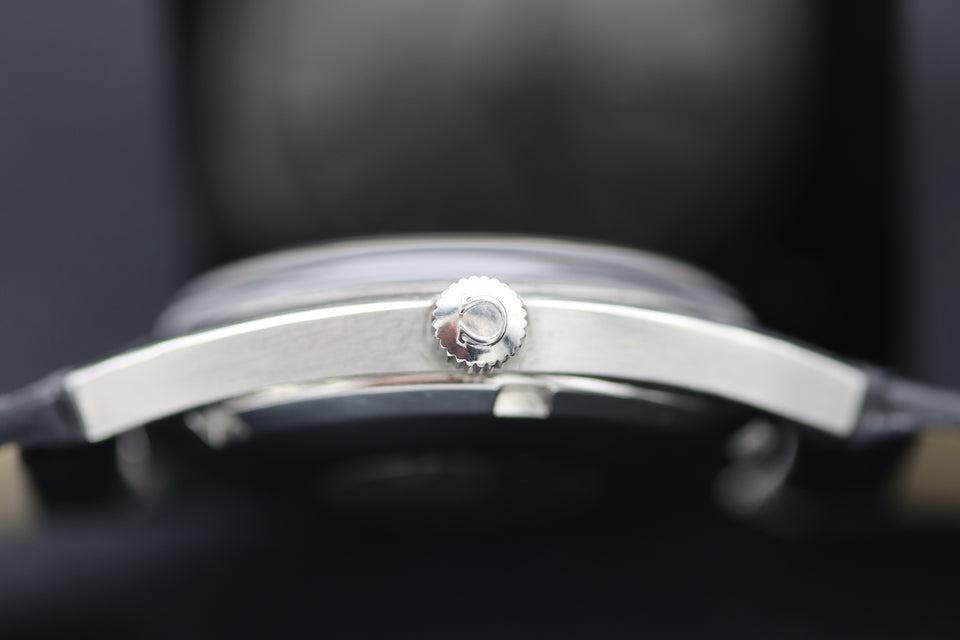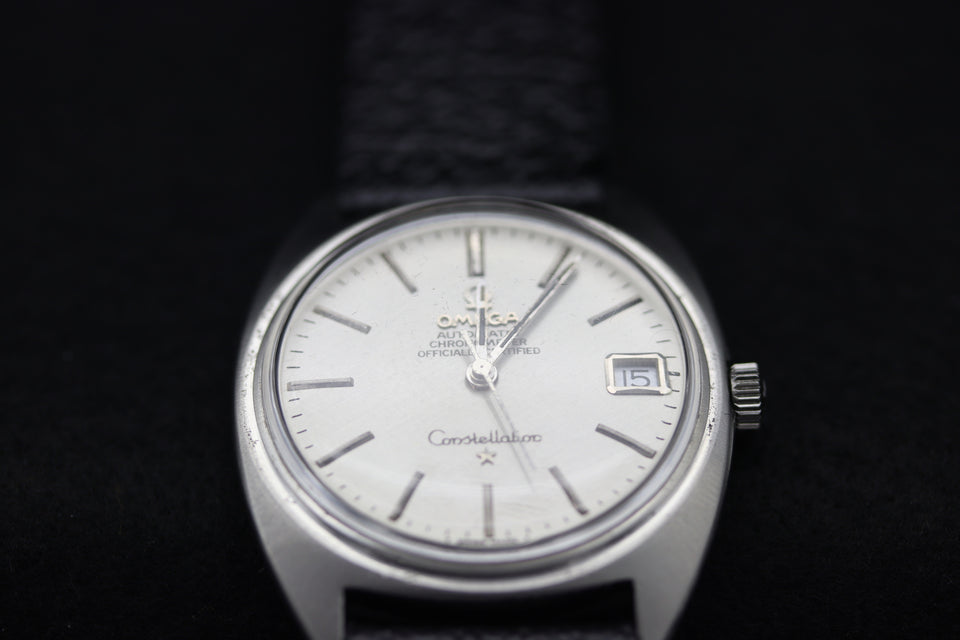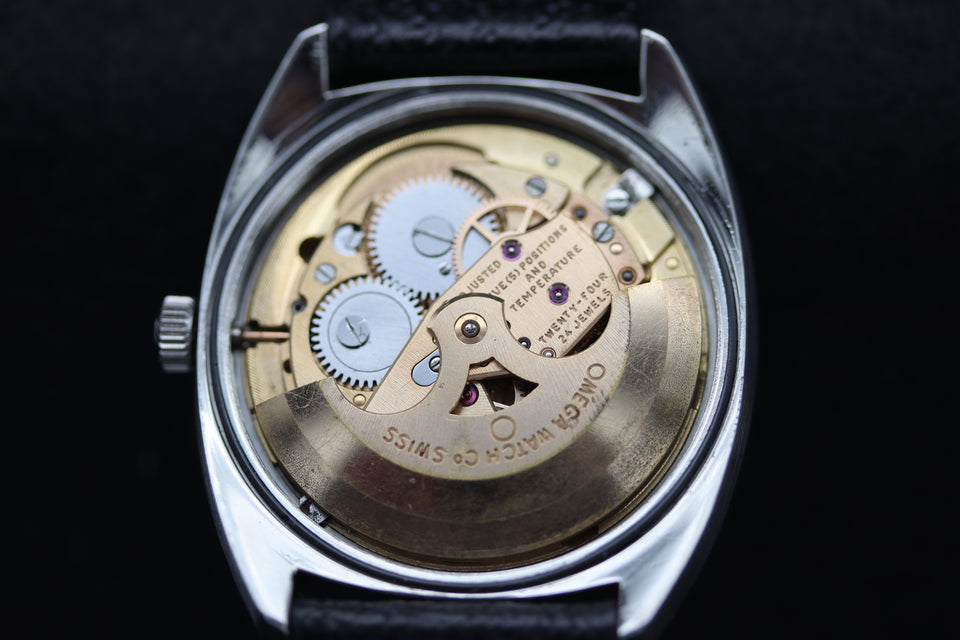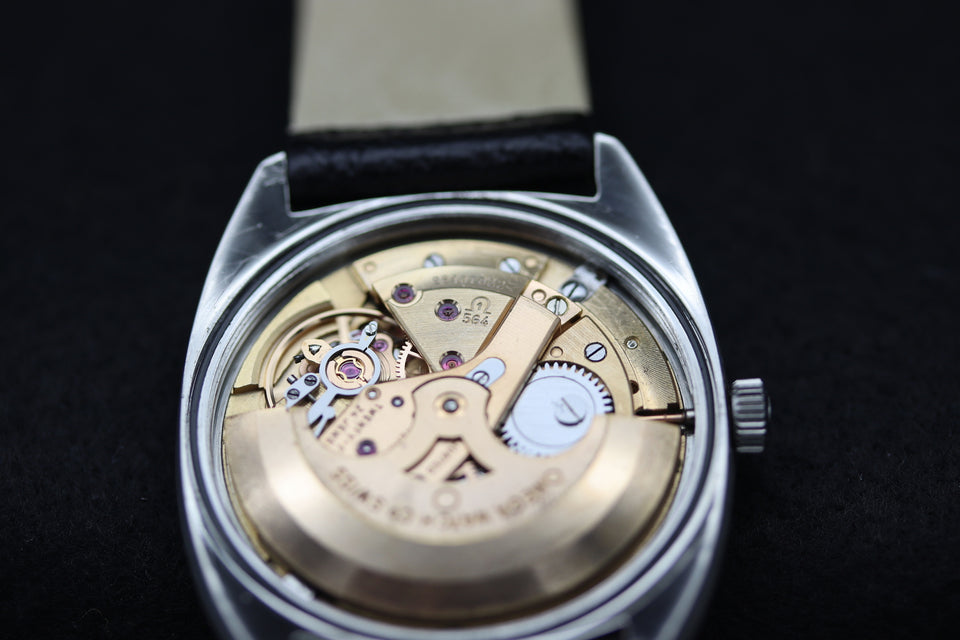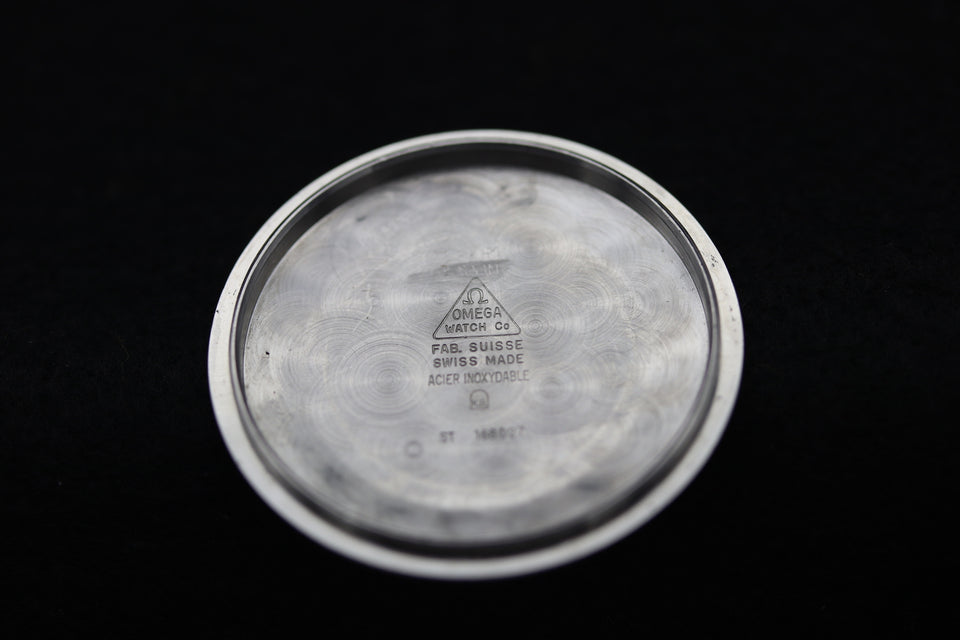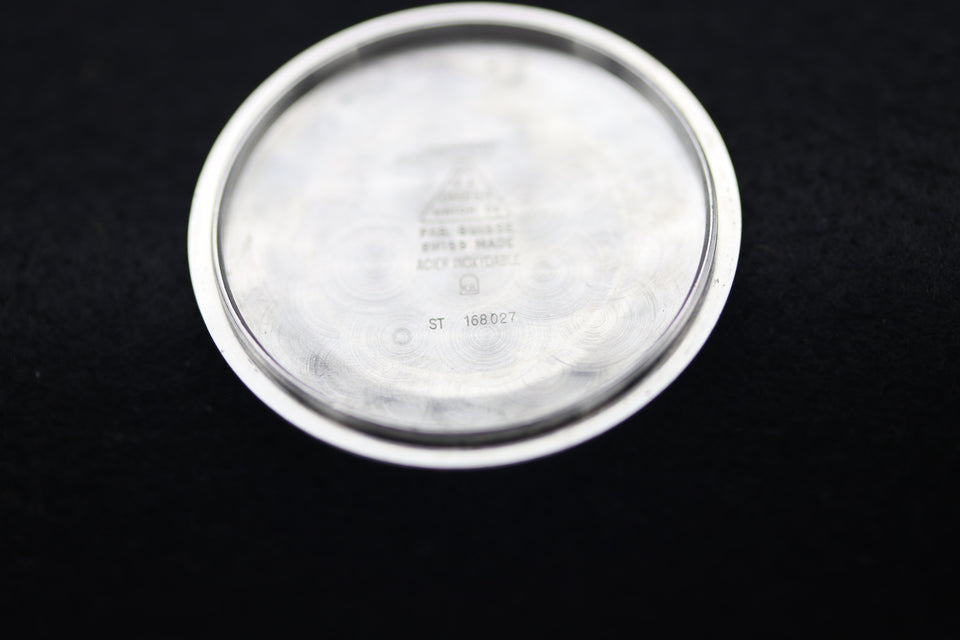 OMEGA | CONSTELLATION CHRONOMETER 1972
from Omega
Stylish and in excellent condition as a Swiss chronometer, 1972s
# OMEGA
# CONSTELLATION CHRONOMETER OFFICIALLY CERTIFIED
# NEW VINTAGE LEATHER STRAP
# GOLD PLATED CASE AND GOLD PLATED DIAL WITH DATE
# SIGNED THREE TIMES: DIAL, MOVEMENT AND OBSERVATORY ON THE LID PLUS ORIGINAL CROWN
# PLUS ORIGINAL-OMEGA-UHRENBOX
# REF. CD 168.0056
# GO. 1011
# 34.5MM (37MM WITH CROWN)
# ORIGINAL STATE 
# AUTOMATIC
# 1972er
# SWITZERLAND

# ACQUIRED BY GERMAN COLLECTOR
Technically, the Omega works perfectly, including the chronograph function, and has been freshly serviced: (292°; +11s/d).  

The watch shows hardly any signs of wear. There are no deep scratches, dents or similar, the glass is scratch-free.
The watch brand Omega has an impressive company history and numerous special features that distinguish it from other watch brands:
#1 precision and reliability
Omega is known for its exceptional precision and reliability. The brand has a long tradition in the manufacture of timekeeping instruments and has been certified for its high accuracy, including as official timekeeping in the Olympic Games and in aviation.
#2 Technological Innovation
Omega has always been at the forefront of technological innovation in the watchmaking industry. The brand has pioneered numerous pioneering developments, such as the Co-Axial escapement, magnetic resistance and the use of high-quality materials such as Ceragold and Liquidmetal.
#3 James Bond
Omega is inextricably linked to the fictional secret agent James Bond. Bond has been wearing an Omega watch in the films since 1995, which has given the brand even greater recognition and popularity worldwide.
#4 space history
Omega has played a significant role in space history. Approved by NASA for its space missions, the Omega Speedmaster was the first watch to be worn on the moon. This historic moment made the Omega Speedmaster iconic.
#5 Variety of collections and designs
Omega offers a wide range of collections covering different styles and functions. From classic dress watches and sporty diving watches to sophisticated complications, there is something for every taste and occasion.
#6 Commitment to sustainability
Omega is committed to sustainability and makes great efforts to act in an environmentally responsible manner. The brand has launched initiatives to reduce its carbon footprint, promote the use of sustainable materials and take social responsibility.
Omega's history dates back to 1848 when the brand was founded by Louis Brandt in La Chaux-de-Fonds, Switzerland. Since then, Omega has grown into one of the most prestigious watch brands in the world, known for their quality, innovation and style. Omega watches are extremely popular among watch lovers and collectors due to their outstanding performance, iconic design and historical heritage.
Your box & more for you
Our extra for everyone
Did not find what you are looking for?
The box for you contains: your new watch & presented in the original watch box & high-quality packaging in the Optionata gift box & with a 1-year guarantee on the function & certified with the buyer's seal of the Händlerbund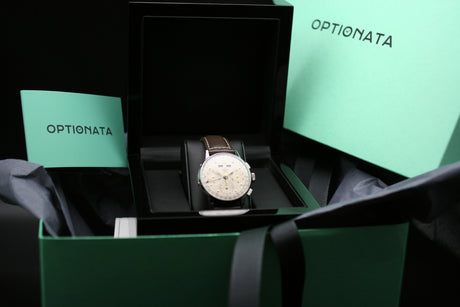 It's all in there for you.
1. STRICTLY CONTROLLED QUALITY GOODS
We only offer handpicked watches from our own stock as well as watches from private sellers. In both cases, the watches are physically with us and are checked according to strict quality criteria.
2. CERTIFIED WITH "BUYER SEAL - SECURE SHOPPING"
Trust is good, security even better. That's why we have had ourselves checked and certified by the Händlerbund to give you maximum purchasing security. The "Safe Buyer" seal is our investment - it is of course free of charge for you. All watches are sold through this certified service.
3. GUARANTEE OF AUTHENTICITY
We guarantee the authenticity of the watches we sell. If you have any doubts about the authenticity of the watch after purchasing it, please contact us via our contact form within 14 days of receipt of the goods. We will examine the case and together we will find the best solution for you.
4. 1 YEARGUARANTEE ON FUNCTIONALITY
Our watchmakers check every watch for functionality and guarantee this for 12 months from the date of purchase. If the movement should fail or cause problems during this time, we will take care of the repair at our expense.
5. PERSONAL SUPPORT
Throughout the browsing and purchasing process, you can contact us directly with any questions about the watch, the process, or the purchase. We are personally available to you at any time via several channels and will support you in the best possible way.
6. HIGH QUALITY PACKAGING
We ship collector's items, and our shipping box shows it. It protects your valuable purchase and is also an incomparable statement of what is true, beautiful and good inside. It shouldn't get to you otherwise.