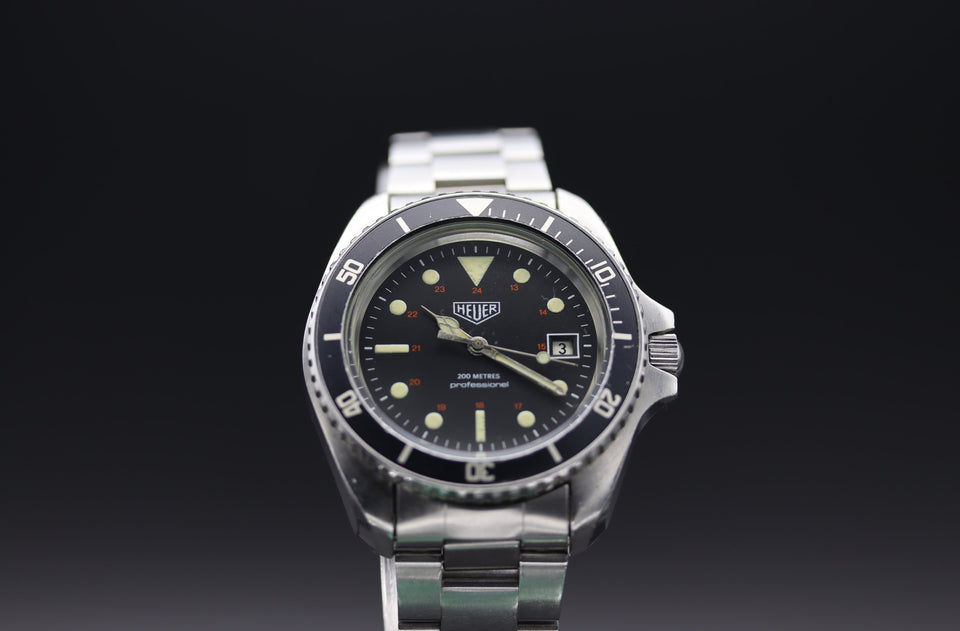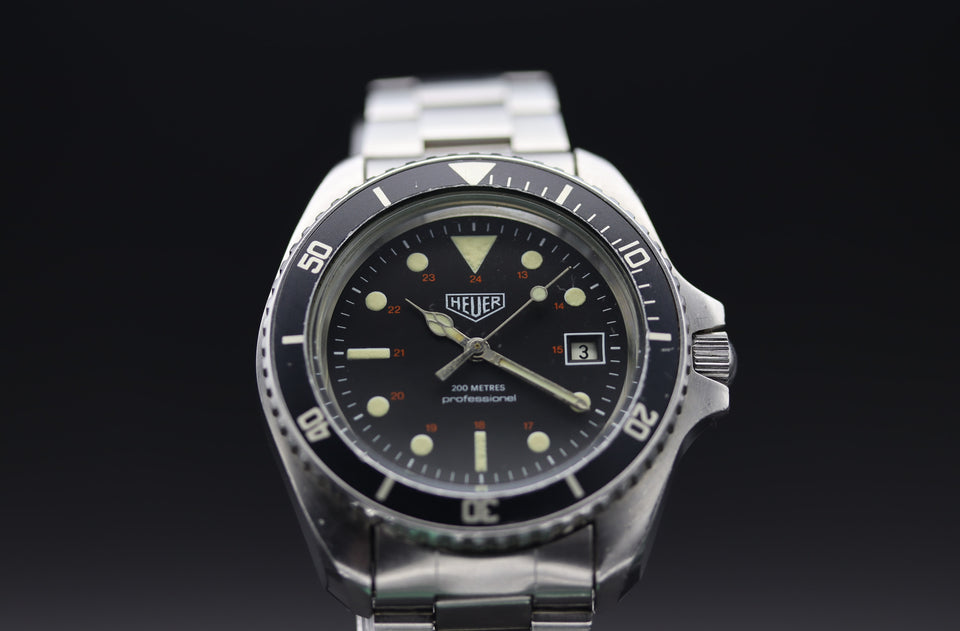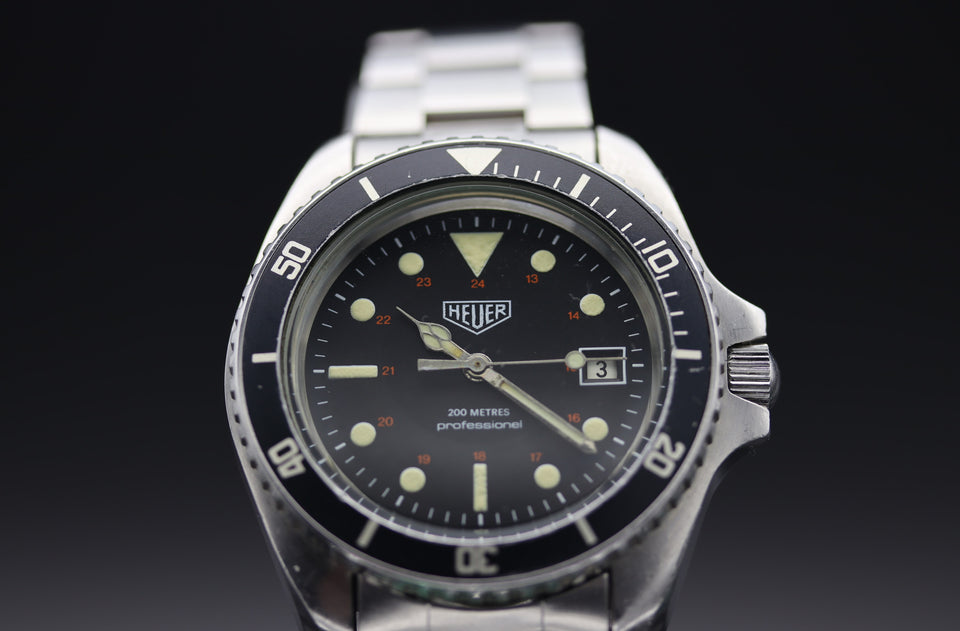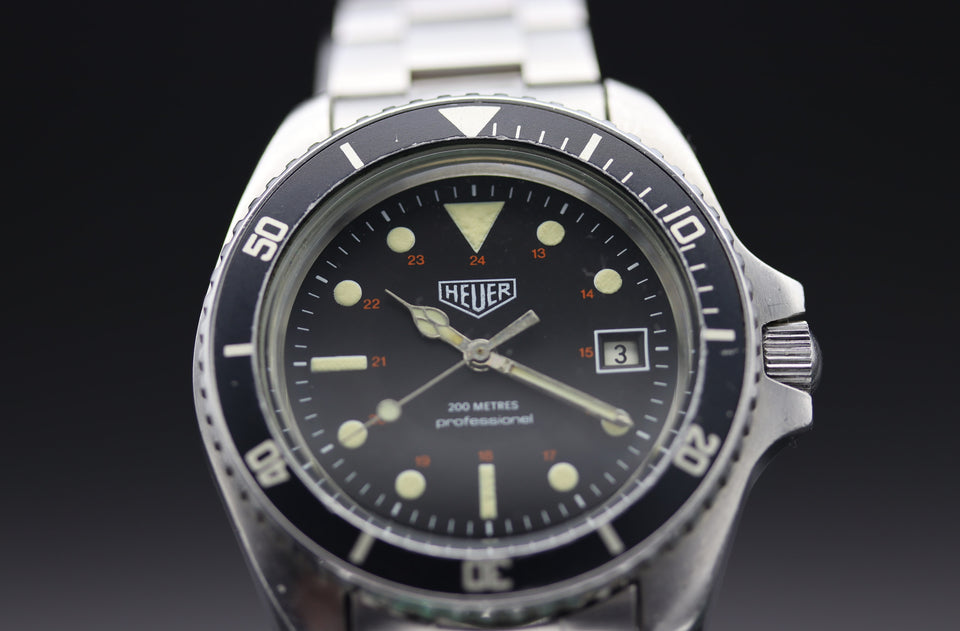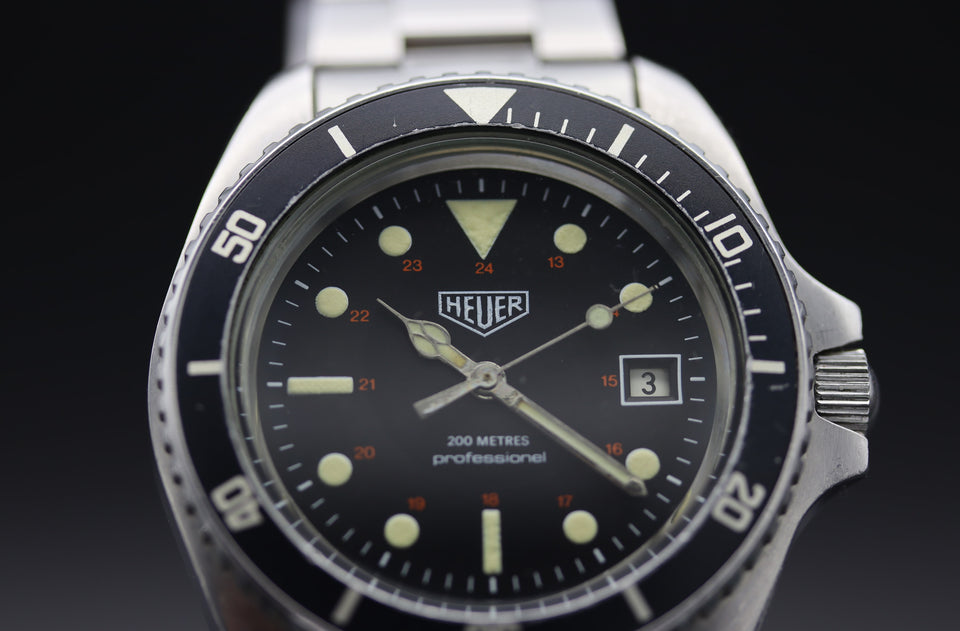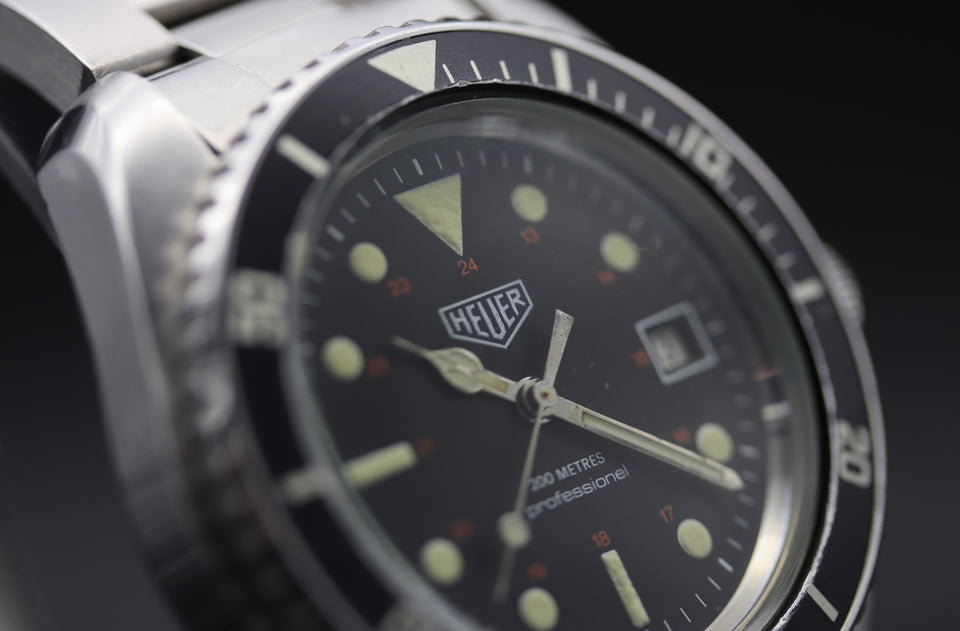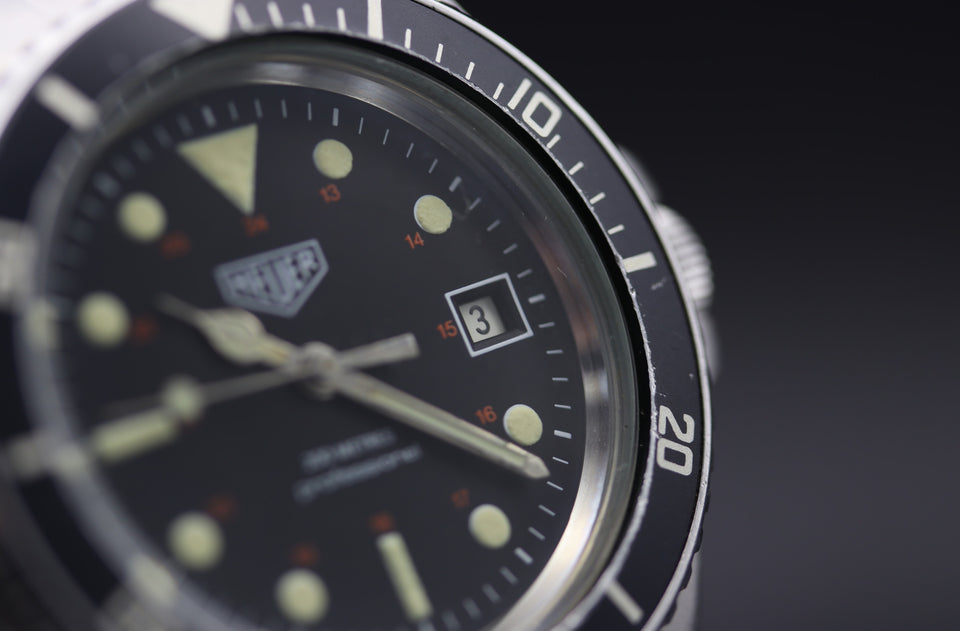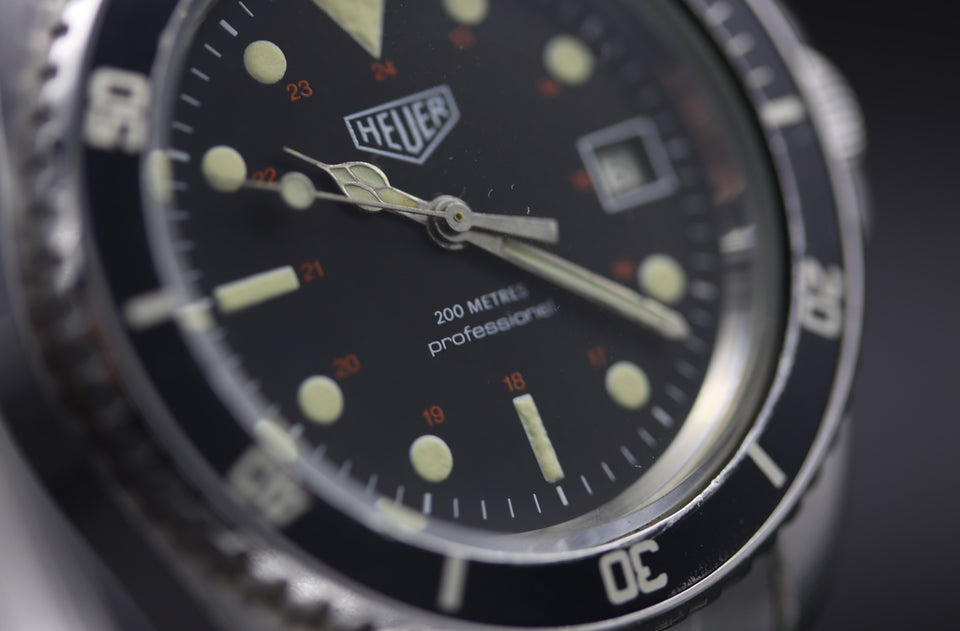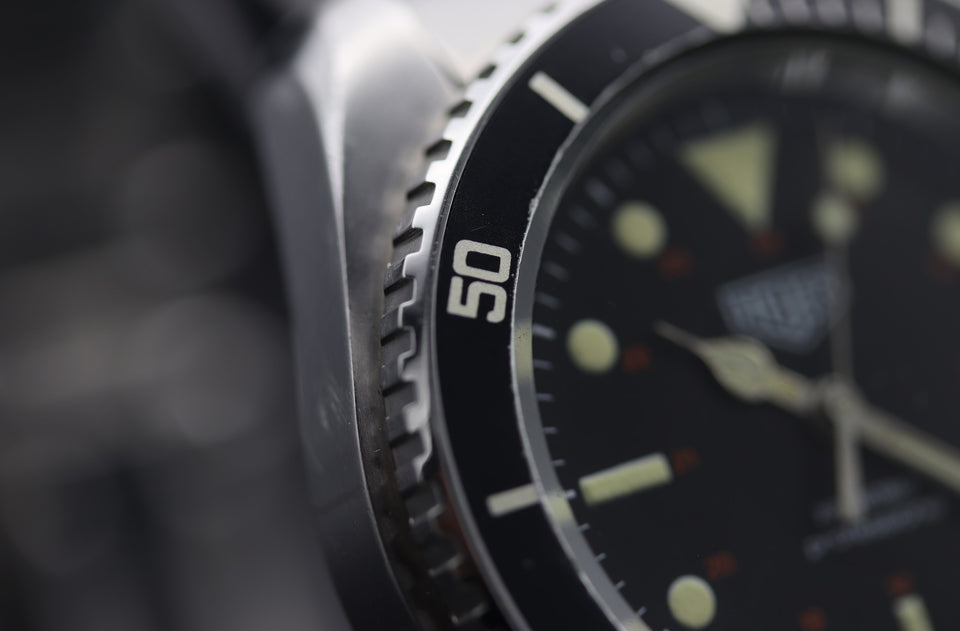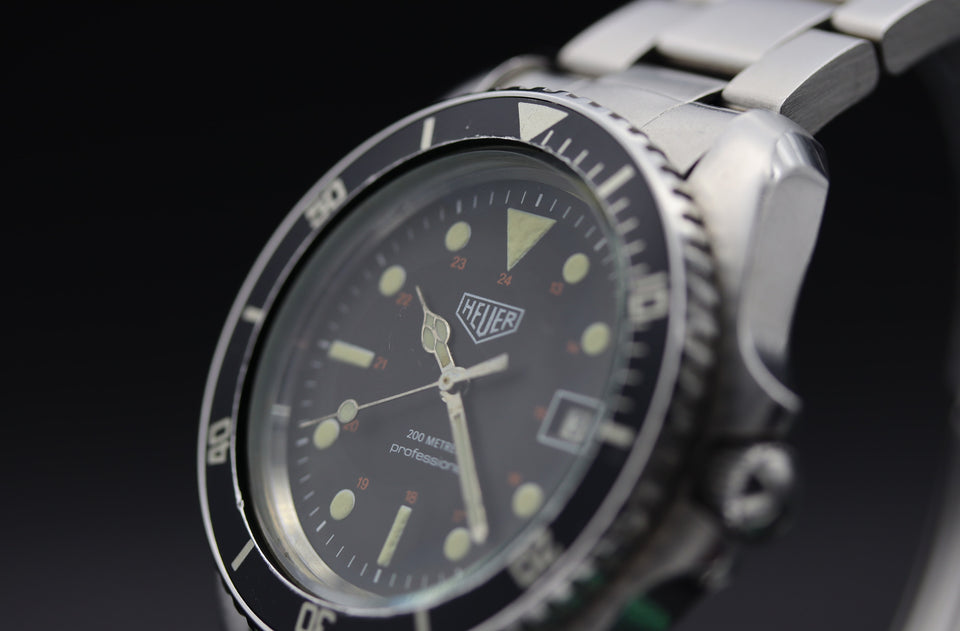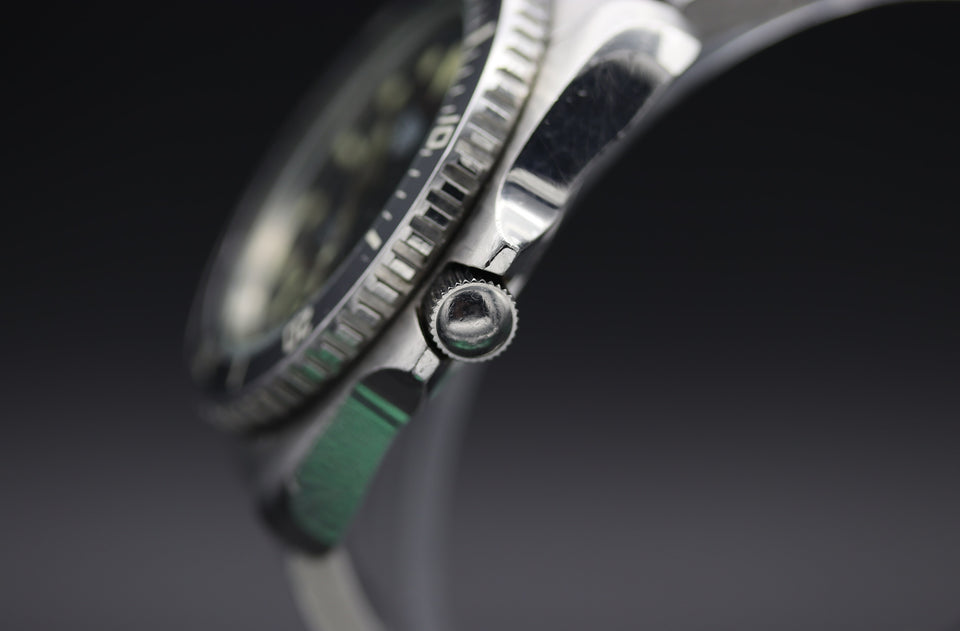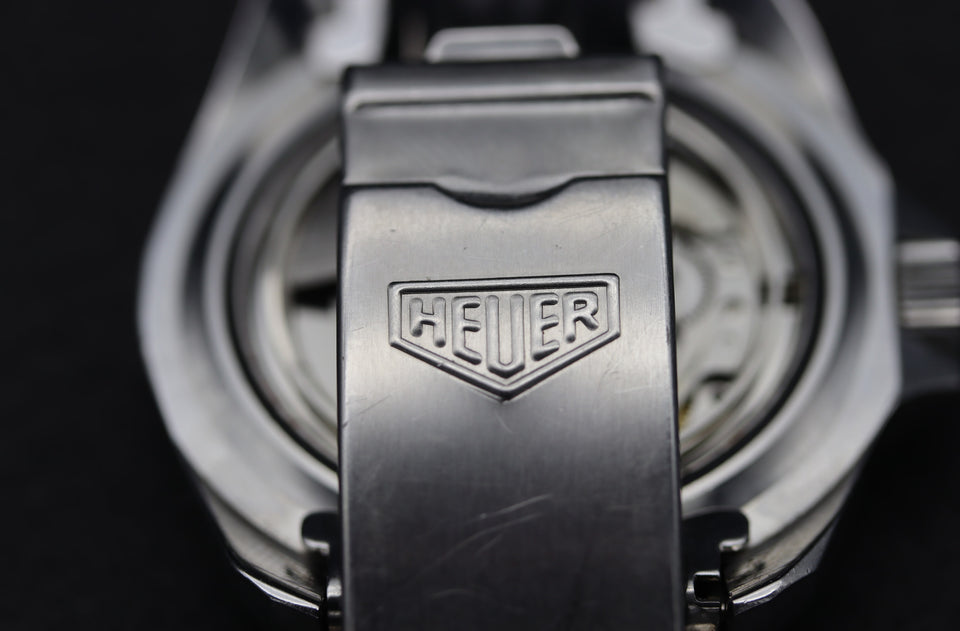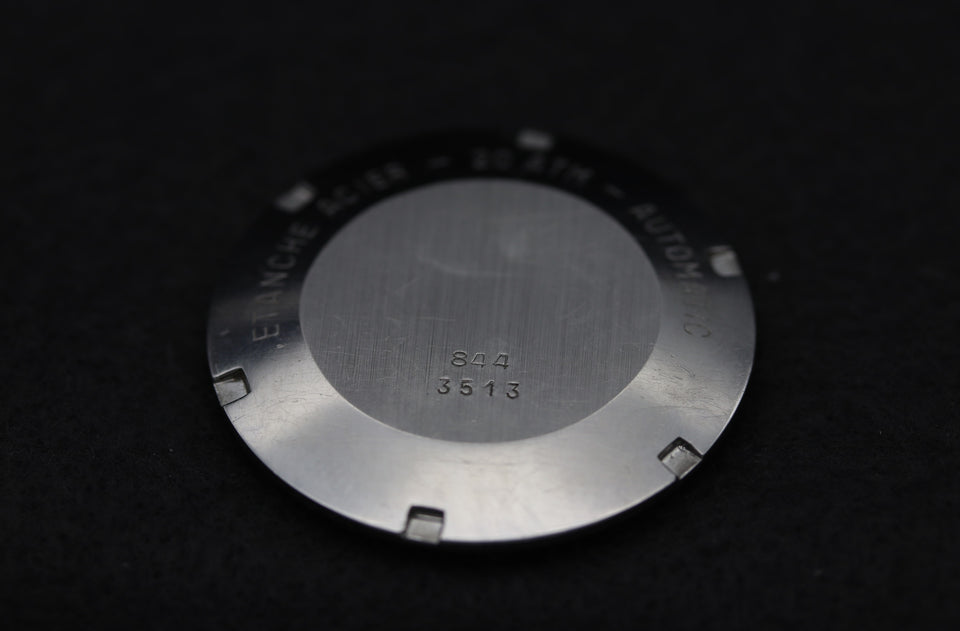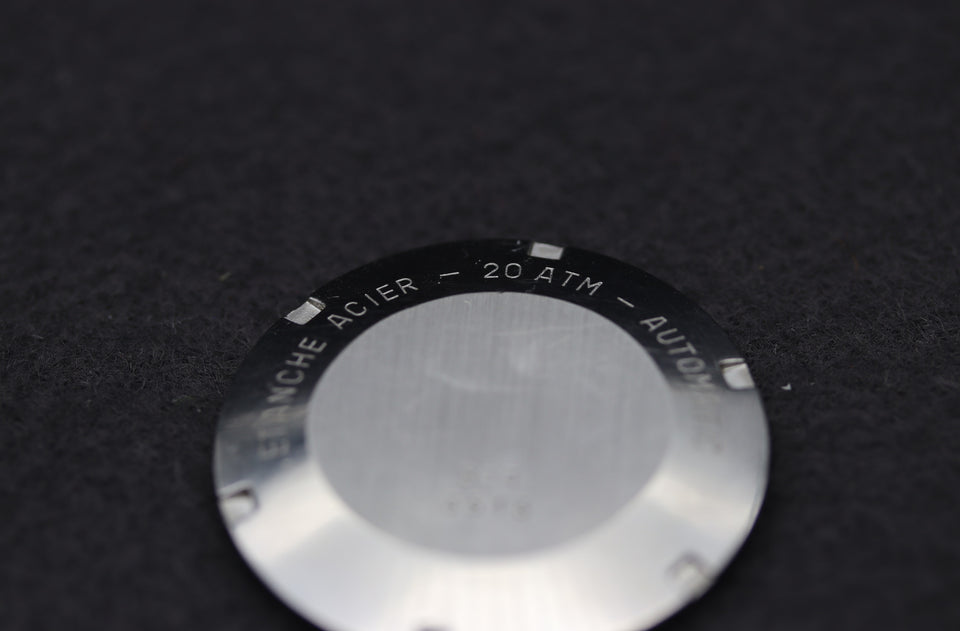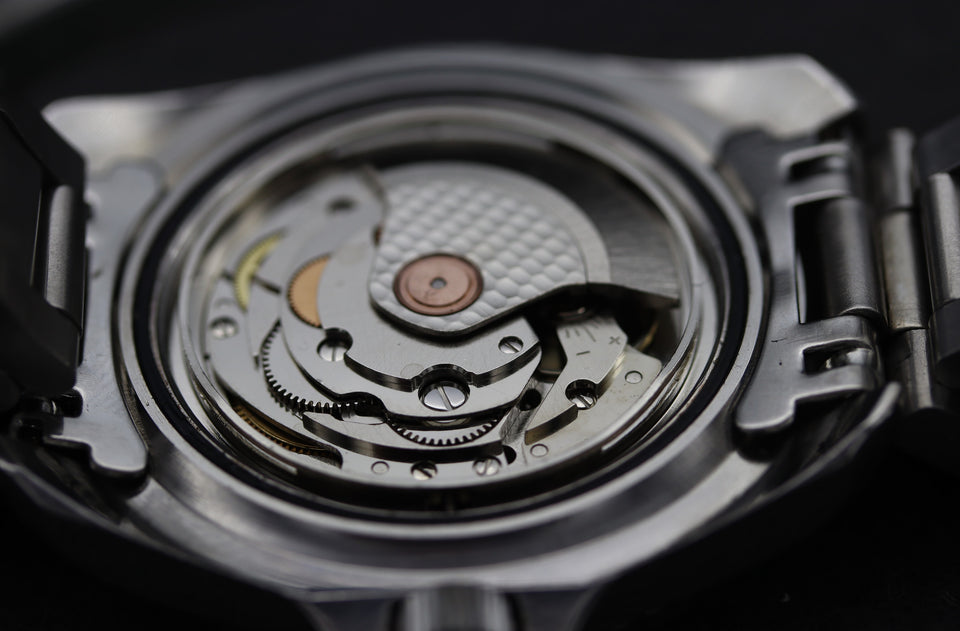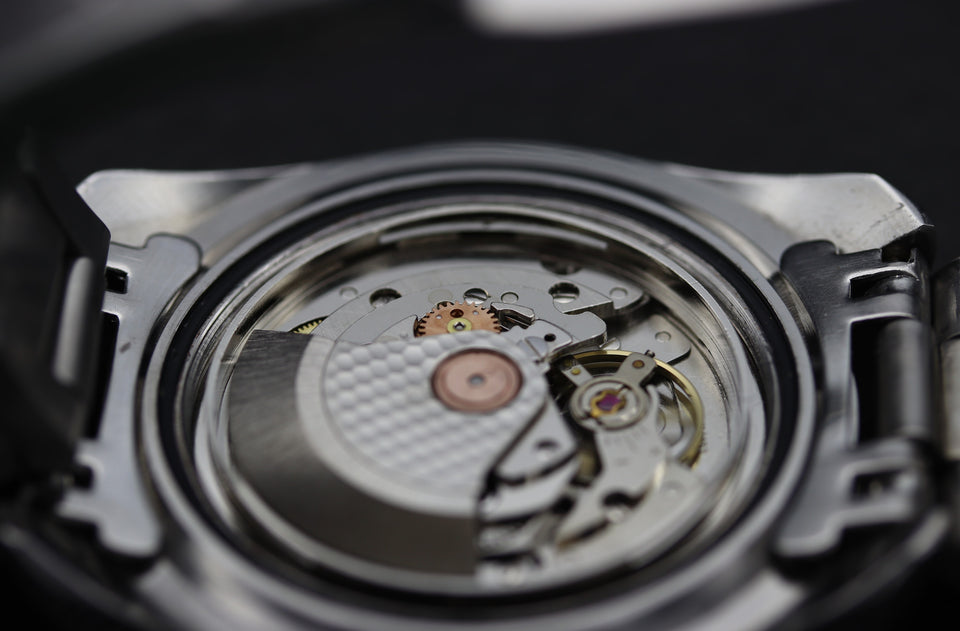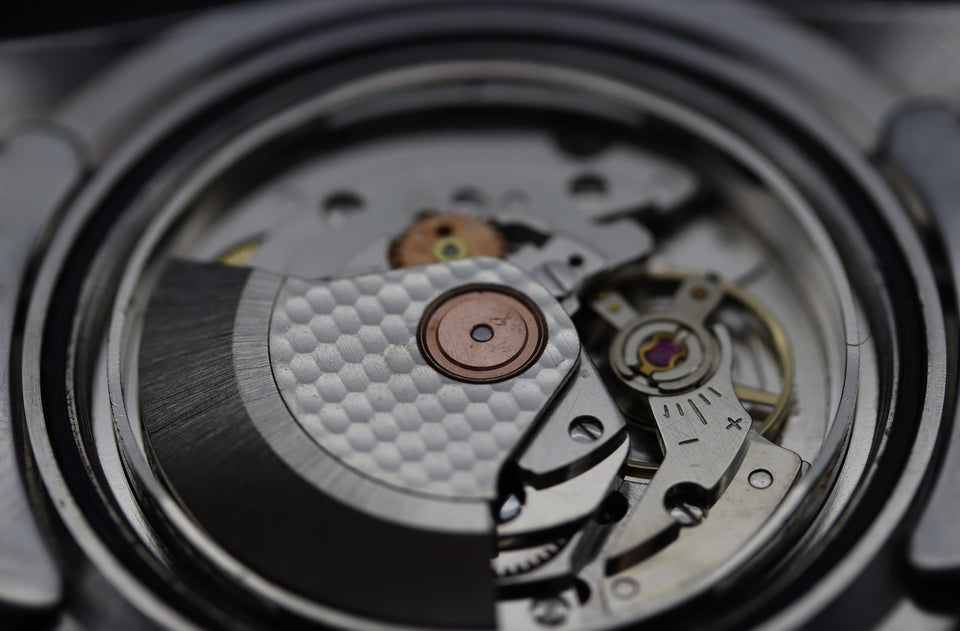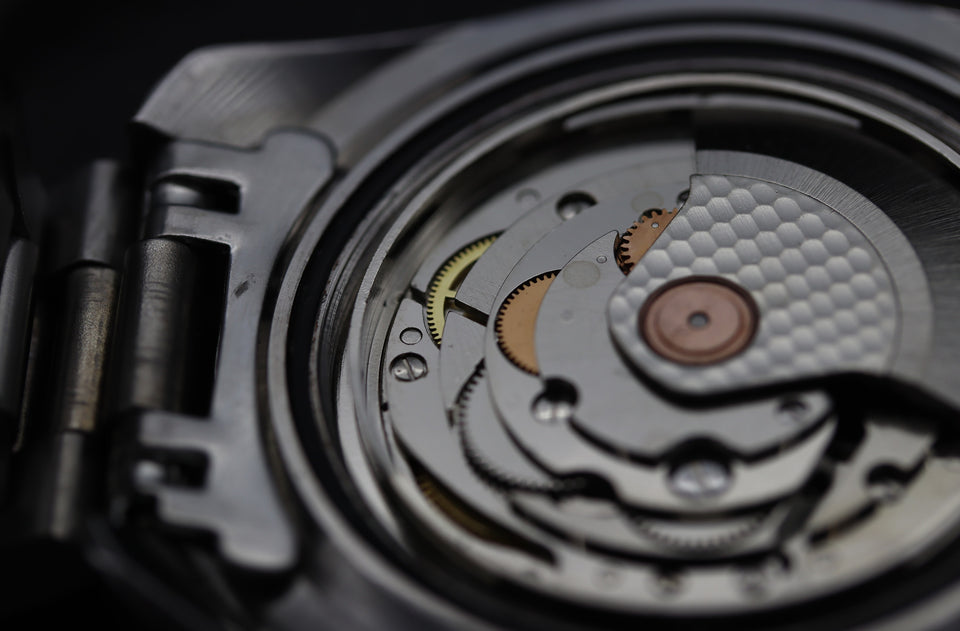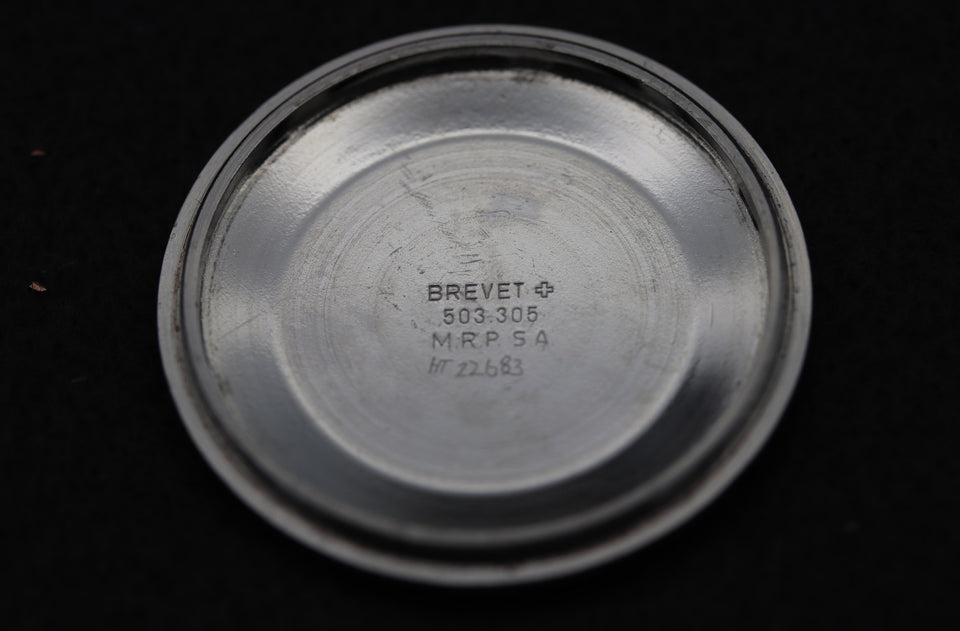 HOUR DIVER | ORIGINAL 1. GEN 1978
from HEUER
Stunning vintage diving watch with beautiful original patina and Submariner look Switzerland, 1978
DIVER
AUTOMATIC
ORIGINAL STEEL DIVING WATCH WITH SIGNED MOVEMENT, STRAP, COVER, CROWN AND SIGNIFICANT DIAL WITH THE TRIANGLE AT 12 O'CLOCK AND THE 24 HOUR MARKERS IN RED
KAL. FE 4611A
REF. 844
42MM ( 45MM WITH CROWN)
SCREW FLOOR; SCREW CROWN AND ORIGINAL STEEL BRACELET
CASE, BLACK BEZEL AND DIAL TAKEN FROM THE ROLEX SUBMARINER
SWITZERLAND 1978

Technically, the Heuer works flawlessly and has been recently overhauled: (295°; +9s/d). 
Today, the Swiss luxury watch manufacturer TAG Heuer is part of the French luxury goods manufacturer Moet Hennessy Louis Vuitton S.A. (LVMH). 

Heuer was founded in Switzerland in 1860 by Edouard Heuer and in its 160-year history has often shaped the watch market with innovations. 
The company was run as a family business up until the 1980s. In 1985 the company merged with the TAG Group (Techniques d'Avant Garde) and was renamed TAG Heuer. It has been listed on the stock exchange since 1996 and was acquired by LVMH from 1999. 
The watches were and are very popular as timekeepers for sports - for timekeeping at the Olympic Games, Formula 1 and for World Ski Championships. Therefore, the popular chronograph series are closely linked to sporting events - Carrera (1964), Monaco (1969) or Formula 1.
Your box & more for you
Our extra for everyone
Did not find what you are looking for?
The box for you contains: your new watch & presented in the original watch box & high-quality packaging in the Optionata gift box & with a 1-year guarantee on the function & certified with the buyer's seal of the Händlerbund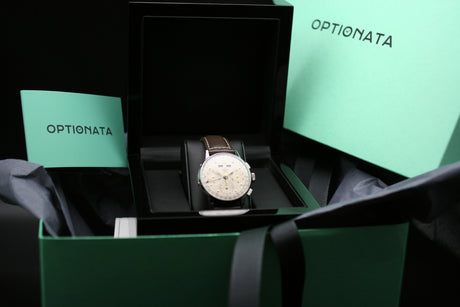 It's all in there for you.
1. STRICTLY CONTROLLED QUALITY GOODS
We only offer handpicked watches from our own stock as well as watches from private sellers. In both cases, the watches are physically with us and are checked according to strict quality criteria.
2. CERTIFIED WITH "BUYER SEAL - SECURE SHOPPING"
Trust is good, security even better. That's why we have had ourselves checked and certified by the Händlerbund to give you maximum purchasing security. The "Safe Buyer" seal is our investment - it is of course free of charge for you. All watches are sold through this certified service.
3. GUARANTEE OF AUTHENTICITY
We guarantee the authenticity of the watches we sell. If you have any doubts about the authenticity of the watch after purchasing it, please contact us via our contact form within 14 days of receipt of the goods. We will examine the case and together we will find the best solution for you.
4. 1 YEARGUARANTEE ON FUNCTIONALITY
Our watchmakers check every watch for functionality and guarantee this for 12 months from the date of purchase. If the movement should fail or cause problems during this time, we will take care of the repair at our expense.
5. PERSONAL SUPPORT
Throughout the browsing and purchasing process, you can contact us directly with any questions about the watch, the process, or the purchase. We are personally available to you at any time via several channels and will support you in the best possible way.
6. HIGH QUALITY PACKAGING
We ship collector's items, and our shipping box shows it. It protects your valuable purchase and is also an incomparable statement of what is true, beautiful and good inside. It shouldn't get to you otherwise.