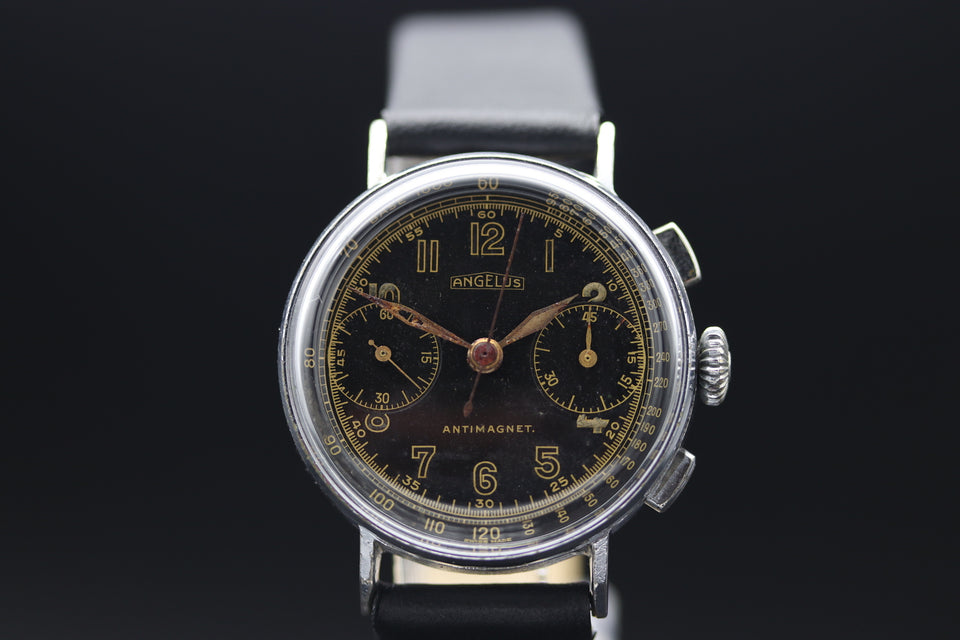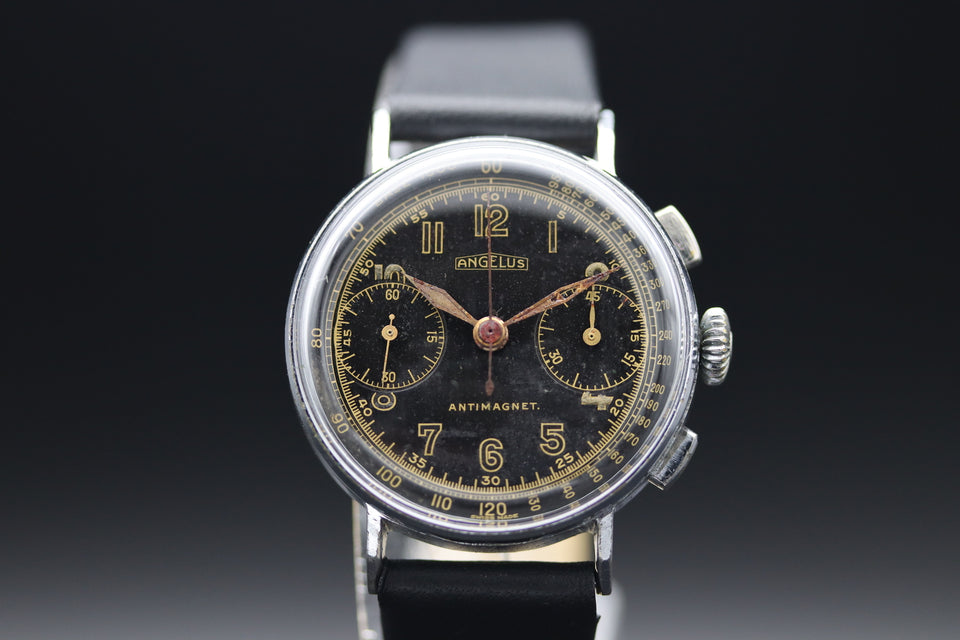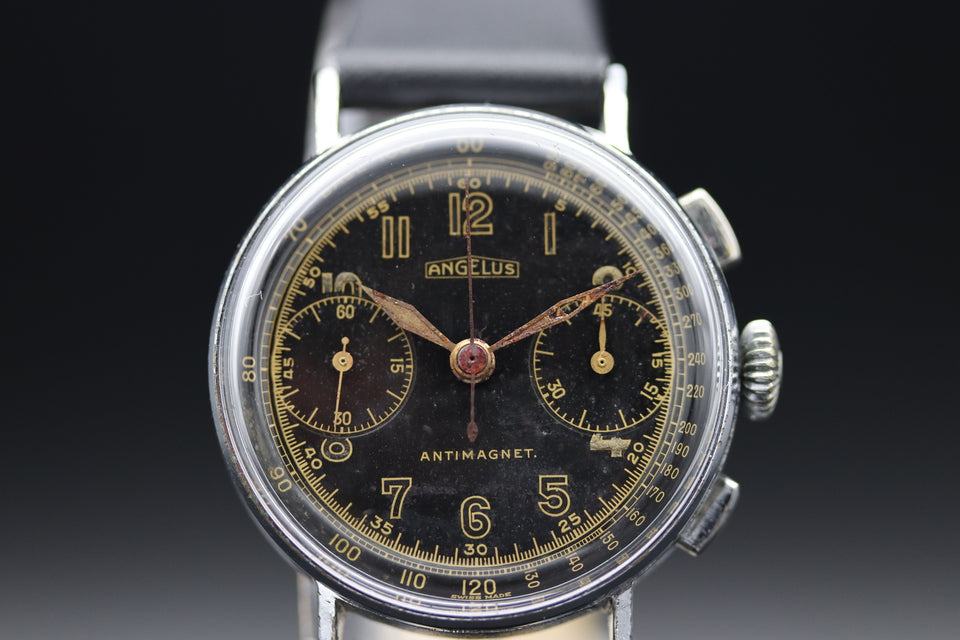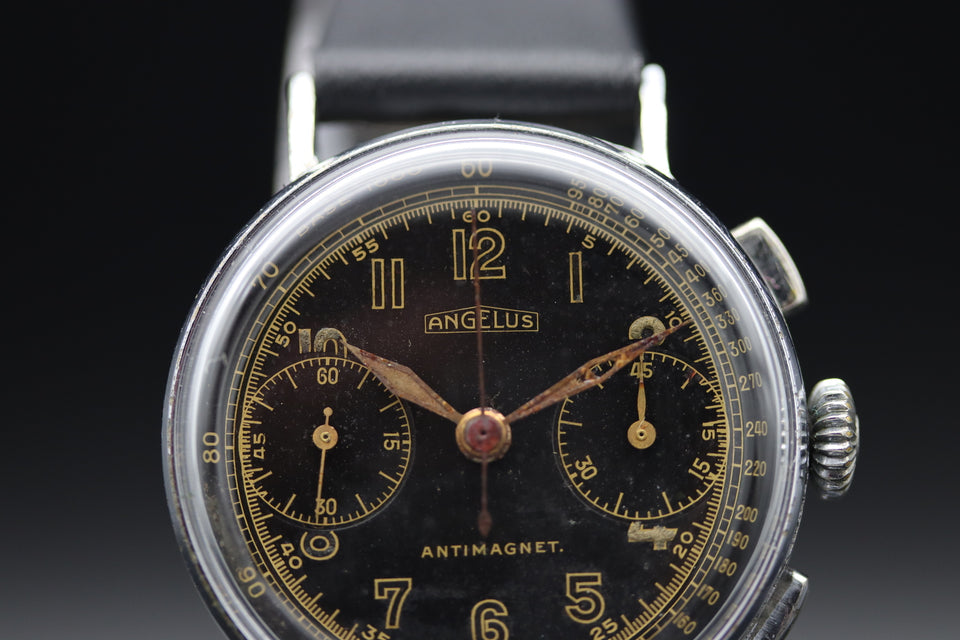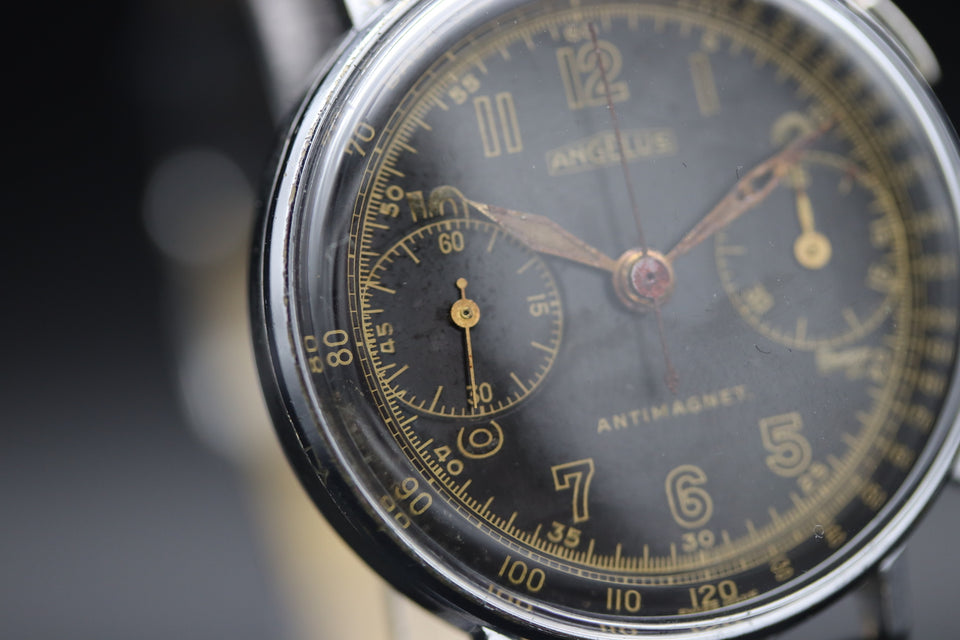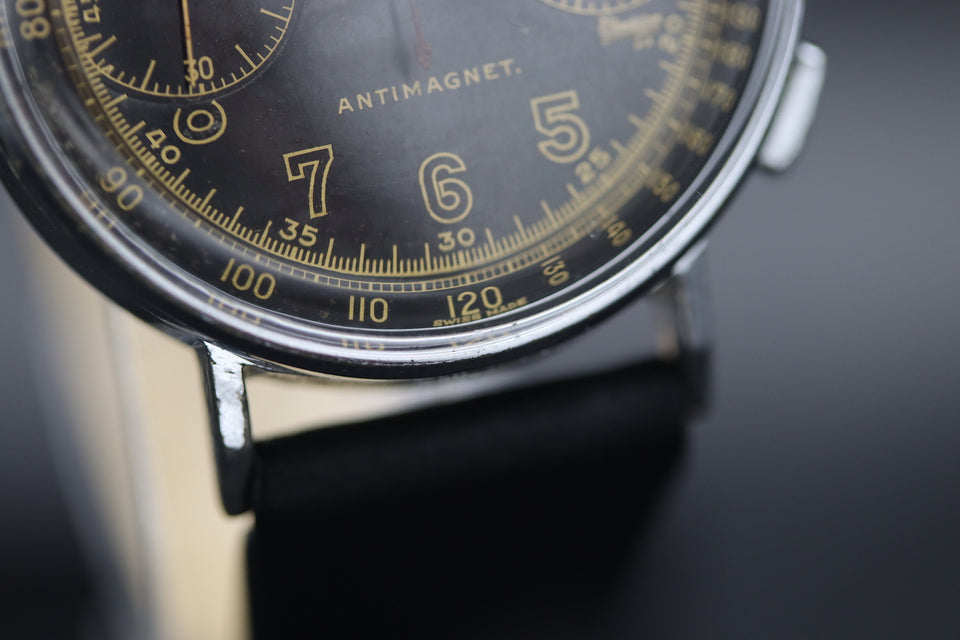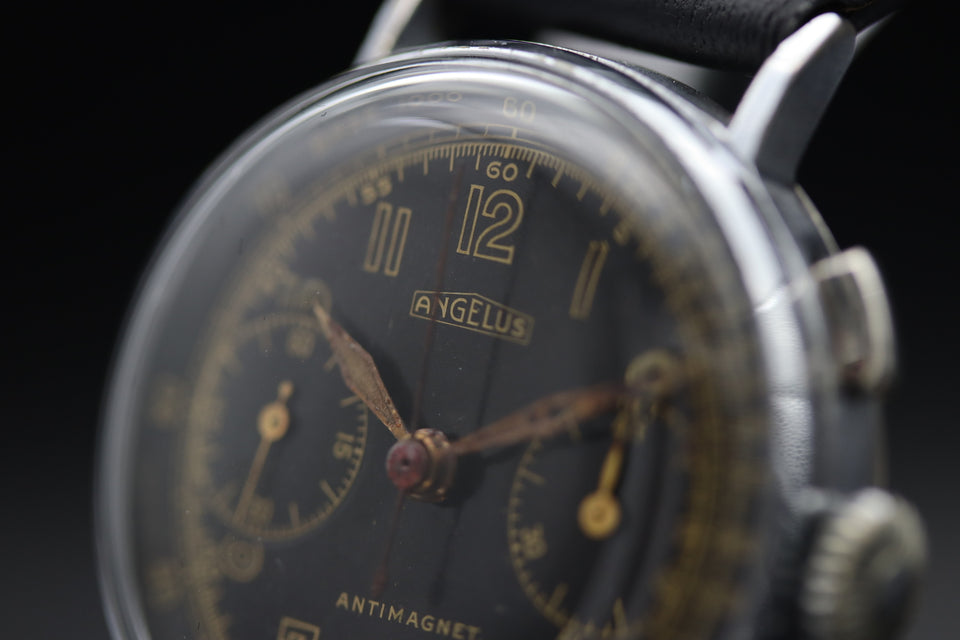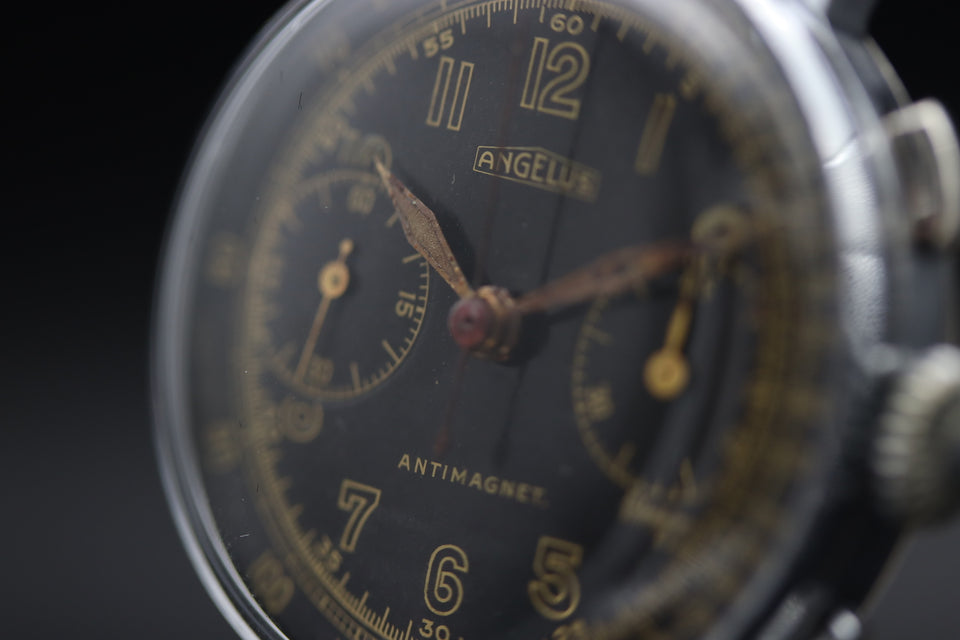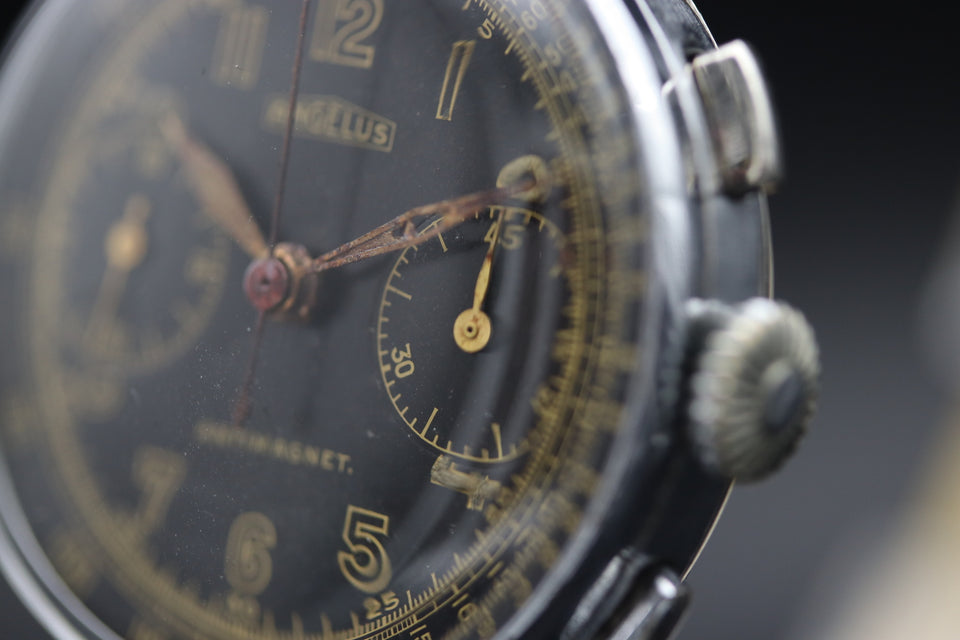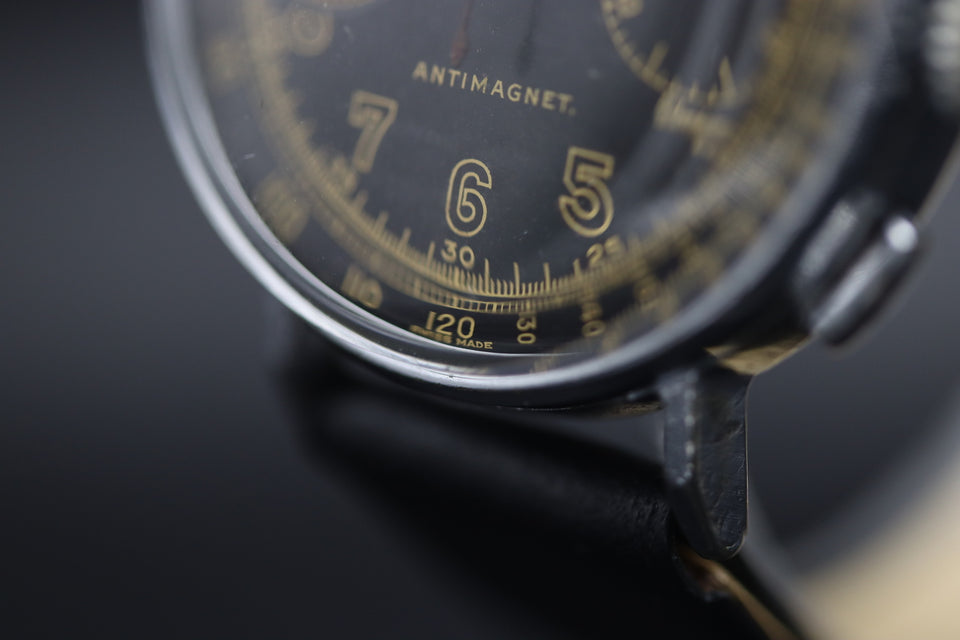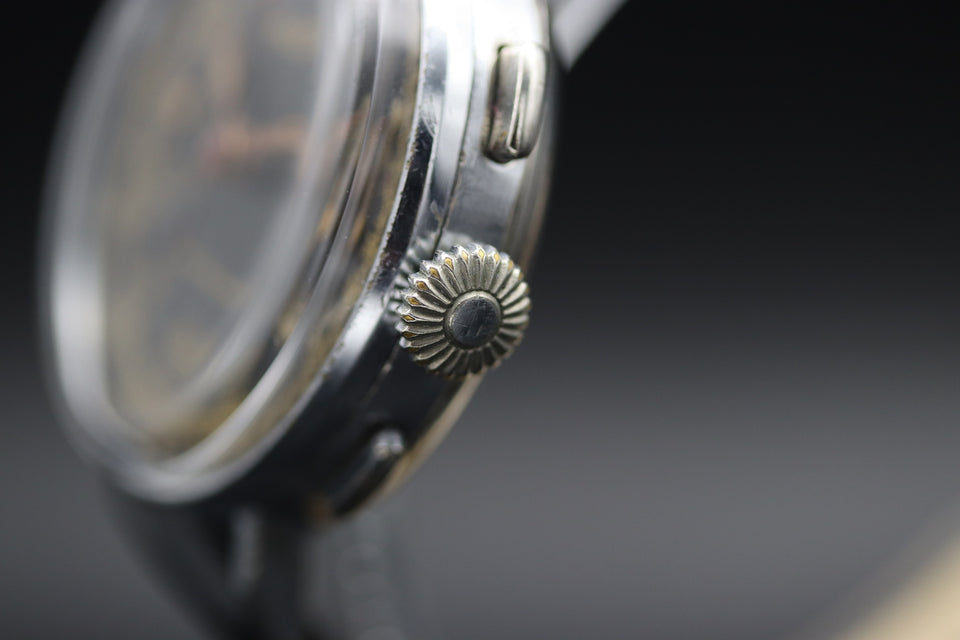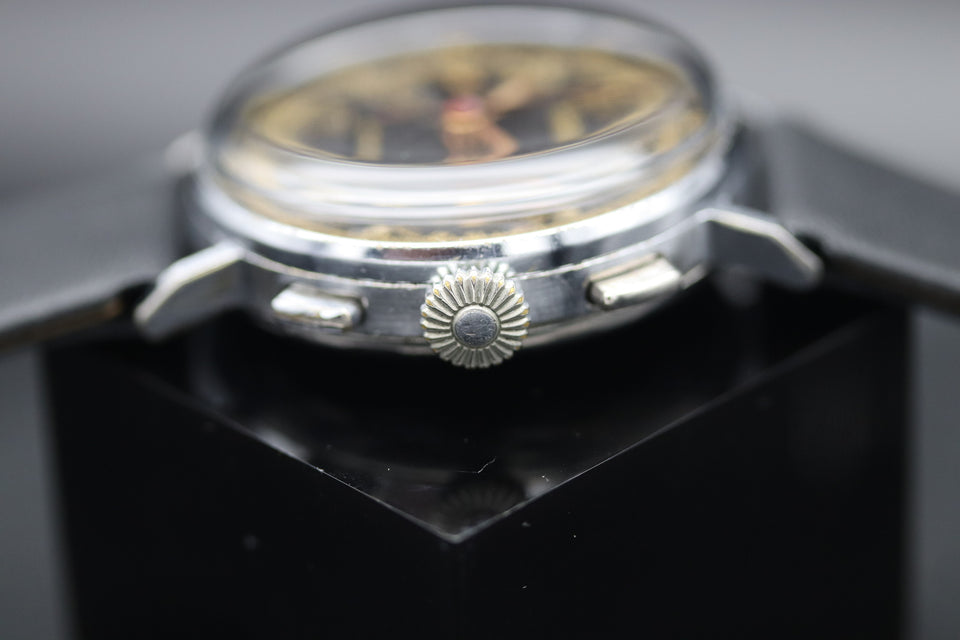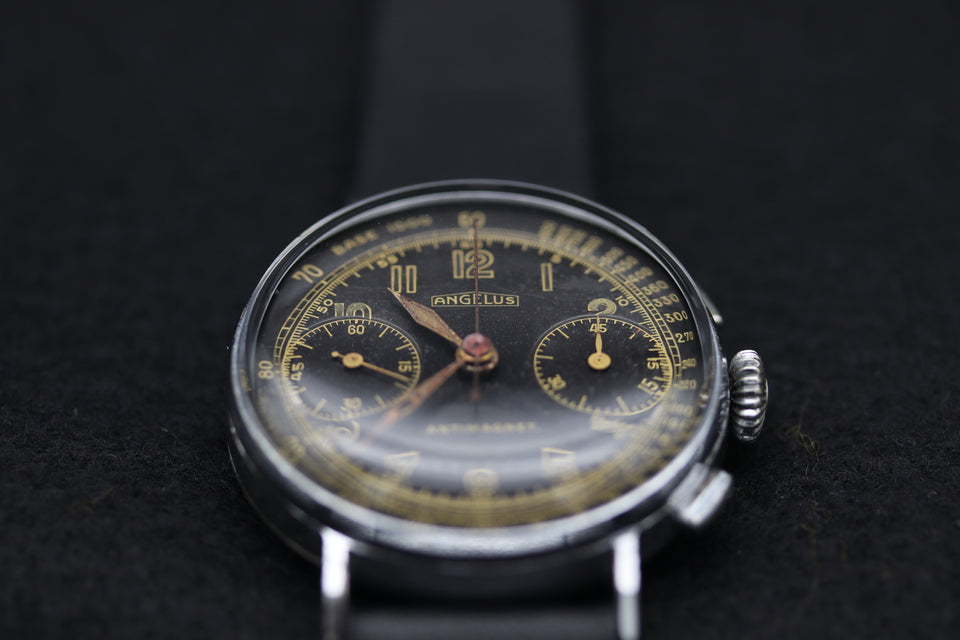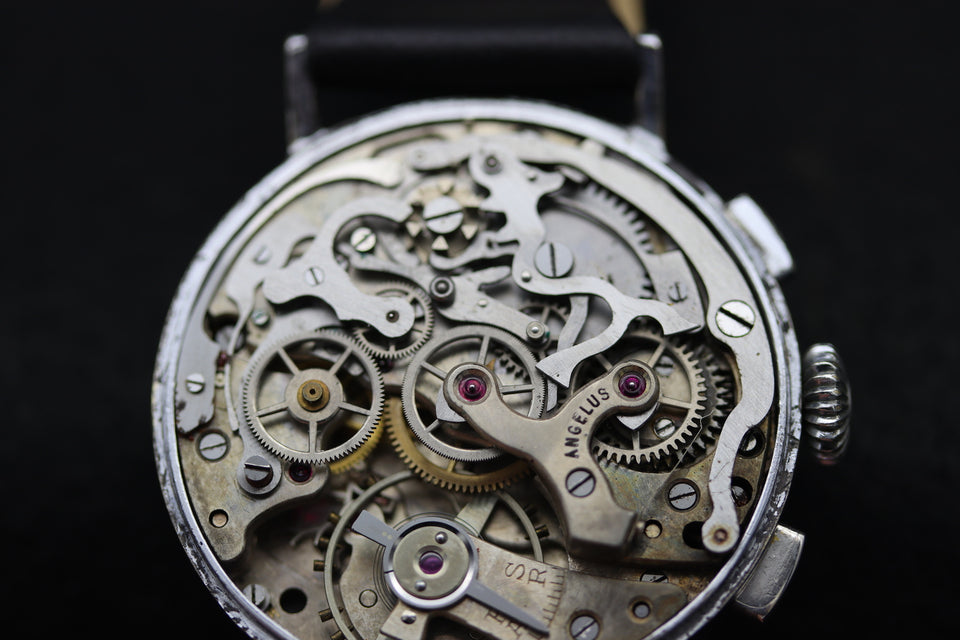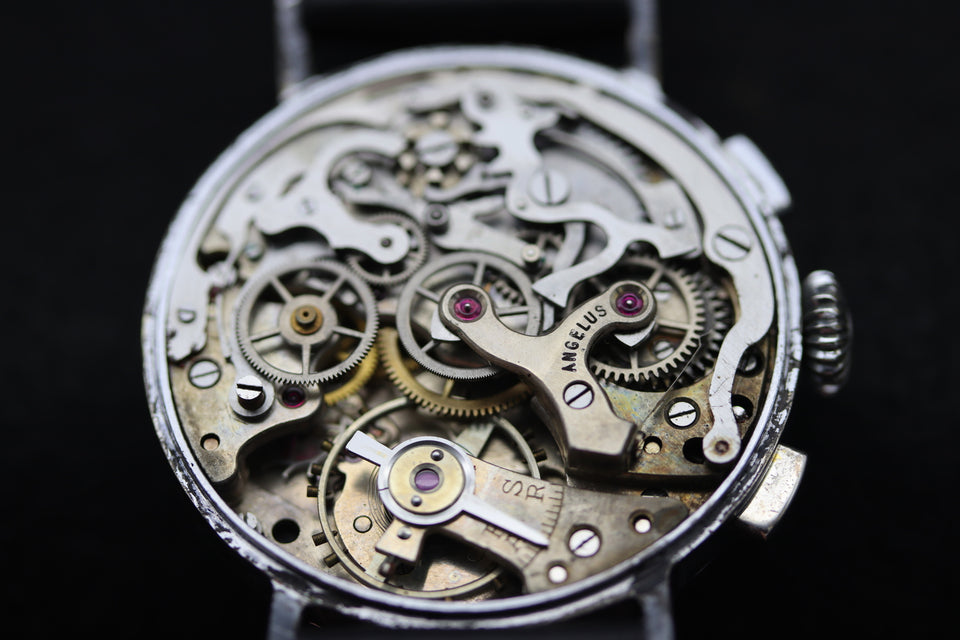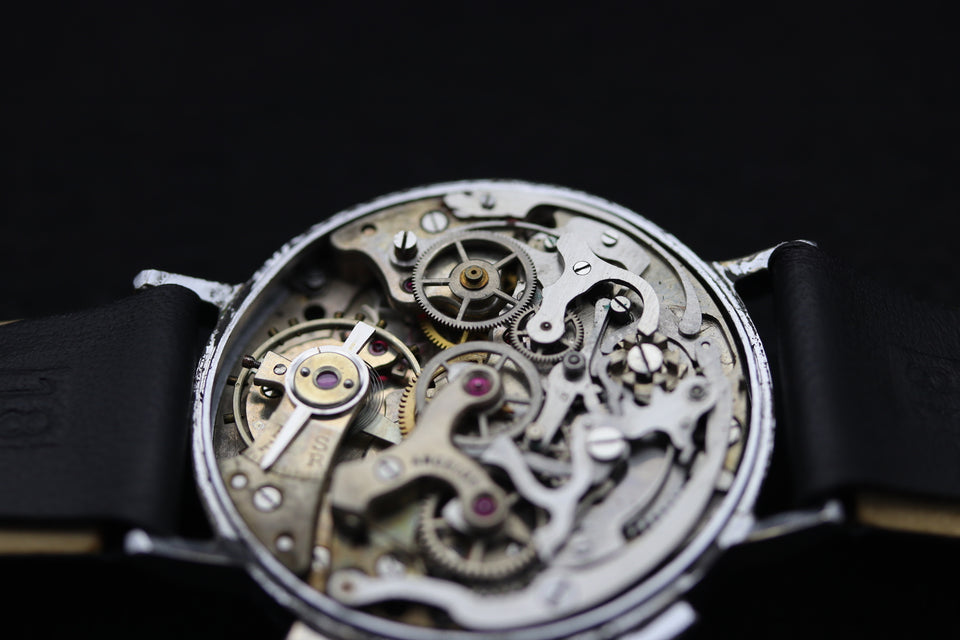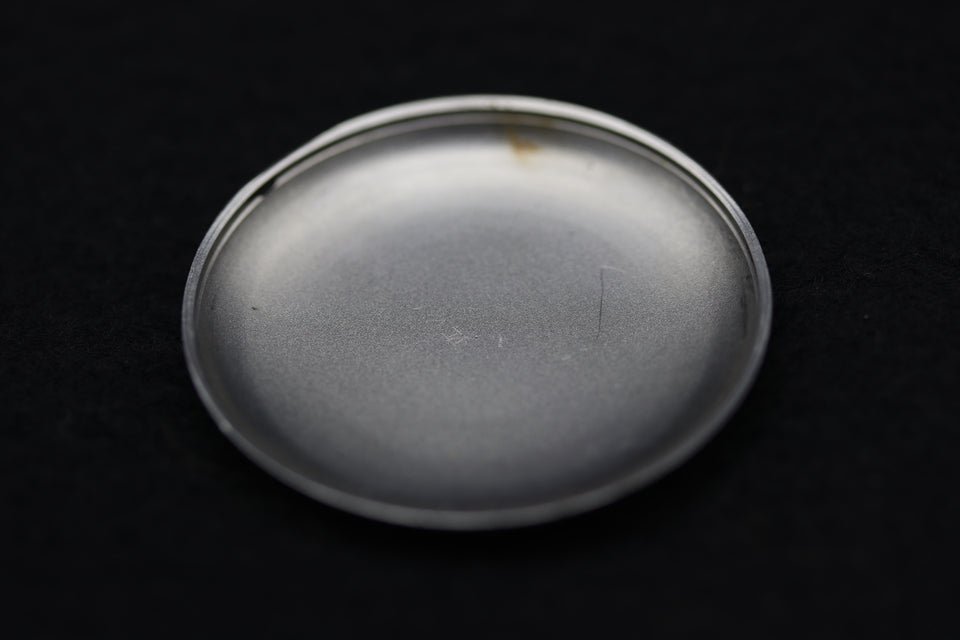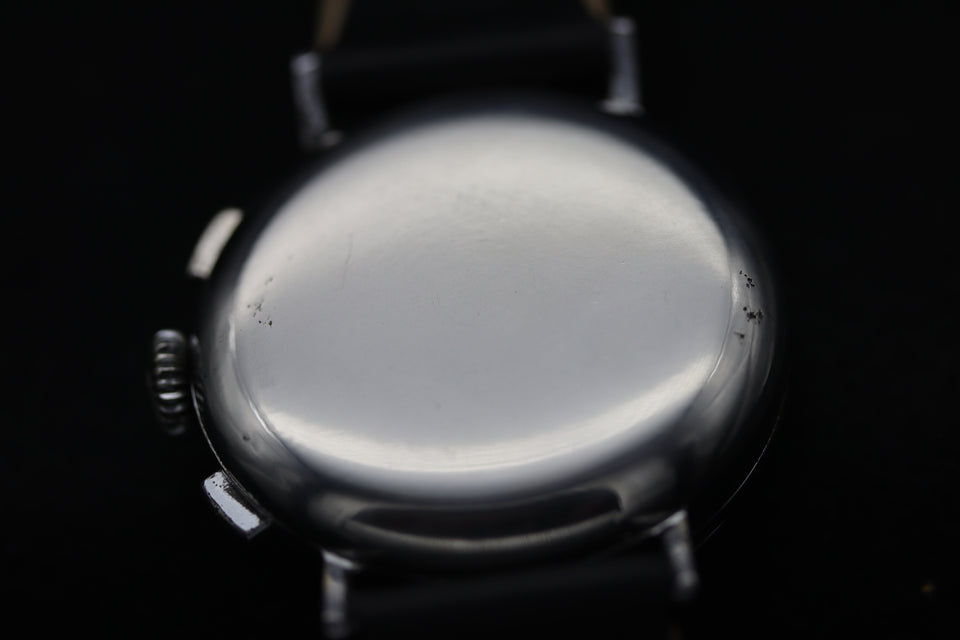 ANGELUS | CHRONOGRAPH SCHWARZ 1945er
from Angelus
Cool chronograph in nice original condition Switzerland, 1945s
# ANGELUS
# 2-REGISTER CHRONOGRAPH 
# 36MM (38.5MM WITH CROWN)
# HAND DRAWING
# BLACK DIAL WITH TACHYMETER
# 45S | SWITZERLAND
# ORIGINAL STATE 

# HAND PULL
# SWITZERLAND

# ACQUIRED BY GERMAN COLLECTOR
Technically, the Angelus works flawlessly, including the chronograph function, and has been recently serviced: (275°; +11s/d).  

The watch shows hardly any signs of wear. There are no deep scratches, dents or similar, the glass is scratch-free.
The Swiss watch brand Angelus was founded in 1891 by the Stolz brothers as Stolz Freres SA in Le Locle. At the end of the 19th century, Le Locle was one of the most important centers of the Swiss watch industry, where watchmakers such as Ulysse Nardin, Charles Tissot and the founders of Zenith worked.

The Angelus watch brand has a fascinating company history and some notable features:
#1 Historical Significance
Angelus was founded in Le Locle, Switzerland in 1891 and has had a long tradition in watchmaking ever since. The brand was known for its innovative technologies and precisely manufactured timepieces.
#2 Quality movements
Angelus was known for developing and manufacturing high-quality movements. The company was particularly famous for its precise chronographs and alarm clocks. Angelus movements are characterized by their quality, precision and durability.
#3 Pilot watch pioneer
Angelus played a significant role in the history of pilot's watches. In the 1930s and 1940s, Angelus developed and produced pilot's watches for pilots. These watches were characterized by their great legibility, robust construction and special functions for flight operations.
#4 Innovative design
Angelus was known for its innovative design and creative creation. The brand experimented with different case shapes, dial layouts, and hand designs to create unique and aesthetically pleasing timepieces.
#5 Brand revival
After a period of stagnation, the Angelus brand was revived in 2011. Under new leadership, Angelus has focused on producing quality timepieces that carry on the brand's tradition and heritage.
#6 collectible value
Due to their limited production and historical significance, Angelus watches are highly collectible. Vintage models are coveted by watch collectors because of their rarity and heritage.
The Angelus watch brand has a rich history and has earned a reputation for its precise movements, its role in pilot's watch history and its innovative design. Today, Angelus is a respected brand that produces quality timepieces for watch enthusiasts and collectors.
Your box & more for you
Our extra for everyone
Did not find what you are looking for?
The box for you contains: your new watch & presented in the original watch box & high-quality packaging in the Optionata gift box & with a 1-year guarantee on the function & certified with the buyer's seal of the Händlerbund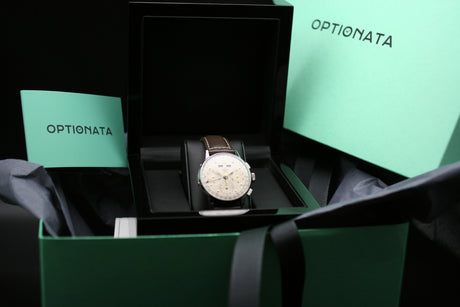 It's all in there for you.
1. STRICTLY CONTROLLED QUALITY GOODS
We only offer handpicked watches from our own stock as well as watches from private sellers. In both cases, the watches are physically with us and are checked according to strict quality criteria.
2. CERTIFIED WITH "BUYER SEAL - SECURE SHOPPING"
Trust is good, security even better. That's why we have had ourselves checked and certified by the Händlerbund to give you maximum purchasing security. The "Safe Buyer" seal is our investment - it is of course free of charge for you. All watches are sold through this certified service.
3. GUARANTEE OF AUTHENTICITY
We guarantee the authenticity of the watches we sell. If you have any doubts about the authenticity of the watch after purchasing it, please contact us via our contact form within 14 days of receipt of the goods. We will examine the case and together we will find the best solution for you.
4. 1 YEARGUARANTEE ON FUNCTIONALITY
Our watchmakers check every watch for functionality and guarantee this for 12 months from the date of purchase. If the movement should fail or cause problems during this time, we will take care of the repair at our expense.
5. PERSONAL SUPPORT
Throughout the browsing and purchasing process, you can contact us directly with any questions about the watch, the process, or the purchase. We are personally available to you at any time via several channels and will support you in the best possible way.
6. HIGH QUALITY PACKAGING
We ship collector's items, and our shipping box shows it. It protects your valuable purchase and is also an incomparable statement of what is true, beautiful and good inside. It shouldn't get to you otherwise.