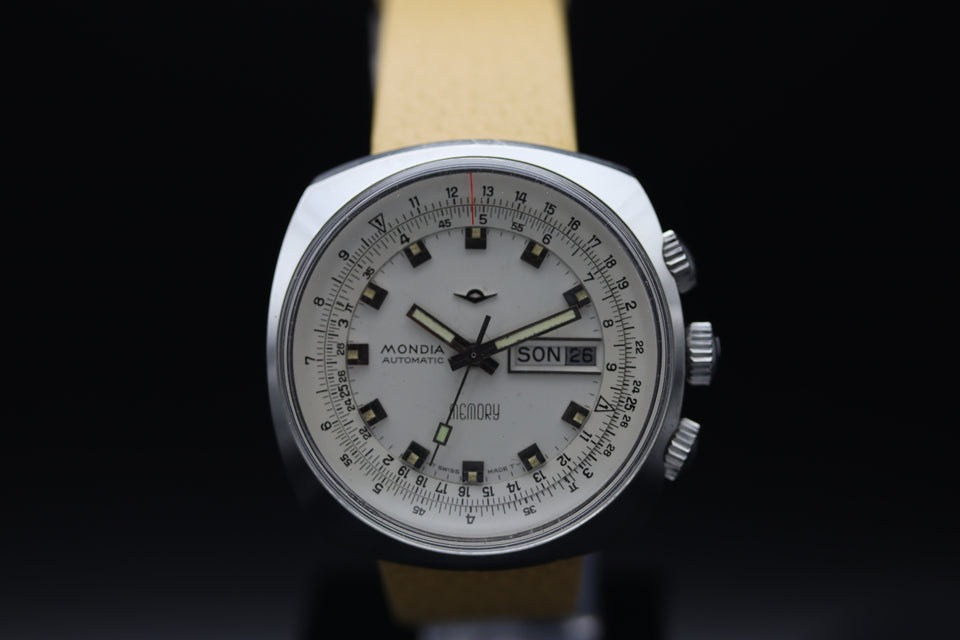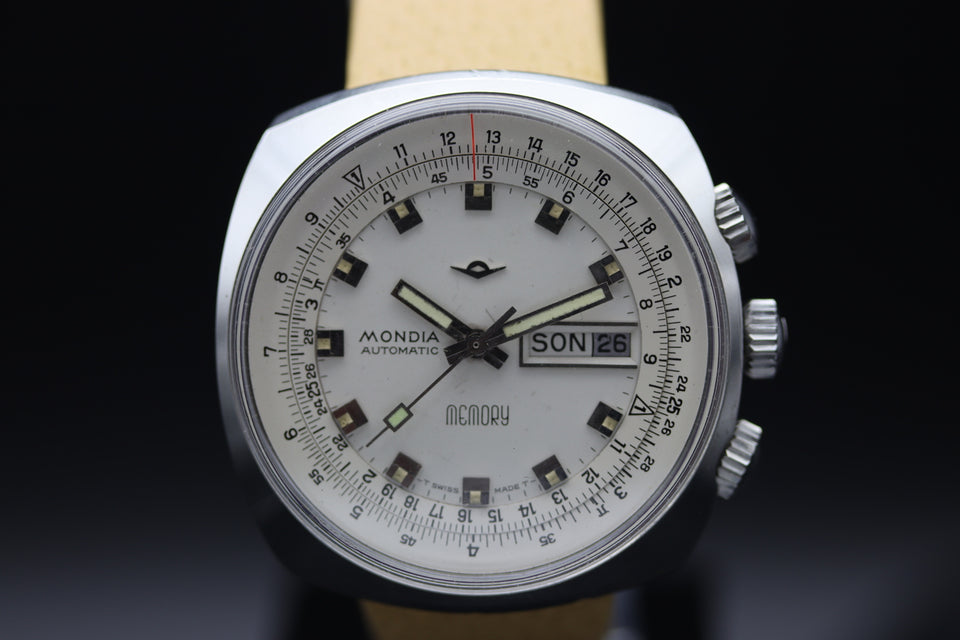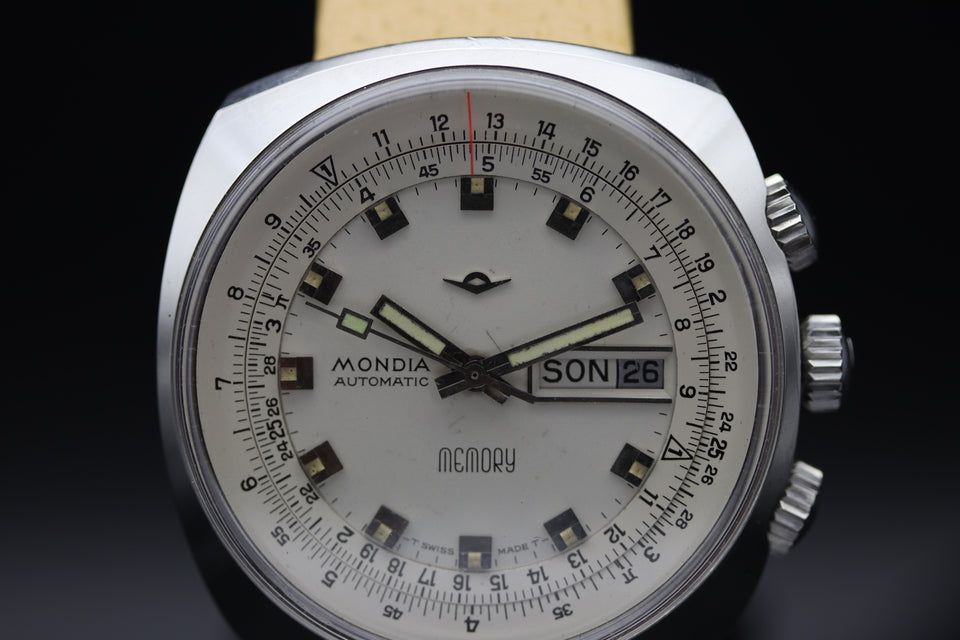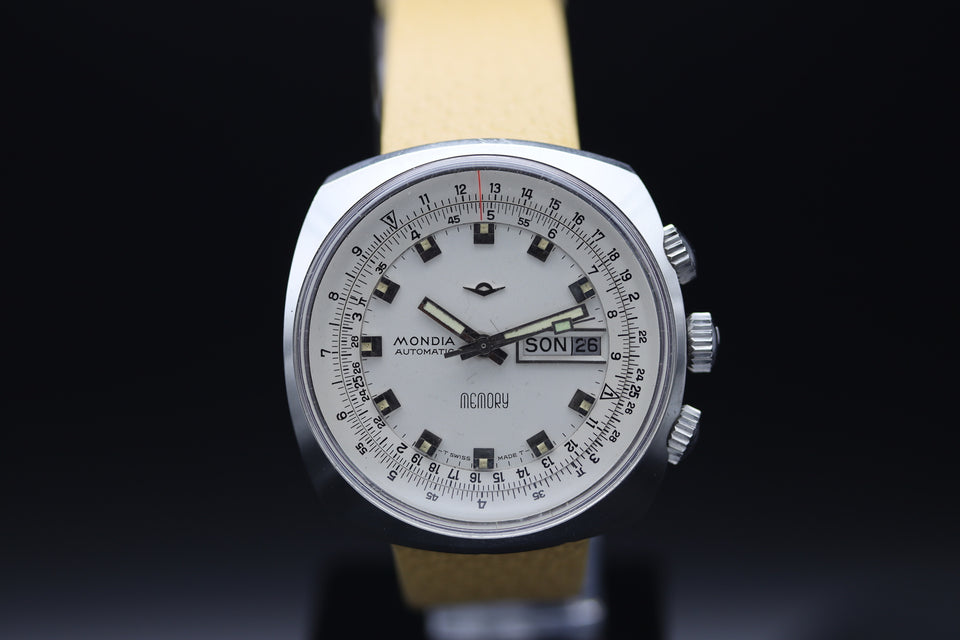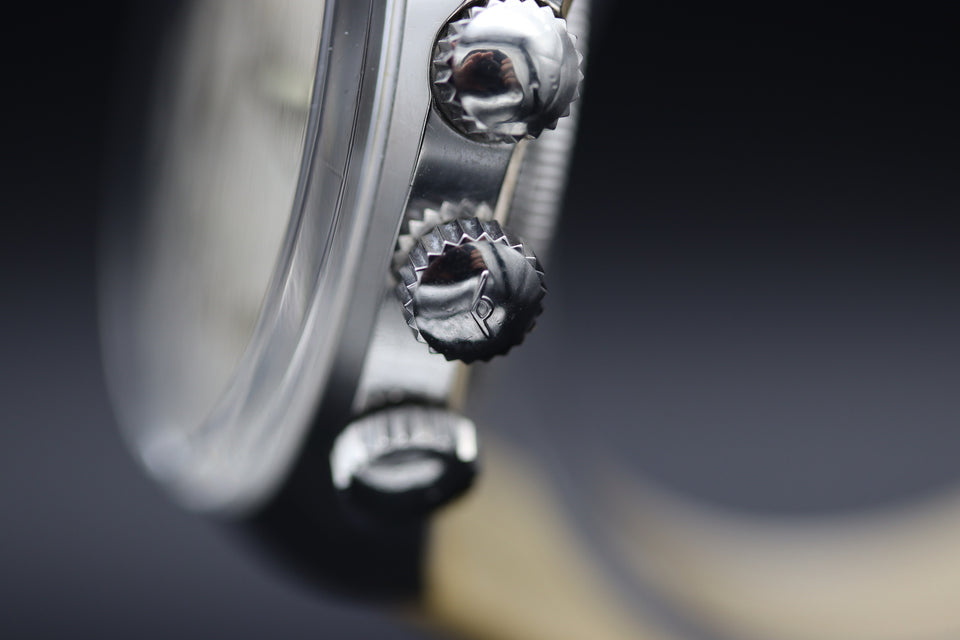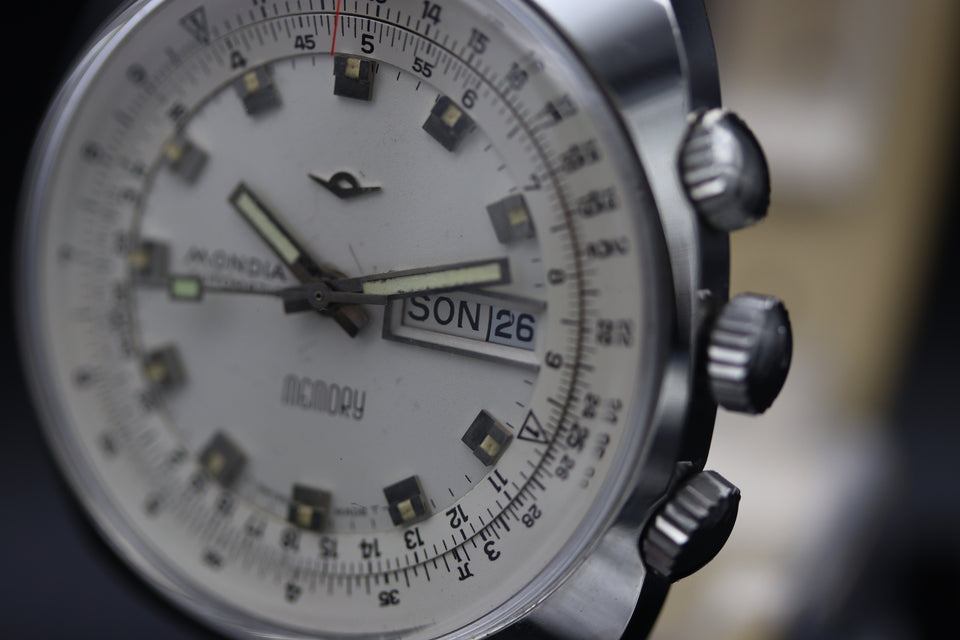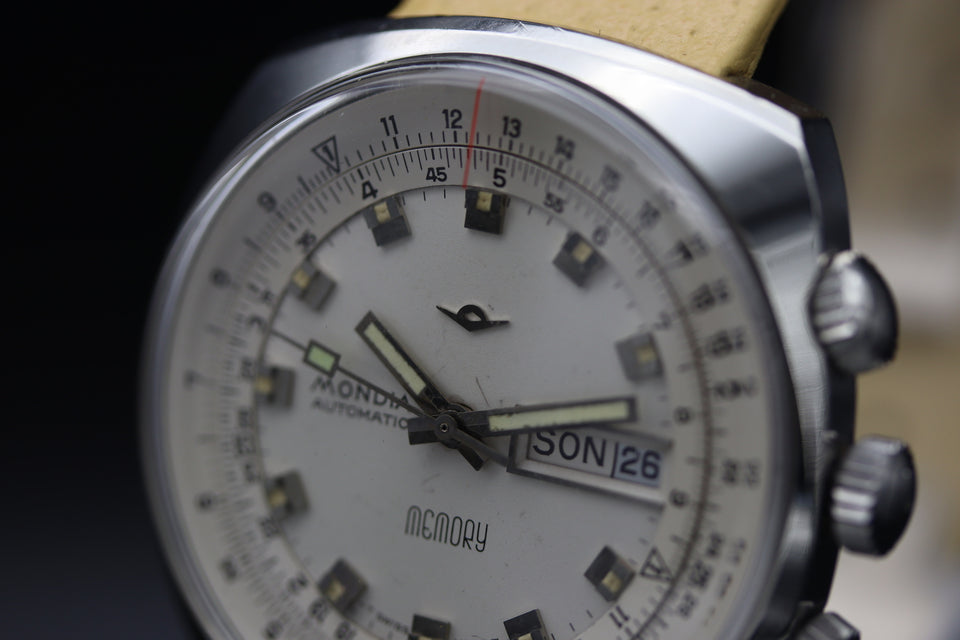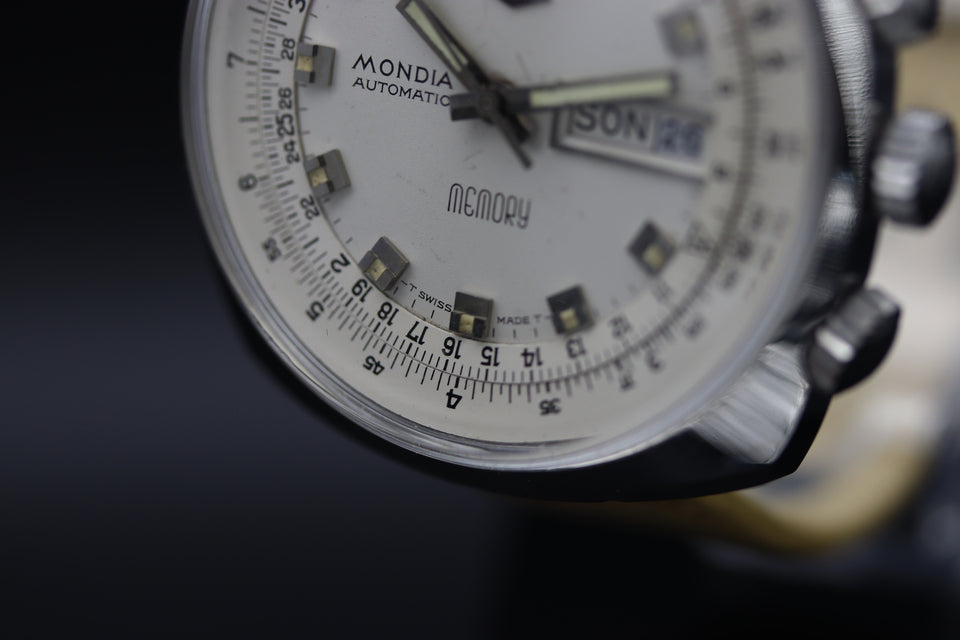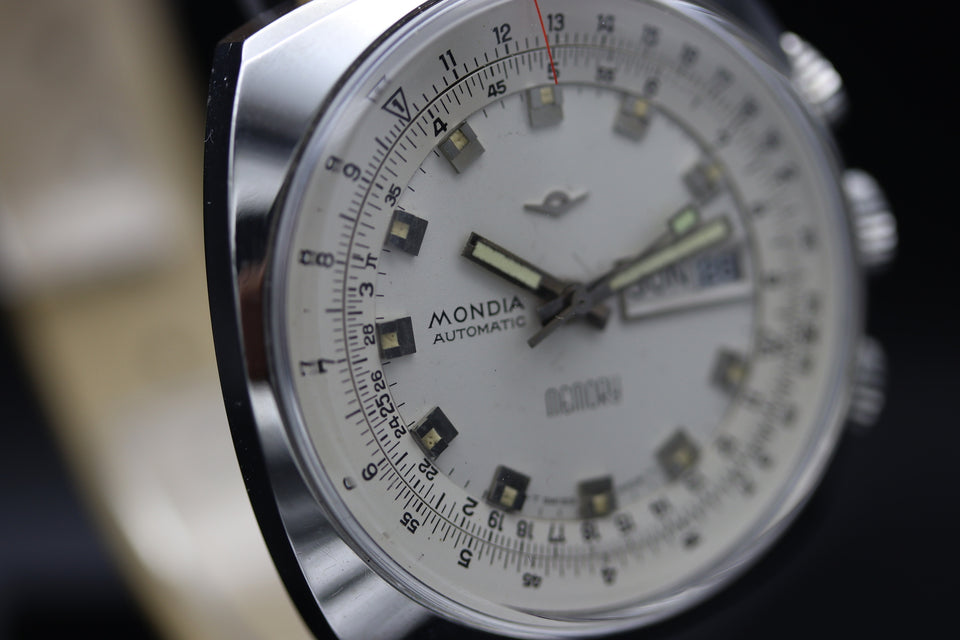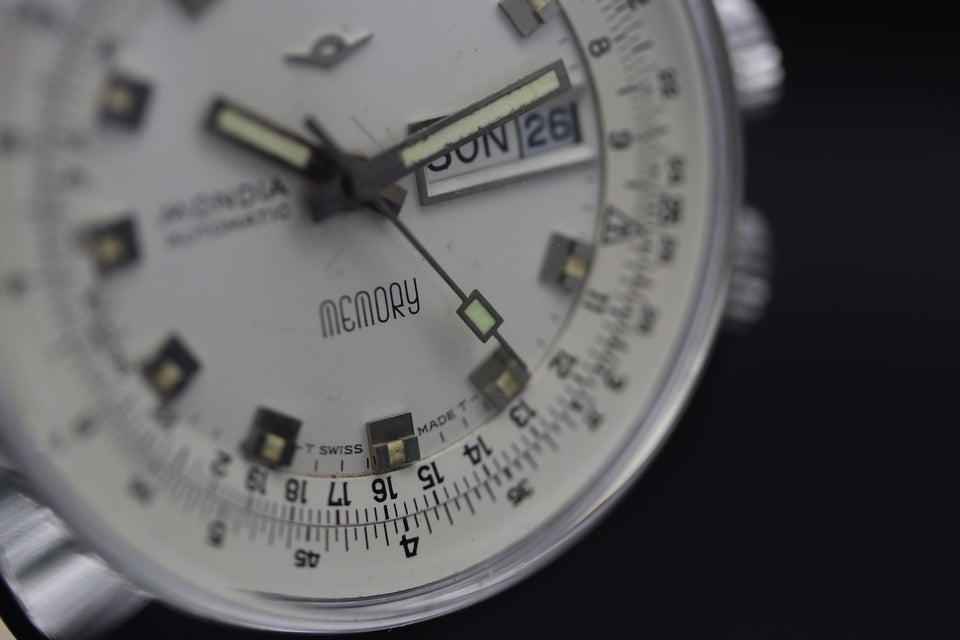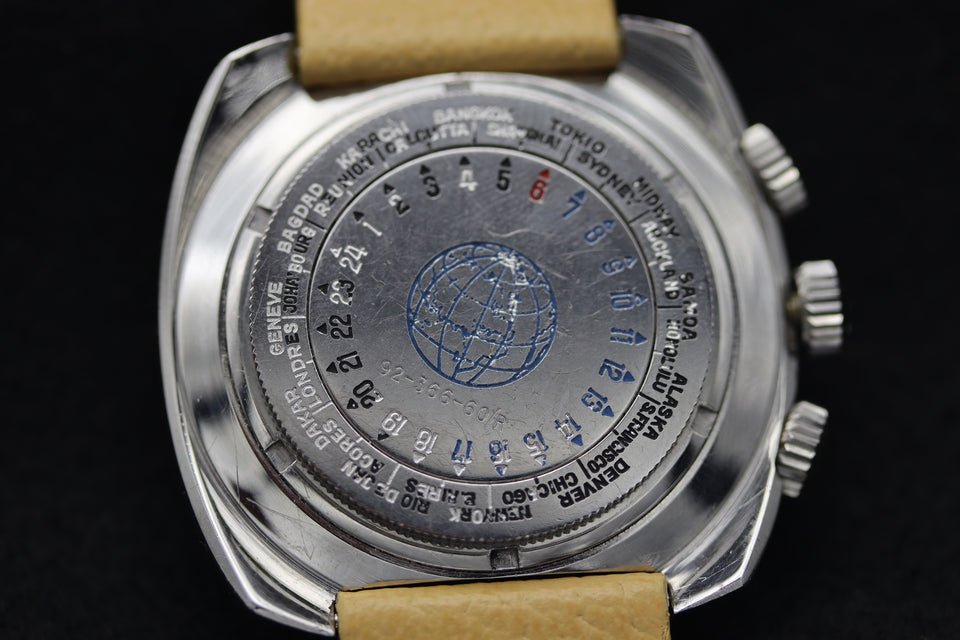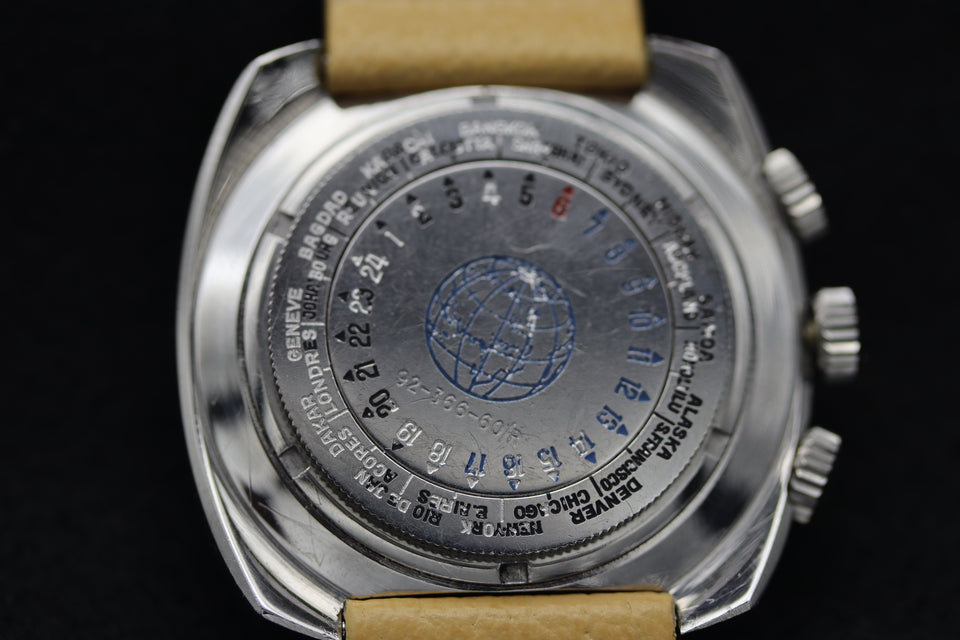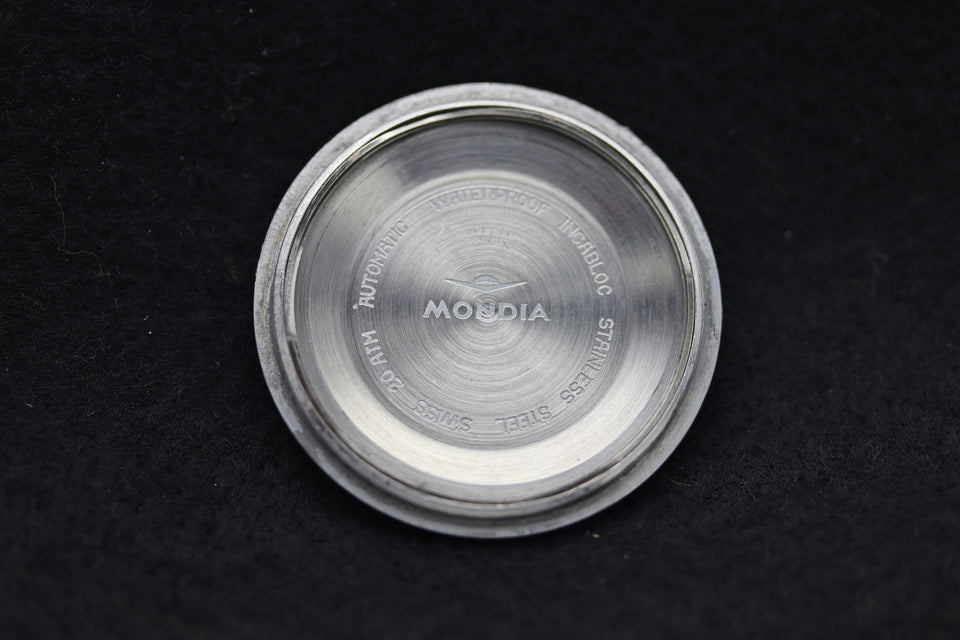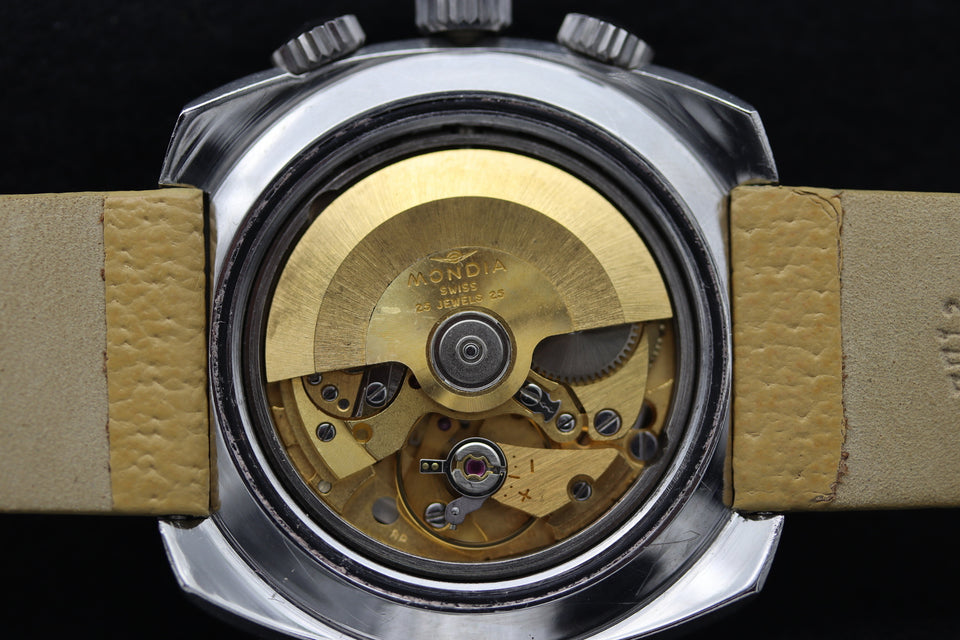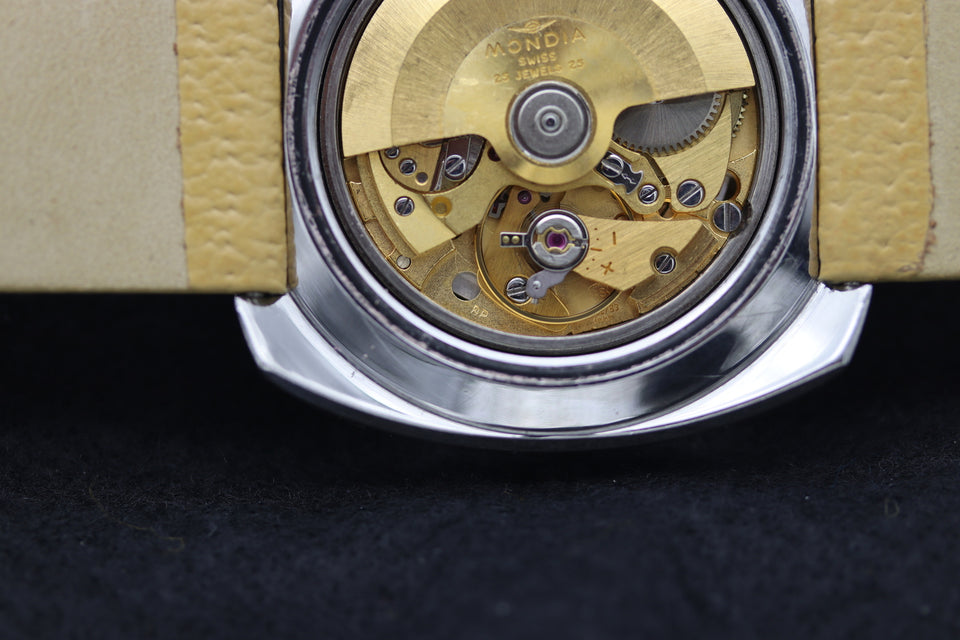 MONDIA | MEMORY WORLDTIMER 1970
from Mondia
Rare, large and elegant world time watch in excellent condition, 1970
# MONDIA WITH CREAM DIAL

# VERY RARE WATCH WITH SLIDE RULE AND WORLD TIME ON THE BACK
# SIGNED MULTIPLE TIMES, ORIGINAL CROWN AND SCREW-ON STEEL CASE 
# WEEKDAY AND DATE AT 3
# SILVER LUMINOUS INDEXES AND LUMINOUS HANDS
# GO. 1882/8
# 40MM (43MM WITH CROWN)
# ORIGINAL STATE 
# AUTOMATIC

# 1970

# SWITZERLAND

# PURCHASED FROM GERMAN COLLECTOR
Technically, the Mondia including the world time clock works perfectly and has recently been overhauled: (284°; +15s/d).  

The watch shows hardly any signs of wear. There are no deep scratches, dents or similar, the glass is scratch-free.
The Mondia watch brand has an interesting history and some special features that distinguish it from other brands:
#1
Tradition and origin: Mondia was founded in Switzerland in 1935 and can look back on a long tradition in watchmaking. The brand has its roots in the renowned Swiss watch industry and stands for Swiss precision and quality.
#2
Vintage character: Mondia is known for its vintage watches that exude a nostalgic charm and timeless elegance. Many Mondia models feature classic designs and sophisticated details that appeal to collectors and lovers of vintage watches.
#3
High-quality workmanship: Mondia attaches great importance to high-quality materials and careful workmanship. The brand uses premium components to create durable and precise timepieces.
#4
Versatile Collections: Mondia offers a wide range of watch collections that cover different styles, functions and price ranges. From classic dress watches to sports watches to elegant automatic watches, there is a Mondia watch to suit every taste and every occasion.
#5
Affordability: Mondia has a reputation for offering affordable watches that still offer good quality and an attractive design. The brand strives to offer high quality timepieces at a reasonable price.
#6
Contemporary design: Although Mondia is known for its vintage watches, the brand also offers contemporary models that reflect modern trends and aesthetics.
Mondia's company history is characterized by its traditional Swiss origins, its focus on vintage character and its versatility in watch production. Mondia remains a valued brand for watch lovers seeking high-quality timepieces with a touch of nostalgia and an affordable price.
Your box & more for you
Our extra for everyone
Did not find what you are looking for?
The box for you contains: your new watch & presented in the original watch box & high-quality packaging in the Optionata gift box & with a 1-year guarantee on the function & certified with the buyer's seal of the Händlerbund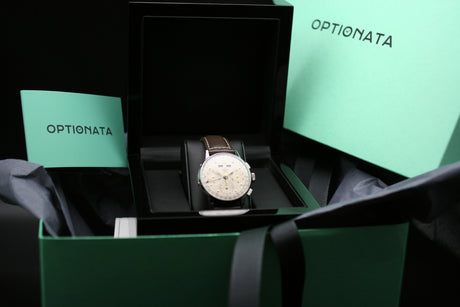 It's all in there for you.
1. STRICTLY CONTROLLED QUALITY GOODS
We only offer handpicked watches from our own stock as well as watches from private sellers. In both cases, the watches are physically with us and are checked according to strict quality criteria.
2. CERTIFIED WITH "BUYER SEAL - SECURE SHOPPING"
Trust is good, security even better. That's why we have had ourselves checked and certified by the Händlerbund to give you maximum purchasing security. The "Safe Buyer" seal is our investment - it is of course free of charge for you. All watches are sold through this certified service.
3. GUARANTEE OF AUTHENTICITY
We guarantee the authenticity of the watches we sell. If you have any doubts about the authenticity of the watch after purchasing it, please contact us via our contact form within 14 days of receipt of the goods. We will examine the case and together we will find the best solution for you.
4. 1 YEARGUARANTEE ON FUNCTIONALITY
Our watchmakers check every watch for functionality and guarantee this for 12 months from the date of purchase. If the movement should fail or cause problems during this time, we will take care of the repair at our expense.
5. PERSONAL SUPPORT
Throughout the browsing and purchasing process, you can contact us directly with any questions about the watch, the process, or the purchase. We are personally available to you at any time via several channels and will support you in the best possible way.
6. HIGH QUALITY PACKAGING
We ship collector's items, and our shipping box shows it. It protects your valuable purchase and is also an incomparable statement of what is true, beautiful and good inside. It shouldn't get to you otherwise.