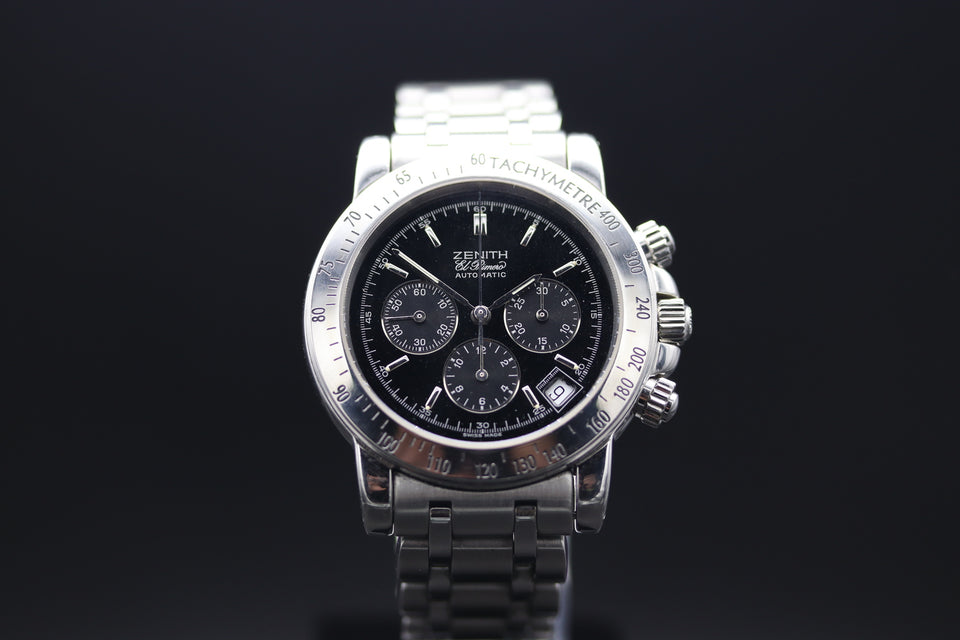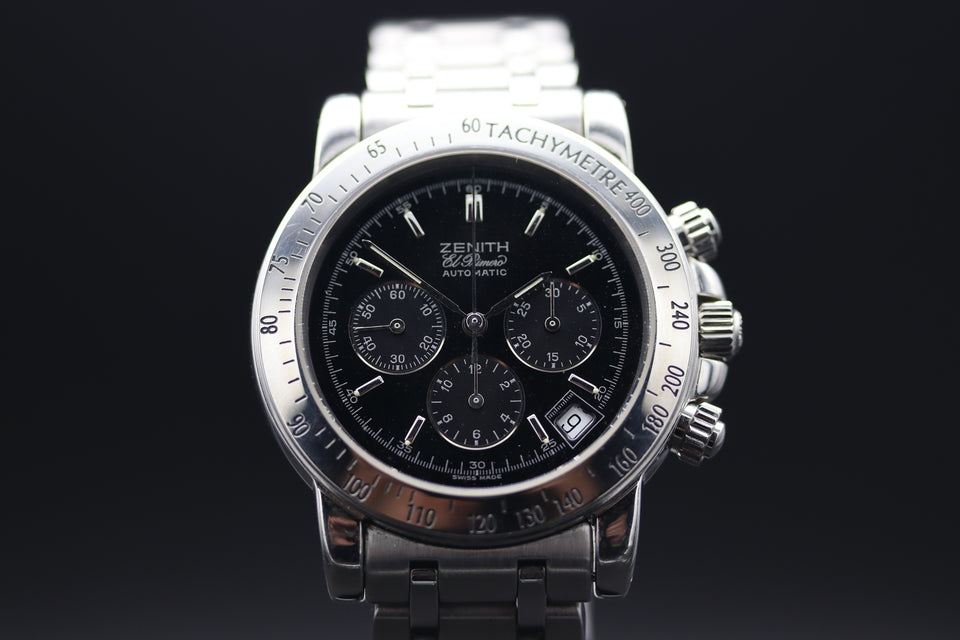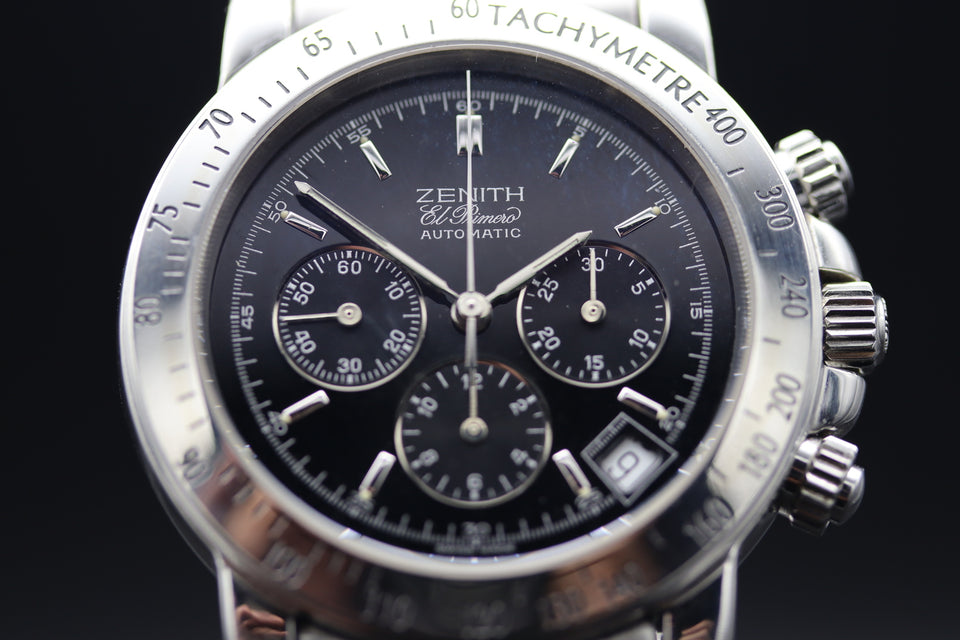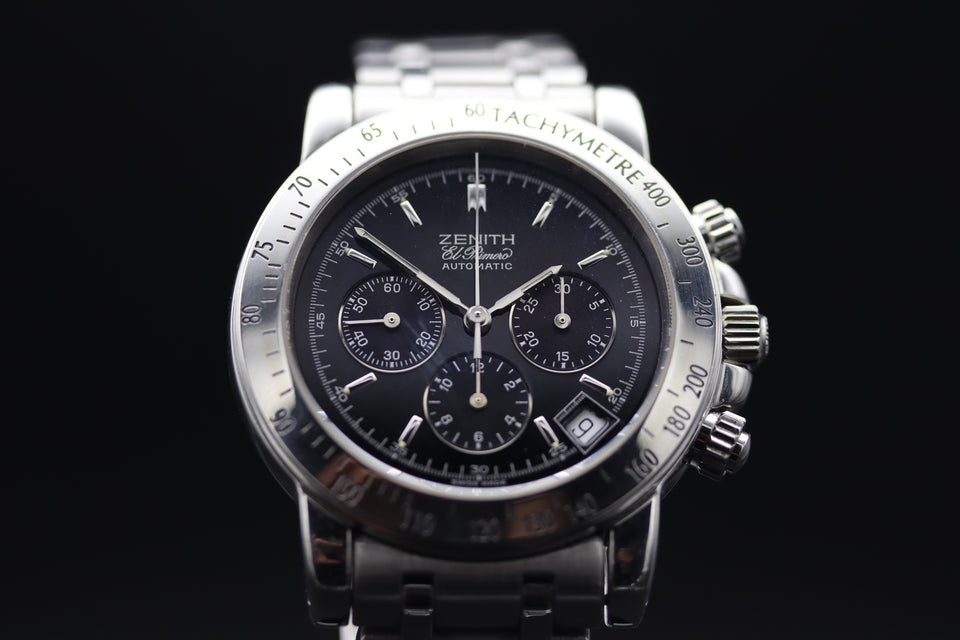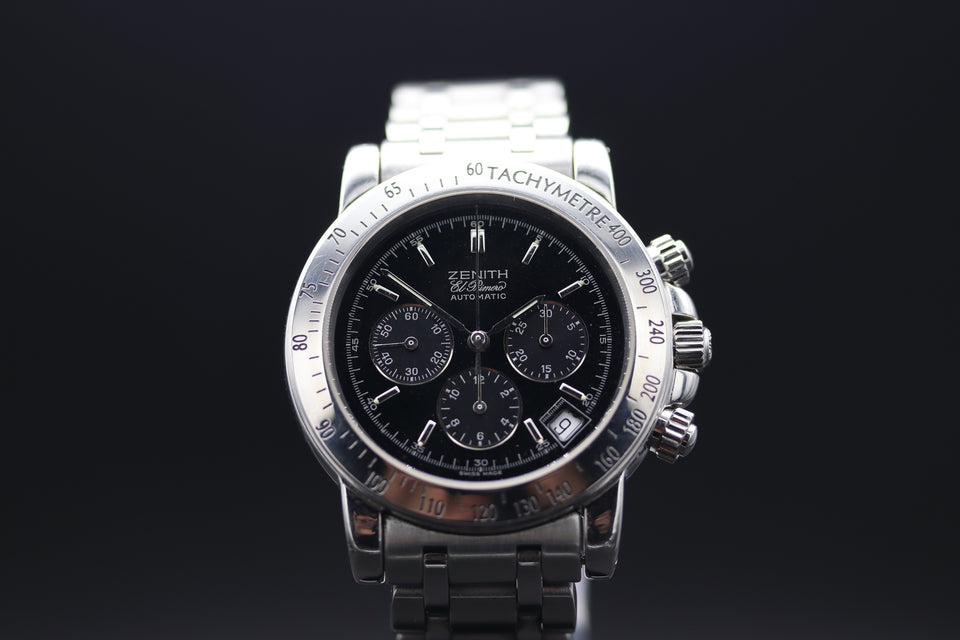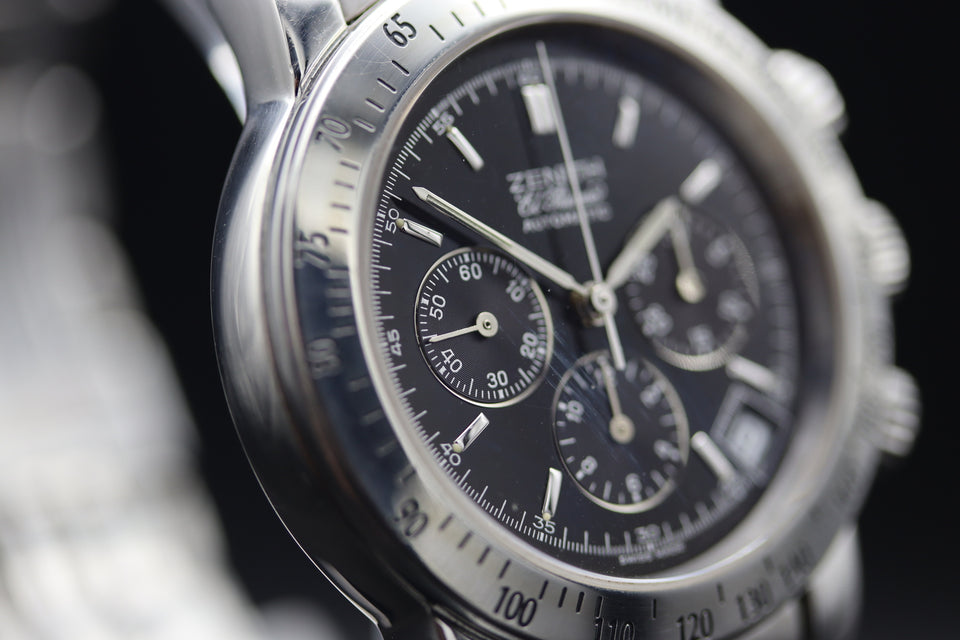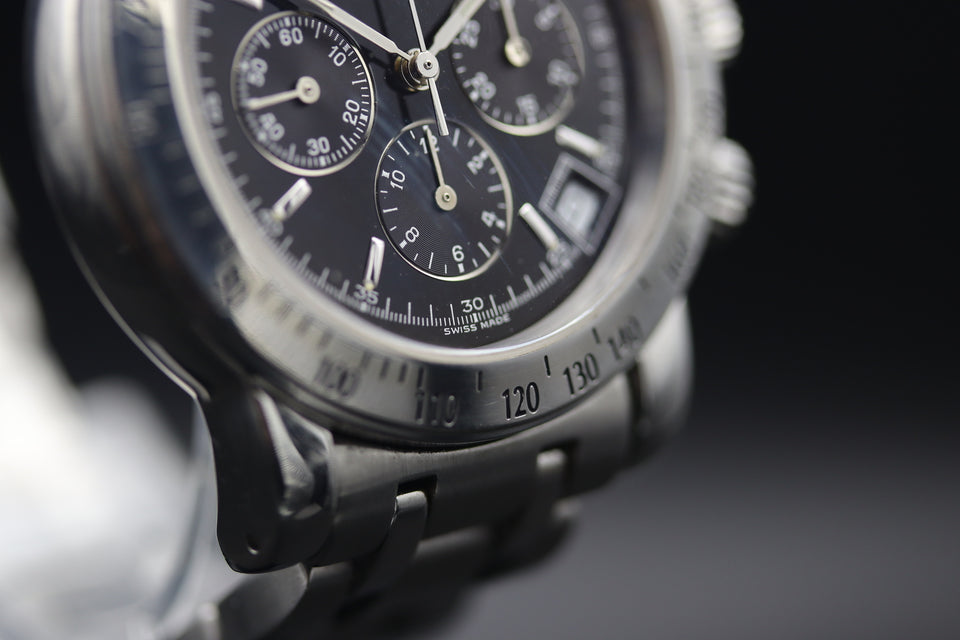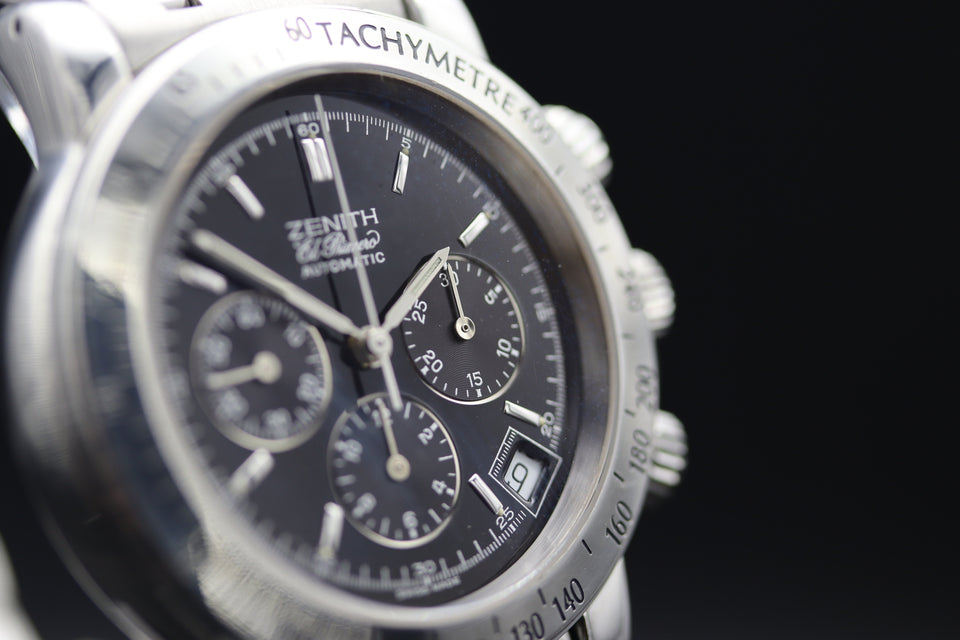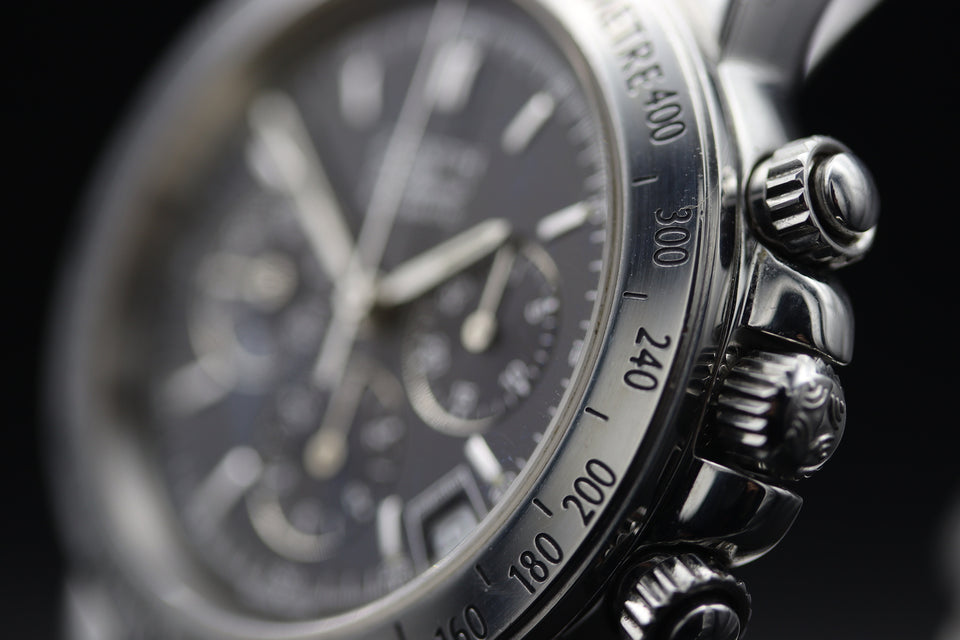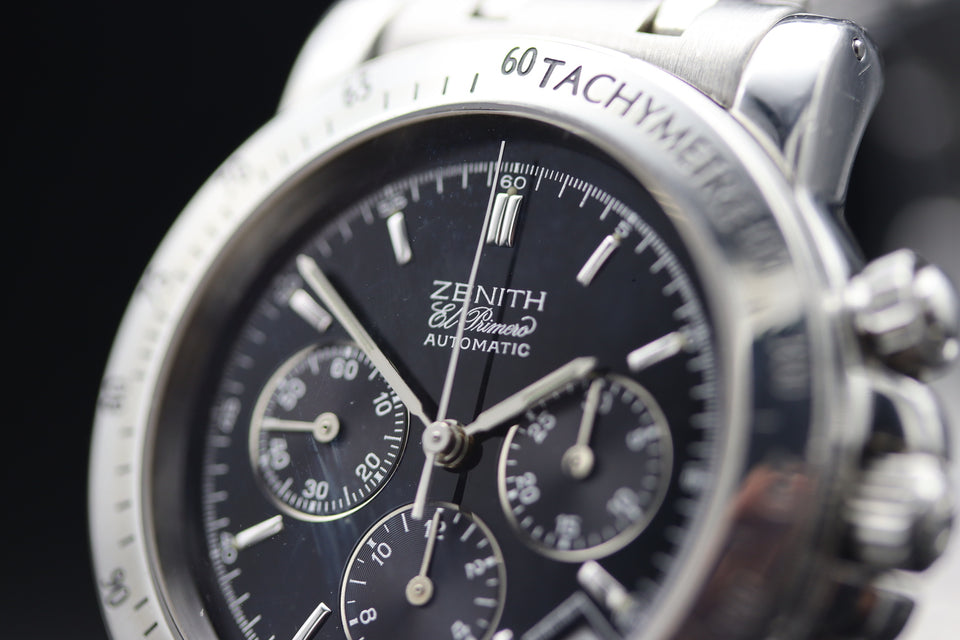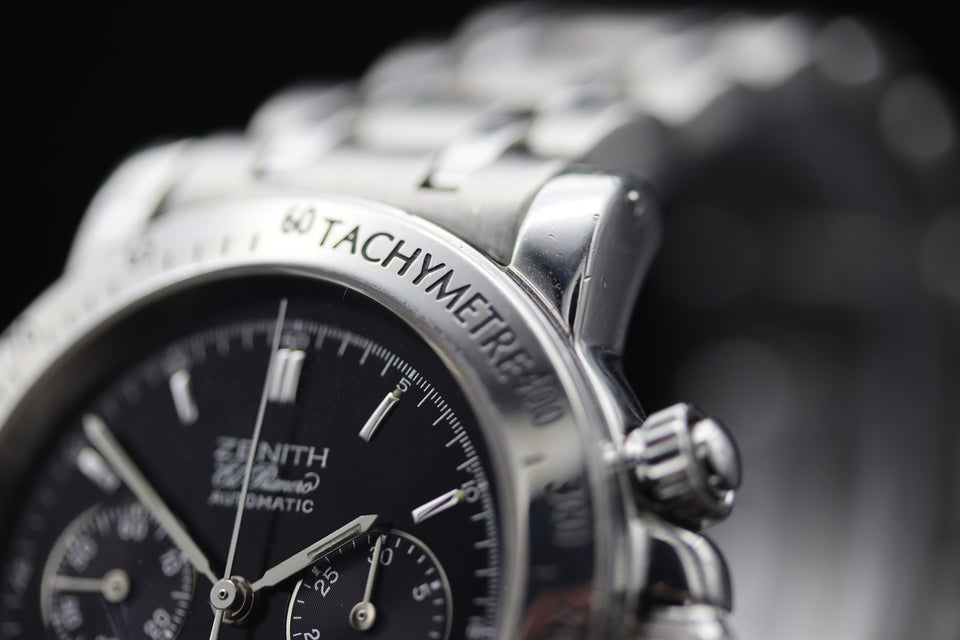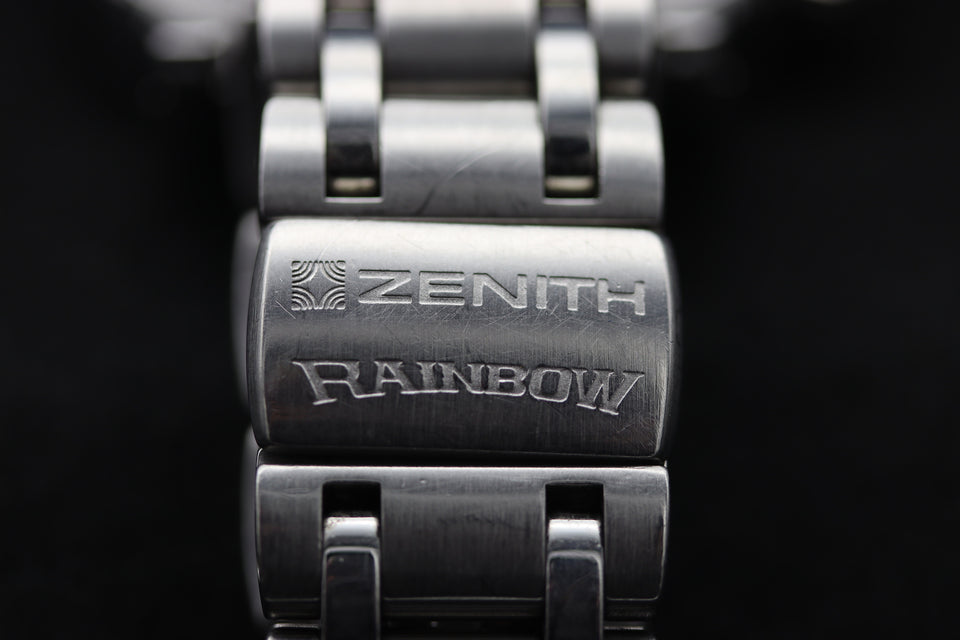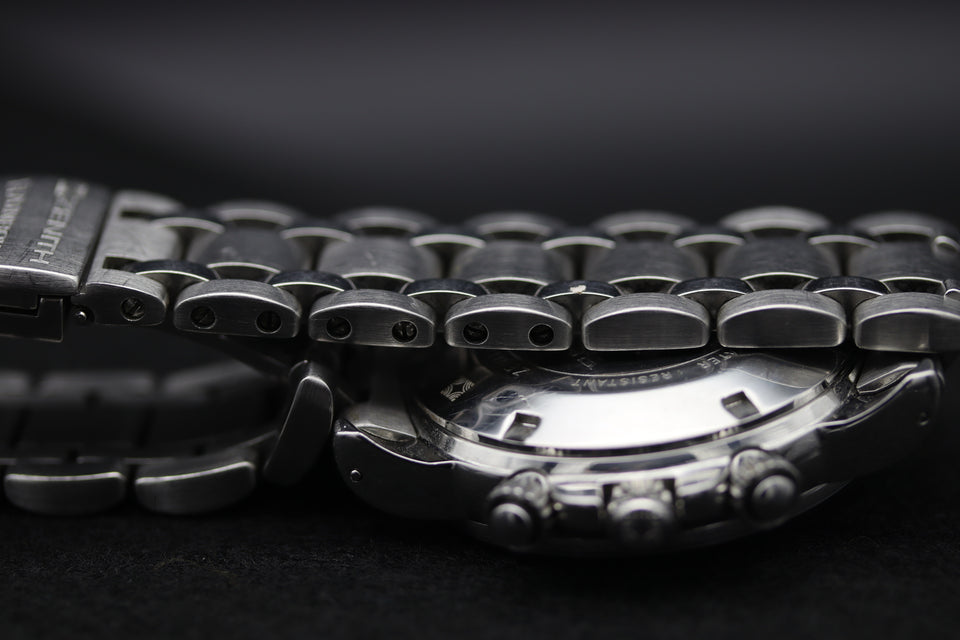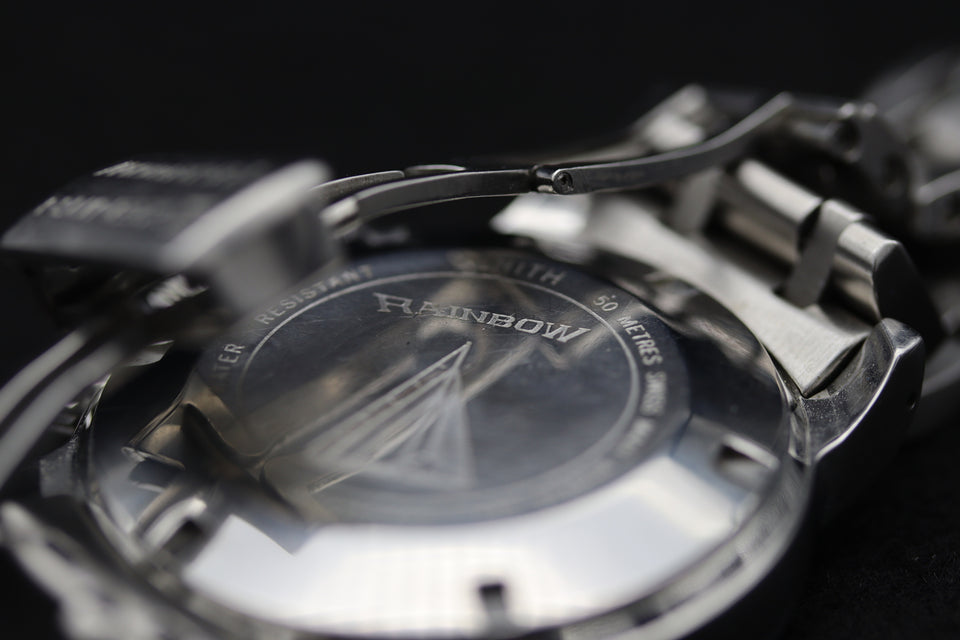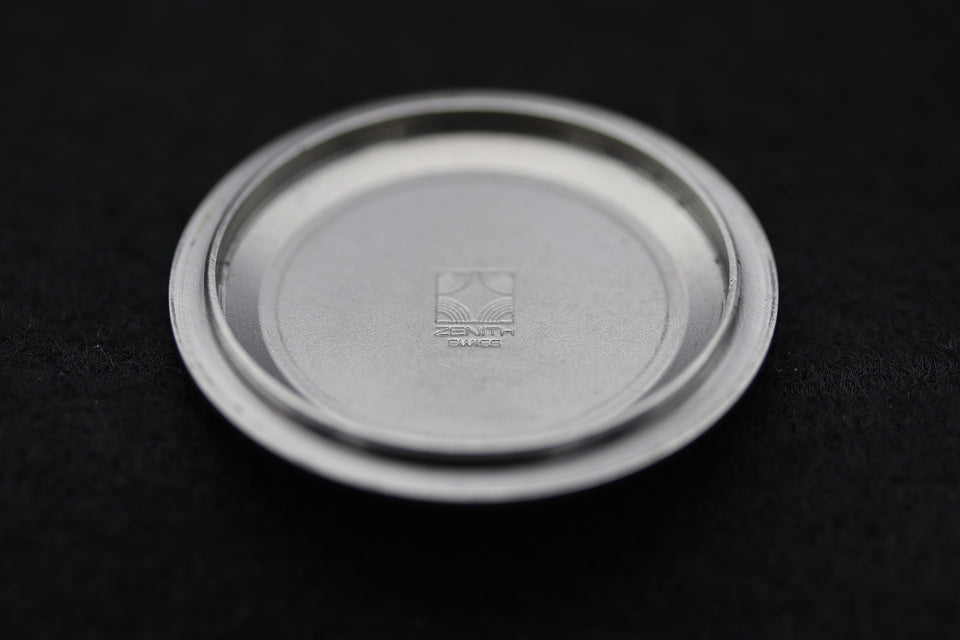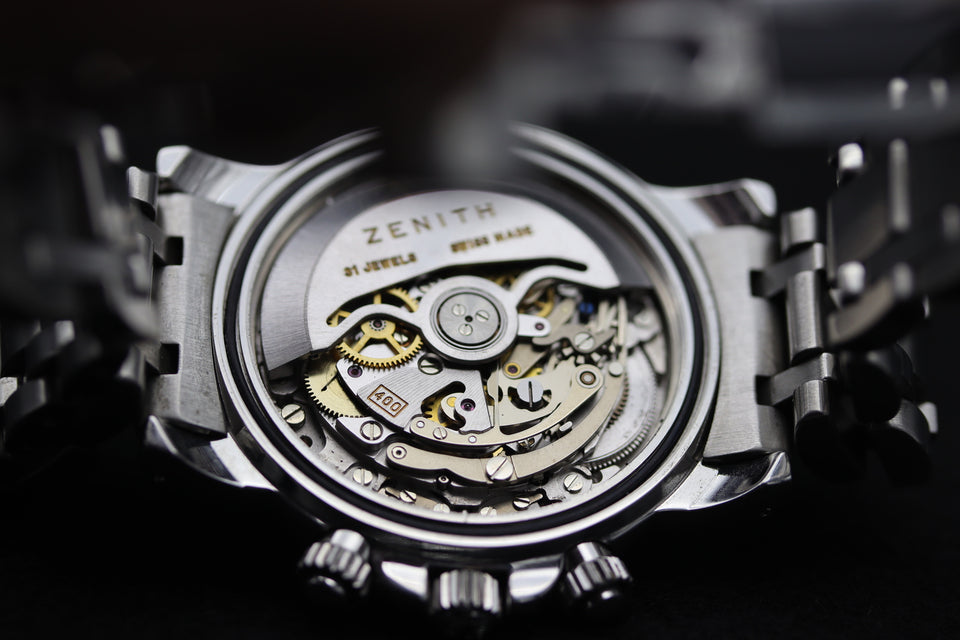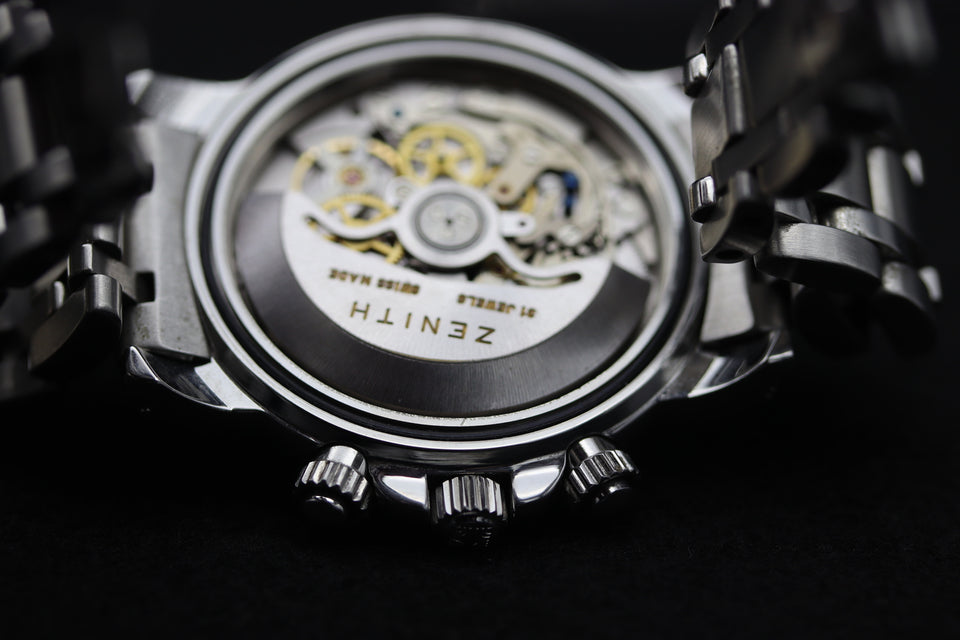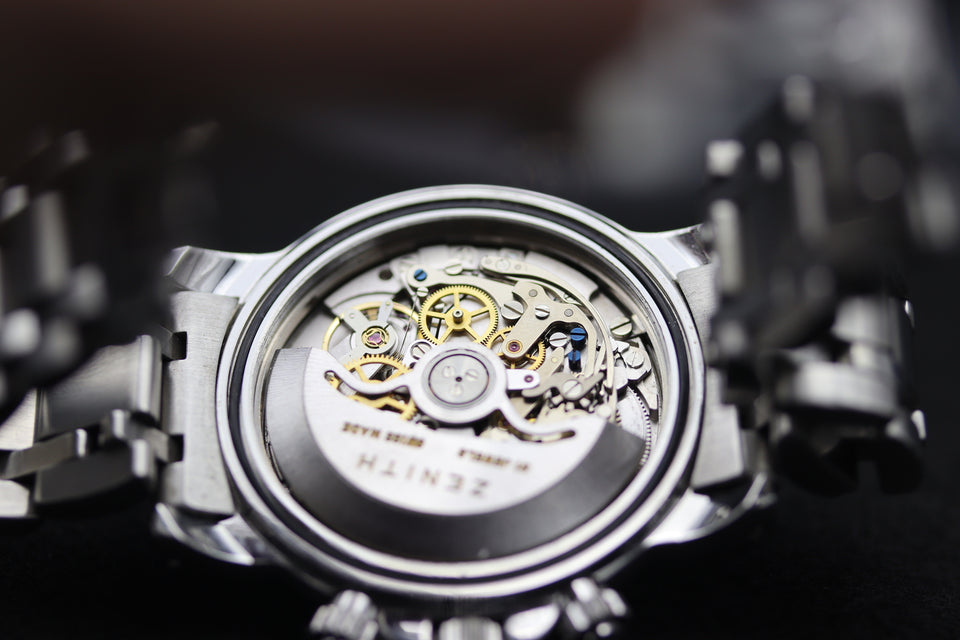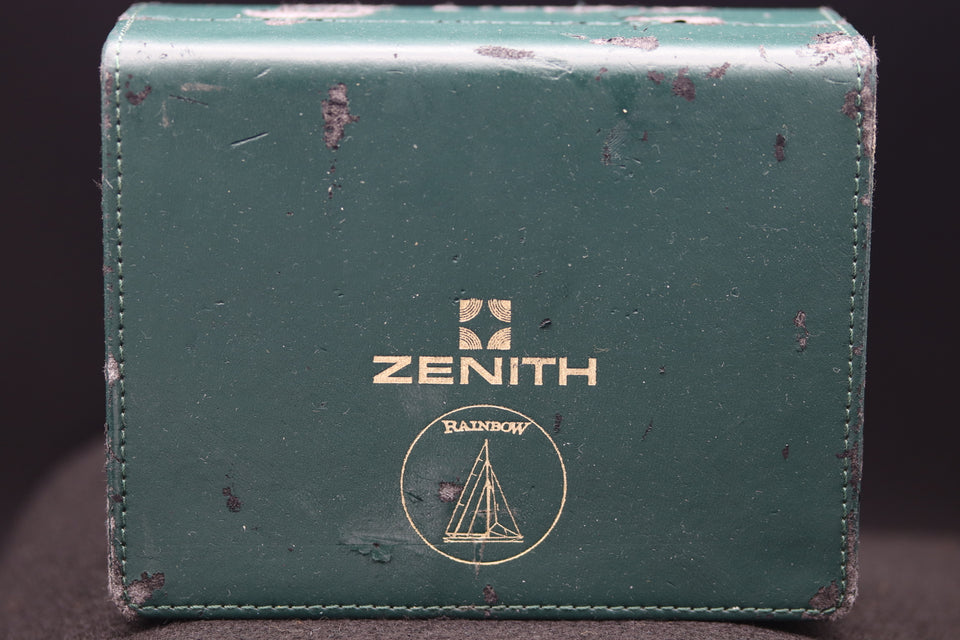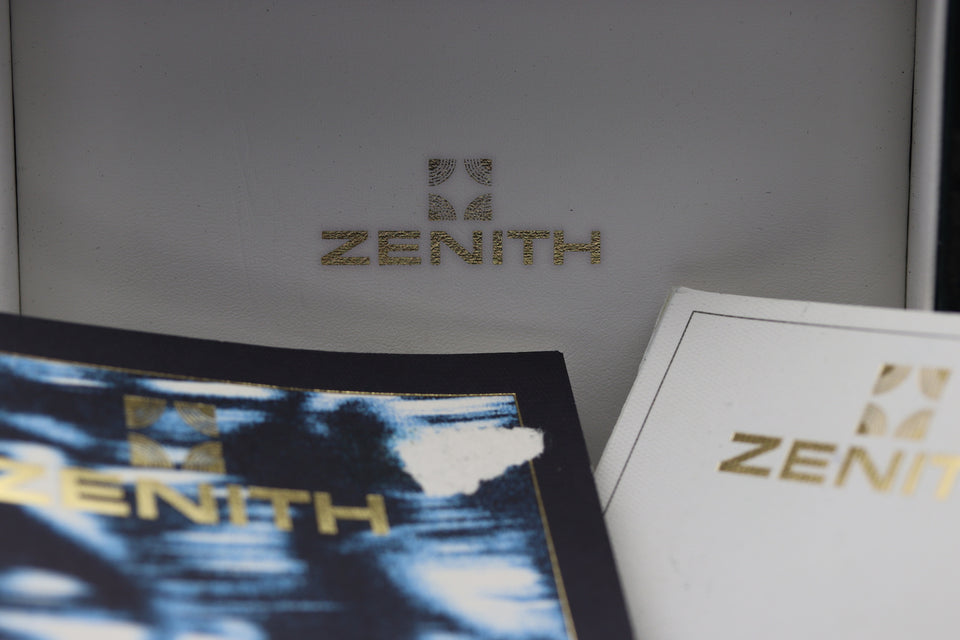 ZENITH THE FIRST | FULLSET RAINBOW 1993
from ZENITH
Breathtaking classic in excellent and completely original condition in the full set Switzerland, 1993
# ZENITH
# CHRONOGRAPH IN STEEL INCL. ORIGINAL STEEL BRACELET
# BLACK DIAL
# 40MM (42MM WITH CROWN)
# AUTOMATIC
# BEZEL WITH ENGRAVED TACHYMETER SCALE
#KAL. 400 THE FIRST
# ORIGINAL CASE AND PAPERS
# DESIRED COLLECTOR'S WATCH, EVERYDAY
# 06 / 1993

# SWITZERLAND

Technically, this Zenith works perfectly and has recently been overhauled: (294°; +8s/d). 
STORY OF THIS BRAND
The Zenith watch brand has a rich history and is known for its technical innovation and precision in watchmaking. Here are some special features and company history of Zenith:
Special features of Zenith:
#1 The First-Uhrwerk
Zenith is particularly known for the El Primero movement, which was introduced in 1969. This automatic chronograph movement was the first to reach an oscillation frequency of 36,000 vibrations per hour (vibrations per hour). This provided exceptionally high accuracy and a measurement of 1/10 of a second.
#2 Technical precision
Zenith attaches great importance to technical precision and innovation. The El Primero movement remains one of the few movements capable of measuring time in tenths of a second.
#3 Diverse watch collections
Zenith offers a wide range of watch collections including classic dress watches, sports watches and aviator watches. The brand has developed various designs and styles over the years to suit the different tastes of watch lovers.
#4 Elegant Design
Zenith watches are characterized by their elegant and sophisticated design. Both the external appearance and internal technology of the watches are carefully designed to ensure the highest quality and aesthetics.
Zenith company history:
Zenith was founded in 1865 by Georges Favre-Jacot in Le Locle, Switzerland. In 1911, Zenith received one of the highest prizes in watchmaking, the "Neuchâtel Observatory Chronometer," highlighting recognition for its outstanding precision.
In the 1960s and 1970s, Zenith experienced a period of economic uncertainty, but they survived this period and were then able to introduce the revolutionary El Primero movement. Although production of the El Primero movement was briefly halted, it was later reinstated and remains a Zenith trademark today.
The brand has experienced various ups and downs over the years, but its ability for technical innovation and dedication to precision have made Zenith a respected force in the world of luxury watches. The combination of traditional watchmaking and modern technology continues Zenith as a leading brand in the watch industry.
Your box & more for you
Our extra for everyone
Did not find what you are looking for?
The box for you contains: your new watch & presented in the original watch box & high-quality packaging in the Optionata gift box & with a 1-year guarantee on the function & certified with the buyer's seal of the Händlerbund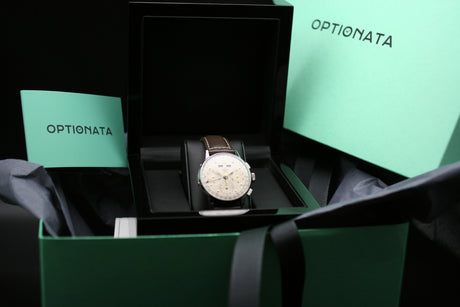 It's all in there for you.
1. STRICTLY CONTROLLED QUALITY GOODS
We only offer handpicked watches from our own stock as well as watches from private sellers. In both cases, the watches are physically with us and are checked according to strict quality criteria.
2. CERTIFIED WITH "BUYER SEAL - SECURE SHOPPING"
Trust is good, security even better. That's why we have had ourselves checked and certified by the Händlerbund to give you maximum purchasing security. The "Safe Buyer" seal is our investment - it is of course free of charge for you. All watches are sold through this certified service.
3. GUARANTEE OF AUTHENTICITY
We guarantee the authenticity of the watches we sell. If you have any doubts about the authenticity of the watch after purchasing it, please contact us via our contact form within 14 days of receipt of the goods. We will examine the case and together we will find the best solution for you.
4. 1 YEARGUARANTEE ON FUNCTIONALITY
Our watchmakers check every watch for functionality and guarantee this for 12 months from the date of purchase. If the movement should fail or cause problems during this time, we will take care of the repair at our expense.
5. PERSONAL SUPPORT
Throughout the browsing and purchasing process, you can contact us directly with any questions about the watch, the process, or the purchase. We are personally available to you at any time via several channels and will support you in the best possible way.
6. HIGH QUALITY PACKAGING
We ship collector's items, and our shipping box shows it. It protects your valuable purchase and is also an incomparable statement of what is true, beautiful and good inside. It shouldn't get to you otherwise.